Michael Buble's British Columbia Entertainment Hall of Fame Plaque on the Vancouver Starwalk
Jun 4th, 2010 | By
Lindsay
| Category:
Michael Buble Locations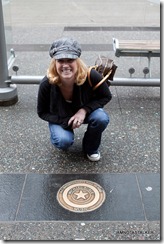 One of the other items on my must-stalk-while-in-Canada list was Michael Buble's British Columbia Entertainment Hall of Fame plaque which is located on Canada's version of the Hollywood Walk of Fame – the Granville Street Starwalk in Downtown Vancouver.  I guess you could say that my trip up to the Pacific Northwest was a full-on Michael Buble Stalking Vacation.  🙂  Ironically enough, when fellow stalker Kerry, her husband Jim, the Grim Cheaper, and I first crossed over into British Columbia this past Friday night, we were given a bit of a hard time by the border guards.  Actually, "hard time" is the wrong choice of words here.  Let's just say that we were definitely questioned.  Upon finding out that I had never before visited the Pacific Province, our entire group was asked to get out of the car to answer some additional queries in the Border Services Agency's main office.  It was at that point that I realized that there was no way in heck I could give a truthful answer to their question of why I was visiting Canada.  Can you imagine if I had stood there and said that I had traveled to their country for the sole purpose of stalking Michael Buble locations???  They probably would have had me arrested on the spot!  😉  But I digress.  Anyway, before my trip up north, I purchased Michael Buble: The Biography by Juliet Peel and, while I can't say that the book was a particularly great read, it did alert me to some fabulous stalking sites, including Michael's star on Vancouver's Granville Street Starwalk.
The British Columbia Entertainment Hall of Fame was founded on July 4, 1994 in order to recognize those British Columbians who had made significant contributions in six different disciplines in the entertainment industry, including music, television, theatre, film, radio, and variety.  Over 180 different artists are currently honored with brass plaques embedded in the sidewalk along Canada's so-called "Starwalk" – a two block section of Granville Street in Downtown Vancouver's Theatre District.  About twenty new plaques, which are each the size and shape of a 12-inch phonograph record, are added each year.  Michael Buble, who originally hails from the Canadian city of Burnaby, was inducted into the BC Hall of Fame on April 19th, 2009, along with nine other honorees including theatre actress Wendy Gorling, radio personality Fanny Kiefer, and music producer Terry McBride.  Past inductees include jazz musician Diane Krall, "King of Swing" Dal Richards, and singers Sarah McLachlan and Bryan Adams.  Each Hall of Fame member also has a photograph of themselves on display in the Starwall area of the nearby Orpheum Theatre's main lobby.  Unfortunately, though, I did not know about the Orpheum gallery until doing research for today's post, so I was not able to stalk MB's picture.  Such a bummer!  🙁  
Although the Hollywood Walk of Fame provides tourist maps which denote each particular star's exact location, the BC Entertainment Hall of Fame, sadly, does not.  And, oddly enough, I could not find much information about the place online before I left on my trip, so I had no idea where exactly on Granville Street Michael Buble's plaque was located.  Since the Starwalk only stretches for two short blocks, though, I figured we could just walk the entire thing and track down his star once we got there, which is exactly what we set out to do.  But being that there were almost two hundred plaques to search, that got old rather quickly, so I popped into a Granville Street bookstore and asked the man at the counter if he could point me in the direction of Michael Buble's star.  His answer – "I didn't even know he had one."  LOL  Thankfully, though, while I was in the bookstore, Kerry and my fiancé managed to find MB's star and I have to say that I was rather giddy with excitement upon seeing it.  It was definitely worth the trouble it took to find it!  Note to the British Columbia Hall of Fame – you really ought to provide maps which pinpoint the exact location of each honoree's plaque.  I mean, honestly, do I have to think of everything?  Sheesh!  😉
Until next time, Happy Stalking!  🙂
Stalk It: Michael Buble's British Columbia Entertainment Hall of Fame plaque can be found just outside of the Mavi Jeans store, which is located at 850 Granville Street in Vancouver, Canada.  You can read more about the Starwalk on the official British Columbia Entertainment Hall of Fame website here.
20857