The Water Street Cafe from "Love Happens"
Jun 9th, 2010 | By
Lindsay
| Category:
Jennifer Aniston Locations
,
Movie Locations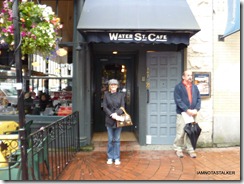 Just down the street from the former Tabu Boutique, the storefront that masqueraded as Eloise's Garden in the 2009 movie Love Happens which I blogged about yesterday, is Water Street Cafe, the upscale restaurant where Eloise Chandler (aka Jennifer Aniston) and Burke Ryan (aka Aaron Eckhart) ate dinner during their extremely awkward first date at the beginning of the flick.  I found this locale once again thanks to fellow stalker Owen who somehow managed to track down almost every single location featured in the movie.  Unfortunately, though, because our time in Vancouver was limited (we were only in town for less than 24 hours as we wanted to spend a full two days in Seattle), while we were able to stalk the exterior of the Water Street Cafe, we weren't able to grab a bite to eat there.  As so often happens on vacation, there were just far too many locations on my To-Stalk list and not enough hours in the day to see them all.  🙁
In Love Happens, Eloise and Burke eat at a window-side table overlooking Cambie Street.
After finishing their meal, the two walk out of the restaurant's main entrance on Water Street . . .
. . . and around the corner onto Cambie Street, where Burke confesses to Eloise that he hasn't been on a date in over three years.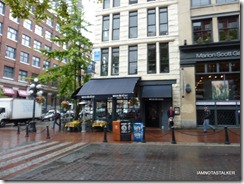 The Water Street Cafe was first opened in 1988 by Domenique Sabatino.  I'm quite bummed that we didn't get a chance to eat there as the restaurant's Italian-inspired menu looks pretty amazing, especially the Stuffed Pancetta Wrapped Chicken entree – a spinach stuffed chicken breast that is wrapped in pancetta and topped with brie.  OH MY LORD does that sounds good!!  🙂  Especially since my dad is once again in the hospital and I've been existing solely on hospital cafeteria food for the past six days.  Yeech!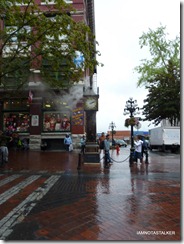 Water Street Cafe is located directly across the street from the world-famous Vancouver Steam Clock, a large glass, antique-looking clock that is powered entirely via a combination of balance weights and steam.  The clock was first built in 1977 by horologist Raymond Saunders and has been whistling and shooting out steam at fifteen minute intervals ever since.  There are only six other working steam clocks in the entire world and the one in Gastown has been called Vancouver's most photographed attraction.  According to the Love Happens production notes, producers had to time the filming of the scene shot outside of the Water Street Cafe in accordance with the every-quarter-hour whistle of the clock.  🙂
Big THANK YOU to Owen for finding this location!  🙂
Until next time, Happy Stalking!  🙂
Stalk It: The Water Street Cafe from Love Happens is located at 300 Water Street in the Gastown area of Vancouver, British Columbia.  You can visit the Water Street Cafe website here.  The Vancouver Steam Clock is located across the street at 305 Water Street.
20922