The Hyatt Regency Vancouver from "Love Happens"
Jun 11th, 2010 | By
Lindsay
| Category:
Jennifer Aniston Locations
,
Movie Locations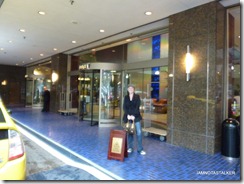 My fifth and final Love Happens location – which I found thanks to fellow stalker Owen, as was the case with all of the other Love Happens locations I stalked while in Canada two weeks ago – is the Hyatt Regency Vancouver hotel, where Burke Ryan (aka Aaron Eckhart) hosted his week-long "A-OKAY!" grief workshop seminar in the 2009 romantic comedy.  The Hyatt was one of Love Happens' focal locations and appeared in countless scenes, including the scene in which florist Eloise Chandler (aka Jennifer Aniston), who hand-delivers floral arrangements to the hotel on a daily basis, first meets Burke.  It is definitely not love at first sight, though, because, in one of the movie's lighter moments, Eloise pretends to be deaf in order to avoid speaking with him.  LOL
I cannot tell you how badly I wanted to go upstairs to take a photograph of the exact spot where Burke first caught Eloise writing the word "Quidnunc" with a pink pen on the hotel's wall, which is located just outside of Room 1731 on the Hyatt Regency Vancouver's 17th floor, but, sadly, a room key is required to gain access to each of the different floors.  I explained to the concierge on duty that I was a film locations buff (using the word "stalker" in cases like this typically doesn't help my cause – ha!) and that I really wanted to snap a quick photograph of "Eloise's wall" and asked if there was any way she would allow me to take a brief trip up to the 17th floor, but she very adamantly said "No".   I told her that she could accompany me to make sure I didn't cause any mischief while up there, but she again declined.  HMPH!  Such a bummer as seeing that wall in person was pretty much the only reason I wanted to stalk the hotel in the first place.  🙁  Ironically enough, the first Hyatt employee that I spoke with about the filming had absolutely NO IDEA WHATSOEVER that any sort of motion picture had been shot on the premises.  After a few minutes of speaking with her she finally said, "Wait, so Love Happens was filmed here?  In this hotel?  Honestly?"  I mean, HELLO!  How do you not know something like that?  It's not like she was a new employee, either – she was actually working at the hotel at the time the movie was being filmed!!  I really don't understand people sometimes.  Sigh!
I did get to stalk most of the other areas of the hotel that appeared in Love Happens, though, including the main lobby, which at the time of filming featured a Seattle's Best Coffee bar near the main entrance.  But I am VERY happy to report that Starbucks (my old staple) has now moved into that same space.  YAY!  🙂
Also featured was the hotel's check-in desk area;
the elevator bay located just off of the main lobby;
and the Gallery Lounge bar, which you can just barely see in the above photograph.  According to the movie's productions notes, the Vancouver Marriot Pinnacle Downtown hotel was also used in the filming of Love Happens, but I am unsure of exactly which scene it appeared in.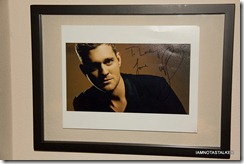 On a side note – no, you are not seeing things – that is actually an autographed photo of Michael Buble pictured above.  Yes, a photograph of MB that was actually autographed . . . TO ME!!!!!!!!!!!  The photo was gifted to me yesterday by fellow stalker Owen for my birthday and, as you can imagine, I literally just about PASSED OUT upon opening it!!!!  I'm not joking when I say that my mouth was hanging open for a good five minutes.  You'd think I would have screamed upon first laying eyes on it, but I was actually dead silent.  It doesn't happen often, but Owen managed to render me absolutely speechless!  How did he get the autograph, you ask?   (And believe me, that was the first question playing on my mind when I finally came to after opening it!)  As fate would have it, Owen's brother Paul has a good friend who is a regular on Saturday Night Live.  When Owen found out that MB would be performing on the show WAY BACK in January of this year, he called in a massively huge favor and asked Paul's friend if he would get an autograph for me.  Paul's friend came through BIG TIME and the result is the photograph you see above.  What can I say except it's, hands down, the BEST BIRTHDAY GIFT I've ever received!  I told my friend Nat about it yesterday and she said, "Well, I guess I'm going to have to return what I got you, 'cause there is no way it can compare to that!  Tell Owen 'Thanks a lot!'"  🙂  My dad actually had surgery yesterday – yes, on my birthday – and when I opened Owen's present in the morning before heading out to the hospital, I knew it was a good omen, especially being that my dad loves MB just as much as I do.  Sure enough, the surgery went really well and, at the time of this writing, my dad has been out of pain for about ten hours.  The doctors remain very hopeful that the surgery solved his problem, which, after two full years of him being in and out of the hospital on a regular basis and one VERY unsuccessful trip to the Mayo Clinic, would be simply amazing.  So, truth be told, I received TWO of the best gifts of my life yesterday!  And even though I spent the majority of the day in the hospital, I have to say it was, hands down, one of my best birthdays ever.  🙂
Big THANK YOU to Owen for finding this location . . . and, ahem, for the AMAZING birthday present!  Big THANK YOU to Paul, too!  🙂
Until next time, Happy Stalking!  🙂
Stalk It: The Hyatt Regency Vancouver from Love Happens is located at 655 Burrard Street in Vancouver, British Columbia.  Burke first caught Eloise writing on the wall just outside of Room 1731 on the hotel's 17th floor.  You can visit the Hyatt Regency Vancouver website here.
21033