Nick's (Almost) Apartment from "The Crush"
Jun 18th, 2010 | By
Lindsay
| Category:
Movie Locations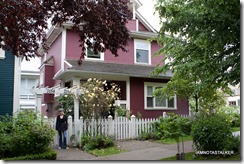 Just a mile and a half away from the Forrester mansion, which appeared in the 1993 thriller The Crush and which I blogged about yesterday, is the supposed Seattle-area apartment house where Nick Eliot (aka Cary Elwes) tried to rent a unit after discovering that his current landlords' 14-year old daughter Adrian (aka Alicia Silverstone) had developed a highly-inappropriate and psychotically-obsessive crush on him.  I found this location, yet again, thanks to master stalker Owen, who had managed to track down one of the movie's crew members who happened to remember the general vicinity where the apartment house was located.  From there, Owen once again employed Google Street View to pinpoint the property's exact location.  And even though the building only showed up in two very brief scenes in The Crush, because of my Alicia Silverstone connection, I just had to stalk the place.
I am very happy to report that Nick's apartment house looks much the same in person as it did onscreen in The Crush, except for one pretty glaring difference – the building is now located in a different place.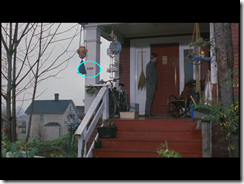 Yes, you read that right – according to this Flikr website, Nick's apartment house was formerly located just a bit north of where it is now, adjacent to a vacant lot, and was numbered 2132 (as you can see in the above screen capture).   When the neighboring Reeve house, a historic property, was moved for preservation purposes in 1999, the Crush apartment also had to be moved a few hundred feet to the south to accommodate it.  The Crush building's address number was subsequently changed to 2156 and, because it had to be built into the side of a hill, appears to be a bit lower to the ground now than it was previously.  Isn't that incredible?  I mean, I've heard of filming locations being torn down entirely, but I've never heard of one being moved from one plot of land to another!  I'm so, so glad that the property was preserved, though, for all of us stalkers to continue to appreciate.  You can see some great interior photographs of the building's super-cute little front unit on a former real estate listing from 2008 here.  I absolutely LOVE the built-in bookshelves next to the fireplace!!  So darn cute!  I am a little upset, though, that the real estate agent failed to make mention of the property's cinematic history on the listing.  Hmph!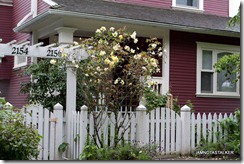 On an interesting side note – While doing research on The Crush for yesterday's blog post, I came across some information on IMDB which stated that the flick's screenwriter/director Alan Shapiro based his screenplay on actual events from his life that took place while he was living in a guesthouse on the property of a wealthy Beverly Hills family back in 1982.  And while I don't know how much of the movie was actually based on fact and how much was embellished for dramatic effect, apparently Shapiro touted his production as being inspired by "real-life events".  Quite a bit of the story must have been factual, though, because after the movie premiered in April of 1993, Shapiro was sued by his former landlords over the fact that he had named his lead character "Darian" – the actual name of his former landlords' daughter.  The lawsuit was eventually settled and producers agreed to dub the name "Adrian" in for "Darian" in all future airings and DVD/VHS copies of the flick. 
Big THANK YOU to Owen for finding this location!  🙂
Until next time, Happy Stalking!  🙂
Stalk It: The apartment Nick unsuccessfully tries to rent towards the end of The Crush is located at 2156 Cypress Street in Vancouver, British Columbia.
21182