Eric Hamber Secondary School from "Juno"
Jun 28th, 2010 | By
Lindsay
| Category:
Movie Locations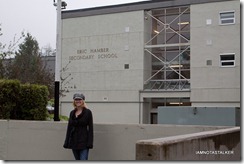 The third and final Juno filming location that I stalked while in Vancouver last month was the supposed Minneapolis-area Dancing Elk High School – the learning institution attended by Juno MacGuff (aka Ellen Page), her dorky baby-daddy Paulie Bleeker (aka Michael Cera), and her absolutely hilarious best friend, Leah (aka Olivia Thirlby).  In real life, Dancing Elk High School is known as Eric Hamber Secondary School and it is located a good 1,400 miles away from Minneapolis in the Shaughnessy neighborhood of Vancouver, British Columbia, directly next door to the VanDusen Botanical Garden.  The school, which was named after a former Lieutenant Governor of British Columbia, was originally founded in 1962 and currently boasts 1,690 students in grades eight through twelve.  I found this location, once again, thanks to fellow stalker Owen, who in turn tracked it down thanks to this trusty Flikr page.  Thank you, Owen!   
Eric Hamber Secondary School is featured numerous times throughout Juno, most notably in the beginning scene in which Juno is shown riding her bike to Dancing Elk and then locking it up at a bike rack located in front of the school's east-facing entrance.  Sadly, in real life that bike rack does not exist, but aside from that, I am very happy to report that Eric Hamber Secondary School looks much the same in person as it did onscreen in the movie.
Quite a bit of the school's interior also appeared in Juno, but, unfortunately, the buildings were all locked up while we were there, so we were not able to take a peek inside. 
The school's outdoor track and field area was also featured in the scene in which Paulie leaves his track meet early in order to go to the hospital to be with Juno after she has her baby.  That is another area of the school that we, unfortunately, were not able to see, though.
According to Wikipedia, Eric Hamber's parking lot also made several appearances in the '80s television series 21 Jump Street, which was filmed exclusively on location in Canada.  The school also boasts quite a long list of notable alumni, including Smallville actress Kristin Kreuk, Disney animator Robert Bennett, The Daily Show writer Eric Drysdale, and former pitcher for the Los Angeles Dodgers Steve Wilson. 
On a side note – Owen also managed to track down several other filming locations from Juno that we, unfortunately, did not have time to stalk while we were in the area.  Those locations include the following: the house belonging to Mark (aka Jason Bateman) and Vanessa (aka Jennifer Garner), which can be found at 13926 23 Avenue in Surrey; the Honey and Milk convenience store where Juno writes a note to Vanessa on an old Jiffy Lube receipt, which is located at 9-1449 Prairie Avenue in Port Coquitlam; the Coquitlam Centre Mall where Juno and Olivia run into Vanessa while shopping, which can be found at 2929 Barnet Highway in Coquitlam; and Victoria Park where Juno and Olivia look at adoption ads in the Penny Saver, which is located on Victoria Drive & Kitchener Street in Vancouver.
Big THANK YOU to Owen for finding all of the Juno locations!  🙂
Until next time, Happy Stalking!  🙂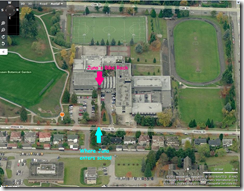 Stalk It: The Juno high school, aka Eric Hamber Secondary School, is located at 5025 Willow Street in Vancouver, British Columbia.  In the beginning of the movie, Juno is shown entering the school from its Willow Street entrance and then locking up her bike at the bike rack located in front of the school's east facing doors, as depicted in the map above.  Please remember that this location is an educational institution that is currently in use.  I would not recommend visiting it while classes are in session, but would instead recommend stopping by after hours or on a weekend.
21439