The Beverly Hills Courthouse – Where Lindsay Lohan Was Sentenced
Jul 13th, 2010 | By
Lindsay
| Category:
This and That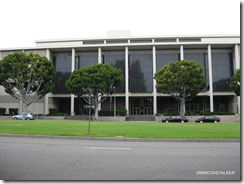 Last Thursday morning, my fiancé and I ventured out to the Beverly Hills Registrar-Recorder/County Clerk's Office to obtain our marriage license.  Because the license application listed the address of the office as "9355 Burton Way, First Floor, Beverly Hills", I assumed we would be going to some sort of government building.  So, imagine my surprise when we pulled up to the Beverly Hills Municipal Courthouse – the exact spot where Lindsay Lohan had been sentenced to 90 days in jail just two days prior!  As you can imagine, I just about died of excitement!  Not that I am at all a fan of LiLo or anything, I was just ecstatic at the prospect of our marriage license being obtained in a stalking location.  I guess it's really true what they say about the Laws of Attraction because it seems I find myself stalking even when not meaning to.  😉  Unfortunately, I was not able to get many photographs while we were at the courthouse due to the plethora of signs that were posted on the premises announcing that photography of any kind was absolutely NOT allowed.  I don't think those signs are usually posted, by the way, I think they were there solely due to La Lohan's recent trial.  According to one of the security guards we spoke with, the courthouse was absolute pandemonium on the day of Lindsay's sentencing.  He said there were news vans parked up and down the entire street in front of the courthouse and at least a few hundred paparazzi and fans staked out on the sidewalk.  Oh, how I wish we had gotten our marriage license two days earlier!  😉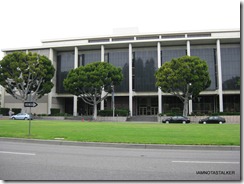 While we were waiting for our marriage license to be processed, I ventured up to the second floor of the courthouse to use the restroom.  On the way back  downstairs a few minutes later, I spotted the name of Lindsay's judge – Judge Marsha Revel – on the court directory in the elevator bay and just about had a heart attack!  I was absolutely DYING to snap a picture of it, but didn't due to the aforementioned "NO PHOTOGRAPHS OF ANY KIND" signs posted all over the building and the "YOUR ACTIONS ARE BEING WATCHED ON CCTV" notifications.  My fiancé told me I was being a "sissy-la-la" and should have just taken the picture anyway, but I would have felt like a complete and total moron if I had been arrested or had had my camera confiscated for taking a photograph of Lindsay Lohan's judge's name on a stupid sign on the same day I was getting my marriage license!  I mean, how incredibly lame would that have been??? 😉
You can watch La Lohan arriving at and leaving the courthouse for her sentencing hearing on July 6 by clicking above.  (WARNING – there are some expletives yelled out as she leaves the building, so the video is definitely NSFW.)
You can also watch Lindsay's little sister Ali going through the courthouse metal detectors that same day by clicking above.  As silly as it may sound, I cannot tell you how excited I was to be going through those very same metal detectors just a few days later!  I know, I know, I really need to get out more!   
The Beverly Hills Courthouse is actually no stranger to celebrity and it's also a filming location!  Heidi Montag and Spencer Pratt decided not to get married there in the Season 4 episode of The Hills titled "I Heidi Take Thee Spencer" (pictured above).  Jennifer Lopez, Madonna, and Danny DeVito all served their civic duty at the courthouse – Danny DeVito on the very same day on which LiLo was sentenced.  Other celebrity trials which took place there include Winona Ryder's 2002 shoplifting trial, Zsa Zsa Gabor's 1989 slapping-a-police-officer trial, and Lane Garrison's 2007 DUI/manslaughter trial.  Actors Jessica Alba and Cash Warren even tied the knot in a civil ceremony at the courthouse on May 19, 2008.  Unfortunately, we did not have any star sightings while we were getting our marriage license, though.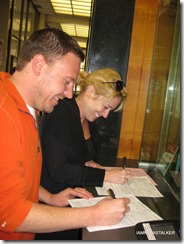 On a side note – if any of my fellow stalkers live in the Los Angeles area and are in need of a marriage license, I HIGHLY recommend obtaining one at the Beverly Hills Courthouse.  My fiancé and I first attempted to apply for ours a few weeks ago at the County Clerk's office located on Cesar Chavez Avenue in East Los Angeles and what a mistake that was!  We ended up leaving after a scant five minutes and decided to try the Beverly Hills branch instead.  The Beverly Hills office was nothing short of AWESOME – the clerks were SUPER friendly and the entire process, from the time we parked our car to the time we started our drive home, took only twenty minutes.  And even though no photographs were allowed in the building, one of the clerks was nice enough to snap the above photograph of the Grim Cheaper and me as we signed our license.  🙂  See what I mean – sooooo incredibly friendly!  Not what you would expect from a government office.
Until next time, Happy Stalking!  🙂
Stalk It: The Beverly Hills Courthouse – and Register-Recorder/County Clerk's Office – is located at 9355 Burton Way in Beverly Hills.
21758