The Santa Barbara County Courthouse from "It's Complicated"
Jul 15th, 2010 | By
Lindsay
| Category:
Movie Locations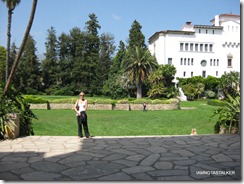 Two weekends ago, my fiancé and I headed up to Santa Barbara to spend the Fourth of July holiday with some friends.  And just minutes before we left, fellow stalker Kerry texted me to let me know that the 2009 romantic comedy It's Complicated had been filmed in the area, just in case I wanted to do some stalking while I was there.  Well, let me tell you, I just about died upon hearing that and even though I had yet to see the movie, I spent the entire ninety minute drive up to Santa Barbara researching It's Complicated filming locations on my blackberry so that we could stalk them as soon as we arrived.  As it turns out, though, not all is at it seems, for while the movie was set in Santa Barbara, very little of it was actually filmed there.  Oddly enough, over ninety percent of the flick was lensed in New York of all places!  I was absolutely shocked when I heard that as I honestly can't think of a place that is more diametrically opposed to Santa Barbara than New York City,  aesthetically speaking at least.  Anyway, one of the main Santa Barbara locations featured in the movie was the historic county courthouse, so I dragged my fiancé right over there pretty much immediately after we checked into our hotel.
And I have to say that I just about died when I saw the place as it is absolutely GORGEOUS!  I've actually been to Santa Barbara countless times in the past as it is one of my family's favorite vacation spots, but for some reason I had yet to ever visit the courthouse.  So, I am extremely grateful to It's Complicated, because otherwise I might never have seen the place and it is definitely a must-see Santa Barbara attraction!  🙂  The Santa Barbara Courthouse was first dedicated on August 14, 1929 and was designed by William Mooser III.  It was built after the great 1925 earthquake completely leveled the county's original courthouse.  Apparently, that first courthouse had been designed in the Greek Revival-style, which is mind-boggling to me as pretty much all of Santa Barbara is either Spanish or Moorish in design.  According to the National Historic Landmarks Program, the courthouse which now stands was the catalyst for the Spanish architecture that now dominates the area, so it is amazing to think about how architecturally different the city would have been had that first courthouse not been destroyed!  I can't even imagine it!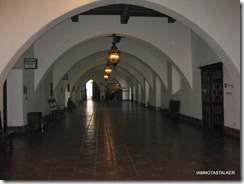 Inside, the building looks much more like a museum than it does an actual working courthouse.  In fact, when we first walked in, I was convinced that the property was no longer in use, but it actually still is!  Can you even imagine serving jury duty in a place that looks like that???  Would make for a much more enjoyable experience than serving at the Clara Shortridge Foltz Criminal Justice Center in Downtown L.A., I can tell you that!  😉  The Santa Barbara County Courthouse features vast archways and long sweeping hallways,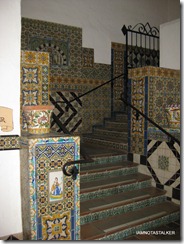 intricate tiling with wrought-iron detailing,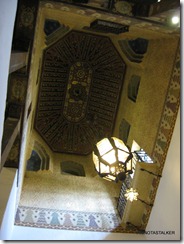 elaborately painted ceilings,
and a HUGE sunken garden.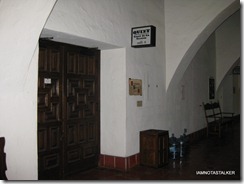 I was most taken with the property's historic detailing, though, like its old-school "Quiet, court is in session" signs,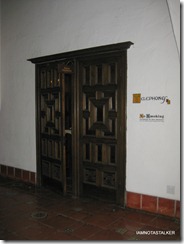 wooden telephone booths,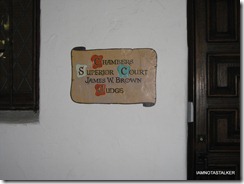 and colorfully-painted court directory signs.    LOVE IT!
The courthouse also features an 85-foot tall clock tower which is accessible to the public.  The tower formerly housed the solitary confinement chamber of the now-defunct jailhouse which used to be located on the premises.  It now offers visitors unsurpassed 360-degree views of the city and Pacific Ocean beyond.  My fiancé and I almost neglected to visit the tower as we were feeling a bit lazy due to the heat and let me tell you what a mistake that would have been!  Take my advice – no stalk of the courthouse can be considered complete without a climb up to that tower!!!  The views are simply breathtaking!
The Santa Barbara County Courthouse is actually only featured very briefly in It's Complicated, in a scene in which Jane Adler (aka Meryl Streep) is shown shopping at a local farmers' market while making a phone call to her ex-husband, Jake Adler (aka Alec Baldwin).  And when I say very briefly, I mean VERY briefly – the scene only lasted a scant 17 seconds.  Not kidding!  It is amazing to me that producers not only rented out the entire Santa Barbara County Courthouse, but also set up an elaborate set and hired a few dozen extras to film a scene that took up less than twenty seconds of film!  I mean, couldn't Jane have made that phone call to her ex-husband from anywhere?  Did they really need to create the whole farmers' market scenario?  But I digress.  Anyway, the It's Complicated scene was filmed in the sunken garden area of the courthouse which, unfortunately, does not actually host farmers' markets in real life.
Until next time, Happy Stalking!  🙂
Stalk It: The Santa Barbara County Courthouse is located at 1100 Anacapa Street in Santa Barbara.  You can visit the Courthouse's official website here.
21826