The Coffee Gallery from "The Office"
Jul 16th, 2010 | By
Lindsay
| Category:
The Office Filming Locations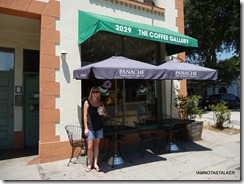 A few weeks ago, Mike, from MovieShotsLA, told me about a coffee house in Altadena named the Coffee Gallery which was featured in the Season 4 episode of The Office titled "Chair Model".  He figured that because the place was both a coffee shop and a filming location that it would be right up my alley!  And how right he was!  So, yesterday I stopped by my parents' house in the hopes that I could talk either my mom or my dad into accompanying me to stalk the place as I needed someone to take a picture of me while there.  Thankfully, my dad acquiesced and just before we were leaving my mom happened to ask what it was exactly that I wanted to stalk.  When I told her we were heading to the Coffee Gallery she informed me that one of her neighbors, a woman named Julie, actually owns the place!  Well, let me tell you, I just about fell over when I heard that and immediately ran down to Julie's house to give her the third degree!  How I never knew that my parents' neighbor owned a coffee house when I am a complete and total coffee fiend is BEYOND me, but I digress.  Unfortunately, Julie wasn't home when I stopped by, so I was not able to get any behind-the-scenes scoop about the filming.  I've left word with her son, though, that I am VERY interested in speaking with her, so if I do find out any good trivia, I will for sure share it with my fellow stalkers!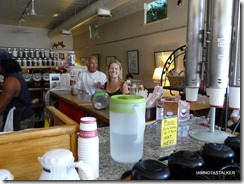 The Coffee Gallery is a very cool place to hang out – and I mean that both figuratively and literally!  While it is a super hip little spot, it is also blissfully air-conditioned and after walking in from the 95-degree heat yesterday, I vowed never to leave!  😉  The Coffee Gallery actually reminds me a LOT of a place in San Mateo called the Coffee Critic where I used to hang out pretty much every afternoon when I was in high school, so walking through those front doors yesterday felt like returning home.  In fact, the cafes are so similar it was striking!  My dad even commented on how much alike they look, but I digress once again.  The Coffee Gallery is cozy and inviting and the barista who waited on us could NOT have been nicer.  I can say with certainty that I will for sure be frequenting the place regularly from now on.  Oh, and they serve up some great coffee, too!  😉
In the "Chair Model" episode of The Office, Pam Beesly (aka Jenna Fischer) sets up her boss, Michael Scott (aka Steve Carell), on a blind date with Margaret, her landlady.  The two decide to meet for the first time at the Coffee Gallery.
At first, Michael mistakenly believes that the above-pictured blonde woman is Margaret, even though she explained to him that she has straight brown hair and that she will be wearing blue jeans and a black top.  When he first sees the blonde, though, he says, "I give her a ten for looks and a three for her ability to describe herself".  LOL LOL LOL 
When he finally meets the real Margaret, he blurts out, "Ugh!" and then proceeds to pretend that he is not actually Michael Scott.  He is found out, however, when the barista yells out his name to announce that his drink is ready.   God, I love The Office!
The two then sit by the cafe's front window and proceed to have a very awkward conversation about how "hot" Michael's former girlfriend was. 
The Coffee Gallery's super nice barista also told me that the 2005 flick Must Love Dogs had been filmed on the premises, as well.  The exterior of the coffee house was featured in a scene towards the end of the movie in which Jack (aka John Cusack) meets his ex-girlfriend's father, Bill (aka Christopher Plummer), for the first time.  According to the barista, the Coffee Gallery was left open during the filming of Must Love Dogs and both John Cusack and Christopher Plummer were extremely nice and posed for photographs with all of the people who stopped by on their morning coffee run.  Let me just say here that I would absolutely die if I showed up at my local coffee house one morning to find a movie being filmed!  Sigh!  🙂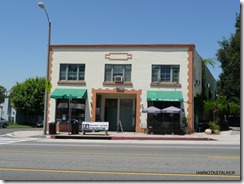 Big THANK YOU to Mike, from MovieShotsLA, for finding this location!
Until next time, Happy Stalking!  🙂
Stalk It: The Coffee Gallery from Must Love Dogs and the "Chair Model" episode of The Office is located at 2029 North Lake Avenue in Altadena.  You can visit their official website here.
21882