The Moonlight Mile Bar from "Beautiful Girls"
Jul 19th, 2010 | By
Lindsay
| Category:
Movie Locations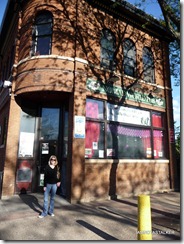 While going through my trusty stalking notebook this morning, I realized that I still have quite the backlog of Minnesota filming locations that I have yet to blog about.  Not to mention the slew of Seattle locales that I haven't even yet begun to post!  I'm going to mix them all in with L.A. area locations over the next few weeks so that my fellow stalkers don't get bored reading about the same city over and over again.  But for today I thought I'd write about Minneapolis' Nomad World Pub, the watering hole which stood in for the supposed Knight's Ridge-area "Moonlight Mile" bar where Paul Kirkwood (aka Michael Rapaport) took Andera Womack (aka Uma Thurman) on a date in fave move Beautiful Girls.  At the time, the bar was known as the 5 Corners Saloon, but ownership changed hands back in December of 2004 and so did the name.  I found this location, once again, thanks to fellow stalker Owen and his highly-coveted Beautiful Girls master locations list!  So, I, of course, just had to drag my parents out to stalk the place while we were in Minnesota this past May. 
In Beautiful Girls, Paul cooks up a ruse to bring "the lovely Andera" out on on a date at the Moonlight Mile bar for the sole purpose of making his ex-girlfriend Jan (aka Martha Plimpton), who hangs out there regularly, jealous.  And I am very happy to report that even though ownership of the establishment has changed and over fourteen years have passed since Beautiful Girls was filmed, the interior of the Nomad still looks much the same as it did in the movie.  YAY!
And, as it was portrayed in the flick, Nomad World Pub is actually a live-music venue.
Sadly though, the set of booths where Paul and Andera sat in Beautiful Girls, which used to run along the pub's north side, have long since been removed.  🙁  I was seriously disappointed once I realized that as I had so wanted to sit in the exact spot where Michael Rapaport and Uma Thurman sat in the scene.  UGH!  Have I mentioned before how much I dislike change??  😉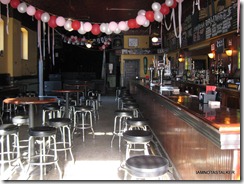 Even though little has been altered since Nomad World Pub took over ownership of the property, the former 5 Corners Saloon is apparently well-missed.  There is even a Facebook page named "Remember the 5 Corners Saloon" that has been set up in honor of the historic former bar.  So darn cool!  You can see photographs of how the place used to look here.
For whatever reason, a different location entirely – a place known as Rich's Health Shop in Stillwater, Minnesota – stood in for the Moonlight Mile's exterior in Beautiful Girls.  Sadly though, that building was torn down several years ago to make room for a new loft development, so I did not get to stalk it.   And as you can see in the above photograph and screen capture, it beared little resemblance to the 5 Corners Saloon's actual exterior.
Big THANK YOU to Owen for finding this location!  🙂
Until next time, Happy Stalking!  🙂
Stalk It: Nomad World Pub, aka the Moonlight Mile bar from Beautiful Girls, is located at 501 Cedar Avenue South in Minneapolis, Minnesota.  You can visit the pub's official website here.  Rich's Health Shop, which was used as the exterior of the Moonlight Mile bar and has since been torn down, was located at 304 Main Street North in Stillwater, Minnesota.
21989