24/7 Restaurant from Glamour Magazine's "Glee Gets Glam" Photo Shoot
Jul 21st, 2010 | By
Lindsay
| Category:
Glee Filming Locations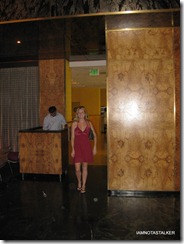 One location that I have been ABSOLUTELY DYING to stalk for what seems like forever now is the diner-style restaurant where the girls from Glee – Lea Michele, Dianna Agron, Amber Riley, and Jenna Ushkowitz – posed for the May 2010 Glamour Magazine "Glee Gets Glam" photo shoot.  After months of searching for it, though, and having absolutely no luck whatsoever, I had become convinced that the shoot had taken place on a studio set somewhere in Hollywood and not at an actual restaurant.  And then last Sunday night fate stepped in and, as so often happens with stalking, I ended up stumbling upon images of the Glee diner while searching for another location altogether.  Maddeningly enough, as it turns out, the Glee girls were photographed at a locale that I have not only been to several times, but one that I've actually blogged about before – the Standard, Downtown L.A. Hotel.  I have a pretty valid excuse at to why I didn't recognize the place immediately when I first read the magazine, though – the girls were actually photographed inside the hotel's 24/7 Restaurant, a place which I had never before visited.  So, I of course, dragged the Grim Cheaper right out to stalk it this past weekend!  🙂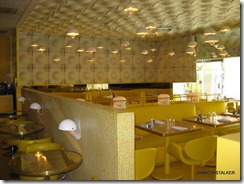 And the place did not disappoint!  I honestly cannot say enough good things about 24/7!  The restaurant's hipster decor is a definite throwback to the 1950s and is unlike anything else I've ever seen in L.A.  Apparently photo shoots and filming take place on the premises all the time and it's not very hard to see why – the diner is bright and funky and completely unique.  And the food is INCREDIBLE!  As I've mentioned before, I am an EXTREMELY picky eater, especially when it comes to chicken, but, let me tell you, I ate up every last bite of my 24/7 Cobb salad.  It was AMAZING!  And the prices are extremely reasonable, as well, which pleased the Grim Cheaper to no end.  To top it all off, the staff was also incredibly friendly and let me take all of the photographs of the place that I wanted.  Yay!  🙂
Lea Michele and Amber Riley's "Glee Gets Glam" photograph was taken in the center booth located just to the right of the restaurant's lobby entrance.
Dianna Agron and Jenna Ushkowitz posed for their photograph in front of the windows which face 24/7's patio area.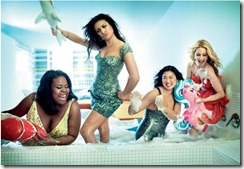 And, as you can see in this picture, the photograph of all four girls playing around in a bathtub was shot in one of the Standard's hotel rooms.
And, much to the Grim Cheaper's dismay, I just HAD to recreate Lea Michele's pose from the issue's contents page while I was there.  I so wish I could have also been wearing her Marchesa dress while doing so, but unfortunately I didn't have an extra $6,600 lying around!  😉  Sigh.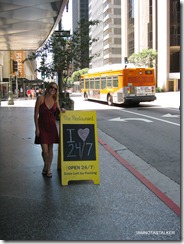 I honestly cannot recommend stalking the 24/7 Restaurant enough.  For lack of a better word, it is just simply a cool, cool place to grab a bite to eat.  🙂  Note – The magazine images which appear in this post do not belong to me, but remain the property of Glamour Magazine and photographer Peggy Sirota (who also shot these fabulous Jen Aniston pictures for GQ Magazine).
Until next time, Happy Stalking!  🙂
Stalk It: The 24/7 Restaurant can be found inside the Standard, Downtown L.A. Hotel, which is located at 550 South Flower Street.  As the name implies, the restaurant is open 24 hours a day, 7 days a week.  You can visit the official 24/7 website here.
22211