The Historic El Paseo Shopping Center from "It's Complicated"
Jul 27th, 2010 | By
Lindsay
| Category:
Movie Locations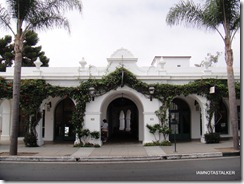 Another It's Complicated location that I stalked while visiting the Santa Barbara area a few weeks back was the historic El Paseo Shopping Center located in the heart of Downtown State Street.  In the movie, the Spanish-style marketplace stood in for the "Santa Barbara Medical Building" where Jane Adler's (aka Meryl Streep's) therapist, Dr. Allen (aka Peter Mackenzie), worked.  In reality, El Paseo does not actually house medical offices, but is in fact California's very first and oldest shopping center.  I found the location thanks to this fabulous December 2009 Los Angeles Times article about the filming of It's Complicated and even though I had yet to see the movie, I dragged my fiancé right out to stalk the place pretty much immediately upon arriving in the area.
  El Paseo Shopping Center was originally built during the 1920's and currently houses several boutiques, restaurants, and independent offices situated amongst picturesque courtyards, sparkling water fountains, and wood-framed balconies.  The place is absolutely huge and, including its parking lot, encompasses an entire city block, which is how my fiancé and I ended up stalking the wrong section of it.  Because I had yet to watch It's Complicated, I had no idea what particular part of El Paseo had appeared in the flick.  So, while the Grim Cheaper and I did walk quite a bit of the property and snapped photographs of what we thought was every square inch of the place, we somehow missed the back entrance – which, of course, was the only section of the center used in the filming.  Murphy's Law strikes again!   
Thankfully though, our good friends Chris and Amy, who live in the area, agreed to re-stalk the place for me this past weekend.  And even though the two aren't stalkers like myself, they did a FABULOUS job of matching their photographs to the screen captures I had sent them.  YAY!  Thank you, Chris and Amy! 
Filming of It's Complicated took place at El Paseo's east entrance, which can be reached via Anacapa Street.  As fate would have it, that area of the shopping center happens to be located directly across the street from the city's main post office.  During the shoot, the entire stretch of road in front of the shopping center and post office had to be shut down to all pedestrians and traffic, which on an ordinary day probably wouldn't have been that big of a deal.  But the It's Complicated therapist office scene was actually shot on April 15, 2009.  Yes, you read that right – the city actually shut down the street in front of its main post office on TAX DAY!  Someone in the SB Planning Department seriously dropped the ball on that one!  😉
El Paseo's main entrance is pictured above and, as you can see, looks markedly different from its back entrance.  So different, in fact, that I thought the Los Angeles Times article had printed erroneous information when it reported that filming had taken place at the historic shopping center.  It wasn't until I did some cyber-stalking of El Paseo using Bing aerial maps that I figured out my mistake.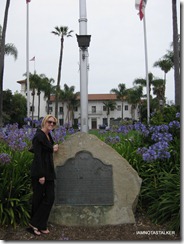 Amazingly enough, the It's Complicated crew only filmed on location in Santa Barbara for a mere three days.  The rest of the filming took place in Los Angeles and New York.  According to IMDB's It's Complicated filming locations page, some of the flick was also lensed in Santa Barbara's De Le Guerra Plaza.   From what I've been able to discern online, the Plaza was converted into a  Christmas tree lot for a scene that never actually made it into the movie.  You can see some photos of the filming and read a great on-set report on the Fussy blog here.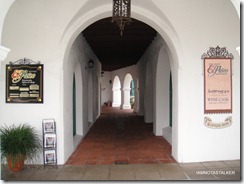 Big THANK YOU to Chris and Amy for stalking El Paseo and taking the above photographs for me!  🙂
Until next time, Happy Stalking!  🙂
Stalk It: The area of El Paseo Shopping Center that was used in It's Complicated can be found at 813 Anacapa Street in Santa Barbara.  De La Guerra Plaza, where the deleted Christmas tree lot scene was filmed, is located in front of the Santa Barbara City Hall, which can be found at 735 Anacapa Street.
22436