The "Party of Five" House
Aug 3rd, 2010 | By
Lindsay
| Category:
TV Locations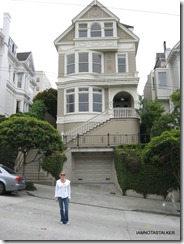 Sunday night I returned home from my bachelorette party weekend, which turned out to be a surprise Sex and the City-themed soiree thrown up north in San Francisco.  Needless to say, I was absolutely FLOORED about it.  🙂  The celebration was, of course, held at a filming location, so I will, of course, be blogging about it, but I am still waiting on some pictures that my friends took before I can do so.  In the meantime, though, I thought I'd blog about a location that I have been wanting to stalk for what seems like forever now – the San Francisco home where the Salinger Family – Bailey (aka Scott Wolf), Charlie (aka Matthew Fox), Julia (aka Neve Campbell), Claudia (aka Lacey Chabert), and Owen (aka toddler twins Brandon and Taylor Porter) –  lived on the 90's television series Party of Five.  For whatever reason, even though I've had the place on my To-Stalk list for ages now, every time I've visited San Francisco over the past two years, I haven't been able to make it out to the house.  So, I begged my good friend Nat to take me there the morning following my party and, let me tell you, I could NOT have been more excited to finally be seeing it in person.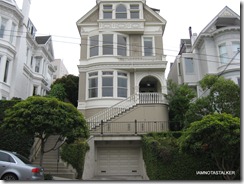 Because I accidentally left my trusty stalking notebook at home, I didn't have the address of the house with me this past weekend, so, before heading out there, Nat and I did a little cyberstalking to find the address online and as it turns out the property has its own listing on Yelp!  Love it, love it, love it!  
I am VERY, VERY happy to report that the Salinger house looks EXACTLY the same today as it did back in 1994 when Party of Five was filmed.  Even the paint colors have remained the same!  YAY!  The home is absolutely GORGEOUS in person and so quintessentially symbolizes San Francisco that it is not at all hard to see why producers chose to use it as the main residence on the Bay Area-based series. 
In real life, the three-story dwelling, which was built in 1900, features seven bedrooms, five and a half bathrooms, a whopping 6,705 square feet, cathedral ceilings, a four-car garage, an elevator, a gourmet kitchen, a greenhouse solarium, stained glass windows throughout, two decks, and views of the Golden Gate Bridge, the Palace of Fine Arts, and San Francisco Bay.  The property was sold to new owners earlier this year for $6,550,000.  I can't even imagine owning an iconic piece of television history like that!  So darn cool! 
The house was featured each week in the Party of Five opening credits and in establishing shots throughout the series' six-year run.
Because parts of the Party of Five pilot were shot on location in San Francisco, I assumed that the real life interior of the house was also used in the filming of that episode.  But if you look at this recent real estate listing for the home and compare it to the above screen captures, you can see that that was not actually the case.  But I am happy to report that the real life house does boast a small garden courtyard, much like its onscreen counterpart. 
You can watch the Party of Five opening credits, which feature the house, by clicking above.
Big THANK YOU to Nat for taking me to stalk this location!  🙂
Until next time, Happy Stalking!  🙂
Stalk It: The Party of Five house is located at 2311 Broadway in the ultra-exclusive Pacific Heights neighborhood of San Francisco.
22723