My "Sex and the City" Bachelorette Party
Aug 5th, 2010 | By
Lindsay
| Category:
My Movie-Themed Wedding
,
This and That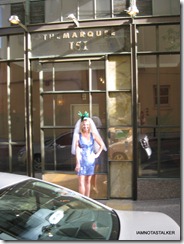 As I mentioned in Tuesday's blog, this past weekend I headed up to Northern California to celebrate my final days of singlehood with a bachelorette party in San Francisco.  My friends Nat and Kylee planned the entire celebration and until I actually arrived at the party site, I had absolutely no idea of what the evening would entail.  As it turned out, they had put together a Sex and the City-themed soiree for me which was held at an amazingly chic New York-style loft in the Marquee Loft Building located in the heart of downtown San Francisco.   YAY!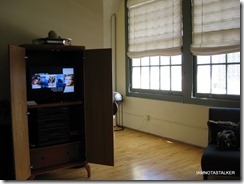 When I first walked into the loft, Nat and Kylee had the Sex and the City theme song blasting from the TV in the living room, but I have to admit that I was so in awe of the actual loft that I didn't even notice the music and therefore had no idea of the night's theme.  
The loft was simply AMAZING and walking in I truly felt like I had stepped into a residence in New York.  The place was decorated so perfectly and was just so Sex and the City-ish, that I should have known right away what my friends had in store for me, but the blonde in me had taken over I guess, because I am ashamed to admit that I had absolutely no idea. 
Then I walked into the kitchen and immediately noticed the cupcake apron that Charlotte York (aka Kristin Davis) had worn in Sex and the City 2, but even then I STILL didn't realize the night's theme!  I thought the apron was simply a part of the loft's cool decor and when I pointed it out to Nat and commented on its movie connection she must have been ready to smack me because she said, "Yes, I KNOW!!  I wanted you to feel like you were walking into Charlotte's kitchen."  How incredibly cute is that?????  Nat and Kylee finally explained the theme of the evening to me and needless to say I could NOT have been more excited.  
Besides the loft fitting in with the party's whole Sex and the City theme, the place was also, of course, a filming location!  As it turns out, Nelson Moss (aka Keanu Reeves) lived in the Marquee Loft Building, in Unit #702, in the 2001 movie Sweet November.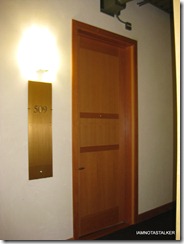 And while we didn't stay in the exact unit where filming took place, many elements of our loft, including the front door, living room windows, and kitchen area, were an exact match to Nelson's loft in the movie.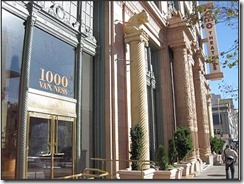 The Marquee Loft Building, which was built in 1921, originally housed the Don Lee Cadillac Dealership and was designed by Charles Peter Weeks and William Peyton Day, the notable San Francisco architecture team who was also responsible for designing the Mark Hopkins Hotel, the Sir Francis Drake Hotel, and the Huntington Hotel.  The former auto dealership, which is on the National Register of Historic Places, was converted into a residential loft building in 1999 and that same year won the San Francisco Business Times award for "Best Rehab of the Year".  My fiancé and I actually currently live in a loft-style apartment, but our entire place could literally fit in the master bedroom of the loft where my bachelorette party was held.  😉 
My bachelorette loft, which is a vacation rental, featured two bedrooms (pictured above) and over 1,300 square-feet of living space.  I was absolutely DYING over it as it is EXACTLY the type of place that I would love to own someday.
The ultra-chic pad also boasted a private computer office area;
a large living room with a sofa-bed;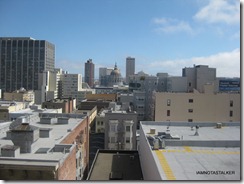 and amazing views of the City . . .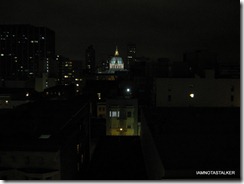 . . . especially at night!   Sigh!  What I wouldn't give to live in a place like that!
But my story doesn't end there!  In keeping with the night's theme, instead of just making a veil for me to wear throughout the evening, as is the norm with bachelorette parties, Kylee constructed an almost exact replica of Carrie's feathered veil from Sex and the City: The Movie.  I was absolutely DYING laughing when she first pulled it out of her bag, as I knew as soon as I saw that flash of blue exactly what it was. 
Then to complete the look, she also had a Carrie-style necklace made for me that spelled out the word "Mrs.", with a diamond stud standing in for the period.  LOVE IT!  I should really explain here that neither Nat nor Kylee is at all a fan of Sex and the City (in fact, Kylee downright hates the show) so the fact that they came up with all of this stuff is absolutely mind-boggling to me!  I mean, I'm like the biggest Sex and the City fan in the entire world and I don't think I would have thought of any of it!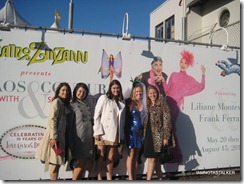 But the soiree didn't just involve spending the weekend at an exclusive New York-style loft.  My friends also took me to Teatro ZinZanni, which is described on its website as "a bewitching evening of European Cabaret and Cirque, Divas and Madmen, Spectacle and Sensuality with Live Music and Gourmet Five-Course Dinner – set in the nightclub of your dreams!"  I had never actually heard of the musical/comedy/dinner theatre show, which is currently celebrating its tenth year in San Francisco, before this past Saturday night, but, let me tell you, the whole thing was RIGHT UP MY ALLEY.  The show was absolutely HILARIOUS, the food was AMAZING, and the costumes!  Sigh, the costumes!  I couldn't take my eyes off of them!  The subject matter of the show changes a few times each year and, as fate would have it, the current theme just happens to be "Love, Chaos, and Couture", which fit in perfectly with my SATC-themed night.  One of the stars of the show also just happened to be actress Liliane Montevecchi, who played Mrs. DeLauer in 2003's How to Lose A Guy in Ten Days.  Teatro ZinZanni was simply AMAZING and I honestly cannot recommend stalking it enough.  As my friend Nat says, "It is my favorite thing to do in San Francisco."  And I can honestly say it is now mine, too!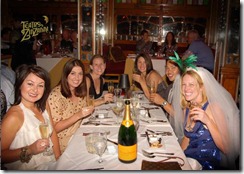 All in all, the evening was spectacular and, as I said to Nat afterwards, she and Kylee could not have planned a more perfect evening for me had I given them a blueprint of what I wanted.  🙂  The following morning, my mom texted me and said that my dad was worried that I might have gotten sick during the party.  That cracked Nat and Kylee up to no end and Kylee said sarcastically, "Yeah, 'cause that would just be so Lindsay."  😉  No, I did not get sick – the evening was fun, but extremely classy, which is exactly the way I wanted it.  🙂  As I mentioned in Monday's post, planning this wedding has been a very stressful and trying endeavor, compounded mostly by the fact that my dad has been so sick (and yes, he is sick once again and has to have another surgery today – UGH).  But looking at these photographs absolutely warms my heart and makes me realize that, when all is said and done, I am not going to look back on the past few months with irritation at the guests and family members who asked for ridiculous things , the vendors who fell through or messed up, or the invitations that didn't arrive on time.  All of that stuff is trivial.  No, I am going to look back and be hit with how incredibly lucky I am to be surrounded by such an exorbitant amount of love in my life.  As it turned out the evening's Sex and the City theme could not have been more apropos, because the thing I thought about most that night was friendship.  I have the most incredible group of friends a girl could possibly ever ask for . . . just like Carrie Bradshaw.
Until next time, Happy Stalking!  🙂
Stalk It: The Marquee Lofts are located at 151 Alice B. Toklas Place in San Francisco.  In Sweet November, Keanu Reeves lived in Loft #702.  My bachelorette party was held in Loft #509, which is a vacation rental.  You can visit the loft's rental website here.  Teatro ZinZanni is located at Pier 29 on the Embarcadero at Battery Street.  You can visit the show's official website here.
22865