Jessica's House from "Sleepless in Seattle"
Aug 10th, 2010 | By
Lindsay
| Category:
Movie Locations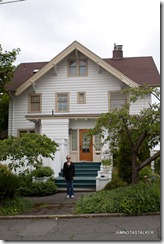 One of the locations that I was most excited about stalking while visiting Seattle this past May was the home where Jonah Baldwin's (aka Ross Malinger's) best friend Jessica (aka Gaby Hoffman) lived in fave movie Sleepless in Seattle.  Fellow stalker David, who I had the pleasure of meeting and doing some stalking with during my brief three-day vacation, managed to track down Jessica's house just about a week before I headed up to the Pacific Northwest.  He found the locale after posting an inquiry on this area filming locations thread on the West Seattle Blog website.  David had spent quite a bit of time trying to find the house on his own without much luck, so thankfully the West Seattle Blog readers offered to lend a hand and through some amazing detective work came up with the right address.  YAY!  So, I immediately put the home high up on my must-stalk-while-in-Seattle-list and could NOT have been more excited about seeing it!
The exterior of Jessica's house was actually only featured in one very brief scene in Sleepless in Seattle in which BFF's Jonah and Jessica mail a letter to Annie Reed (aka Meg Ryan) which they have written on behalf of Jonah's father, Sam Baldwin (aka Tom Hanks).  After putting the forged letter in Jessica's mailbox, the two sit on her front porch and wait for the mailman to come pick it up.
Even though the home appeared only once, and very briefly at that, I was still absolutely floored over seeing it in person because, as I've mentioned before, Sleepless in Seattle is one of my very favorite movies of all time.  And I am happy to report that Jessica's house still looks very much the same today as to how it appeared onscreen in Sleepless, which is pretty darn amazing being that filming took place over 17 years ago!  Sadly, though, the mailbox where Jessica and Jonah mailed Annie's letter is not there in real life.  I am fairly certain that it was never truly a part of the house, but was a prop that was brought in solely for the filming.  🙁  So sad!  Also missing, of course, was Jessica's mom's "Four Winds" travel agency sign that was displayed on the home's front porch in the movie.
I am fairly certain that the actual interior of the house was used in the filming, as well. 
According to a comment posted by a West Seattle Blog reader named "westseattledood", a home located just a few doors down from Jessica's stood in for the Chicago-area residence where Sam and Jonah lived during the beginning of Sleepless.  Only the interior of that house was shown in the movie in the scene in which Sam's sister, Suzy (aka Rita Wilson), tells Sam how to prepare the food she has made for him. 
And even though the residence's exterior was never shown in Sleepless, since we were less than a block away, I just had to stalk that property, too!  🙂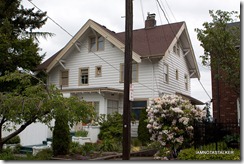 Big THANK YOU to David and to the West Seattle Blog readers for their help in finding these locations!  🙂
Until next time, Happy Stalking!  🙂
Stalk It: Jessica's house from Sleepless in Seattle is located at 1816 4th Avenue North in the Queen Anne neighborhood of Seattle.  The home used for the interiors of Sam and Jonah's Chicago residence can be found just down the street at 1701 4th Avenue North.
22061