The "Date Night" House
Aug 11th, 2010 | By
Lindsay
| Category:
Movie Locations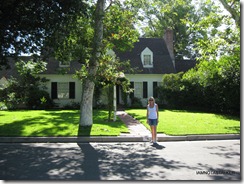 Last night, the Grim Cheaper and I sat down to watch the movie Date Night which FINALLY came out on DVD this week.  We somehow missed seeing the flick in theatres when it first came out in April and I have been not-so-patiently waiting for it to be released on DVD ever since.  Especially since Mike, from MovieShotsLA, tracked down the house which belonged to Phil and Claire Foster (played by Steve Carell and Tina Fey, respectively) in it over four months ago.  Because I suffer from the need for immediate gratification, I actually stalked the place immediately after Mike told me its location and, as you can imagine, have been ABSOLUTELY DYING to see the movie ever since – even though the previews didn't look especially promising.  I have to say that I was very pleasantly surprised while watching it, too – despite what the reviews said, Date Night is a really cute movie!  It's heartwarming and sweet and laugh-out-loud funny.  Not to mention the fact that Tina Fey and Steve Carell are exceptional in it!  Loved it, loved it, loved it!  But I digress!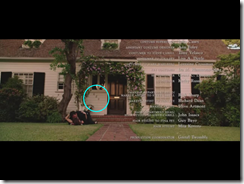 Mike tracked down the Date Night house pretty much immediately after seeing the movie in theatres.  He knew from the get-go that the supposed New Jersey-area home was actually located somewhere in Pasadena thanks to these JFX Online paparazzi photos taken of Tina Fey and Leighton Meester during the filming.  He also spotted an address number of "620" while watching the movie and from there used Google Street View to search all of the 600 blocks in the Pasadena area until he found the right residence.  Thank you, Mike!
The Foster house actually shows up only a few times in Date Night, most notably in the ending scene in which Phil and Claire return home after their disastrous date in New York City.
And I am very happy to report that not only does the home look exactly the same in person as it did in the movie, but it is also ABSOLUTELY ADORABLE.  In fact, it is almost too adorable.  Had Mike not found the property's real life location and had I not seen the place with my own two eyes, I would have been absolutely convinced that it was a fake house located on a studio backlot somewhere in Hollywood.  The residence has that "studio" feel to it even in person and looks like it belongs on Wisteria Lane and not in the real world.  😉
As you can see in these photographs of the inside of the home, the real life interior of the property was also used in the filming.
And, ironically enough, the "Byzantine/Mediterranean" house that Claire tries to sell at the beginning of Date Night is located right next door to the Foster home, which makes things convenient for us stalkers.
On a Date Night side note – If you haven't yet watched the bloopers reel featured at the end of the flick, you REALLY need to and can do so by clicking above.  They are absolutely hilarious and really show how much fun the movie must have been to work on.  It was actually watching stuff like this that first made me want to be an actor.  Yes, the hours are long and the work is tedious, but in what other kind of career does one get to laugh as much as this???  🙂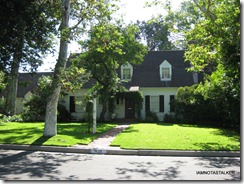 Big THANK YOU to Mike, from MovieShotsLA, for finding these locations!  🙂
Until next time, Happy Stalking!  🙂
Stalk It: Phil and Claire Foster's house from Date Night is located at 620 Vallombrosa Drive in Pasadena.  The home that Claire tries to sell at the beginning of the movie is located right next door at 608 Vallombrosa Drive.
22024