Franklin Library from "Beautiful Girls"
Aug 19th, 2010 | By
Lindsay
| Category:
Movie Locations
The final Beautiful Girls filming location that I stalked while visiting Minnesota this past May was the library where Tommy "Birdman" Rowland (aka Matt Dillon) met up with his married girlfriend Darian Smalls (aka Lauren Holly) and her daughter, Kristen (aka Sarah Katz), towards the end of the flick.  I found this location, once again, thanks to fellow stalker Owen and his Beautiful Girls master locations list.  And even though it was only featured in a very brief scene in the movie, for whatever reason, I was absolutely DYING to stalk the place.  Unfortunately though, we ended up stalking it during our last day in the North Star State and it happened to be POURING rain at the time, which is why I look like such a dork in the above photograph.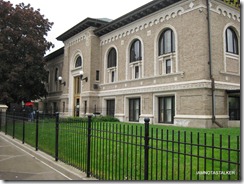 The Franklin Library first opened almost a century ago thanks to a gift from philanthropist Andrew Carnegie.  In 1912, the Scottish-American businessman decided to donate $125,000 to the Minneapolis Public Library in order to build four new area branches.  The Franklin Community Library, which was designed by New York architect Edward L. Tilton, was the first of those branches to be constructed.  The land on which the library now stands was donated to the city by Minneapolis real estate tycoon Sumner T. McKnight.  The Renaissance Revival-style building, which cost $41,000 to construct, first opened in August of 1914 and had its formal dedication ceremony on January 29, 1915.  It was placed on the National Register of Historic Places in 2000 and, while it underwent an extensive renovation in 2005, I am very happy to report that it still looks almost the same today as it did when it first opened.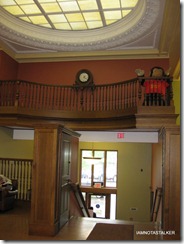 And the staff there literally could NOT have been nicer – once they got over their initial confusion of why I was stalking the place, at least.  Like the cashier working the front register at the Marine General Store in Marine on Saint Croix,  which I had stalked just a few days beforehand, when I first asked about the filming of Beautiful Girls, the librarians on duty mistakenly thought that I wanted to rent the flick, not take pictures of where it had been filmed.  😉  Once they understood my purpose for being there, though, they were highly amused and one of them offered to take me and my parents on a mini-tour of the premises and then photocopied a bunch of historic information about the library for me to take home.  Yay! 
In Beautiful Girls, Tommy and Darian meet up, and then subsequently break up, while sitting in front of one of the library's massively-large fireplaces.  Because the library has no less than four similarly-looking fireplaces, though, pinpointing the exact one where filming took place proved to be a bit of a challenge.  But after taking photographs of each of them and comparing those photographs to screen captures from the movie, I can say with 99.9% certainty that the east fireplace is the one which appeared in the movie.
As you can see in the above photographs, though, the fireplace and its surrounding area look a bit different today than they did back in 1996 when Beautiful Girls was filmed.  According to the librarian that I spoke with, both the east fireplace and the one located directly across from it were restored back to their original 1914 state during the library's 2005 renovation. 
The super-cute student film Butterflies was also shot on location at the Franklin Library.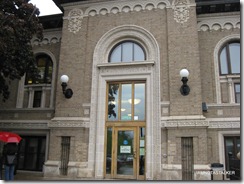 Big THANK YOU to Owen for finding this location!  🙂
Until next time, Happy Stalking!  🙂
Stalk It: Franklin Library from Beautiful Girls is located at 1314 East Franklin Avenue in Minneapolis, Minnesota.  The scene between Birdman and Darian was filmed in front of the library's east fireplace, which is adjacent to the American Indian book collection.  You can visit the library's official website here.
22510