Oscar's House from "The Office"
Sep 1st, 2010 | By
Lindsay
| Category:
The Office Filming Locations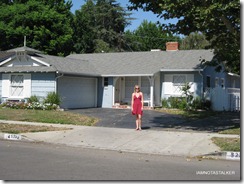 Another filming location from The Office that I stalked recently was the ranch-style abode where accounting executive Oscar Martinez (aka Oscar Nunez) lives on the show.  I found this location, as always, thanks to fellow stalker Owen who, along with a bit of assistance from fellow stalker Chas, of ItsFilmedThere, has somehow managed to track down pretty much every single locale that ever appeared on the show.  Thank you, Owen!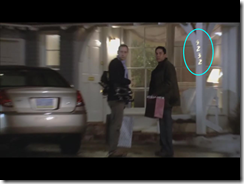 While watching the Season 2 episode of the series titled "The Secret" a few years back, Owen spotted an address number of 5232 in the background of a scene.  He immediately set about searching aerial views of neighborhoods near Chandler Valley Center Studios in Van Nuys, where the series is lensed, for homes with a 5232 address number, and, sure enough, it wasn't long before he had found the right place.  YAY!  So, while I was in the area with my fiancé – ahem, my husband 🙂 – a few weeks ago, I dragged him right out to stalk Oscar's abode!
Oscar's house actually only appeared in "The Secret" episode and has yet to show up again on the series.  In the episode, Oscar calls in sick to work on a Friday and his co-worker and part-time volunteer sheriff's deputy Dwight Schrute (aka Rainn Wilson) becomes convinced that Oscar is not truly ill.  Dwight decides to investigate the matter further and, after first conducting interviews with everyone in the office to get their take on whether Oscar is faking or not, he heads over to "the perp's" house to see if he is actually ill.  When he catches the not-yet-out-of-the-closet Oscar with another man in his driveway, he becomes ecstatic, drives up to the couple and proclaims, "Man, you are so busted!  Ice skates, shopping bags!  I think I know what's going on here . . . you weren't sick at all!"  Not realizing that he has stumbled upon a much larger secret, Dwight blackmails Oscar into owing him "one great, big, giant favor redeemable by me at a time and place of my choosing."  Have I mentioned how much I love this show?  😉
I am very happy to report that, minus a few trees in the front yard, Oscar's house looks exactly the same in person as it did on the show.  Love it!
Located less than a block away from Oscar's house is the residence where Pam bought a lamp during "Michael Scott's Dunder Mifflin Scranton Meredith Palmer Memorial Celebrity Rabies Awareness Pro-Am Fun Run Race For the Cure" (and yes, that was the race's actual name) in the Season 4 episode of the series titled "Fun Run".  During the race, Jim and Pam happen upon an estate sale at a local residence and instead of continuing on with the run in order to "prevent a disease that's already been cured" (LOL), they decide to do some shopping.  I know this probably goes without saying, but I also found this location thanks to fellow stalker Owen.  And even though it only appeared very briefly in one episode of the series, because I was already in the area, I just had to stalk it!
And it, too, looks much the same in person as it did on the series, even though very little of it was ever actually seen in the episode.
Ironically enough, the "Fun Run" house looks like it could almost be a twin to Oscar's house!  Many homes in the area actually have that extra little roof gable above the garage and, therefore look quite a bit alike, so it is truly a feat that Owen was able to track down the houses which were used on the show.
Big THANK YOU to Owen for finding both of these locations!
Until next time, Happy Stalking!  🙂
Stalk It: Oscar's house from The Office is located at 5232 Longridge Avenue in Van Nuys.  The house where Pam buys the lamp in the "Fun Run" episode is located a few blocks north of Oscar's house at 5306 Longridge Avenue.
22944