Pueblo Bonito Pacifica Holistic Resort & Spa
Sep 10th, 2010 | By
Lindsay
| Category:
TV Locations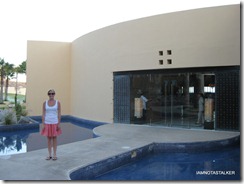 During our recent Cabo San Lucas honeymoon, the Grim Cheaper and I stayed at the Pueblo Bonito Pacifica Holistic Resort & Spa.  And while I knew from looking at the property's website that it was a beautiful place, at the time I made our reservation I had absolutely NO idea that it was also a celebrity destination AND a filming location!  They say that you attract those things to you that you think about the most, and in this case, that was most definitely true!   But more on that later.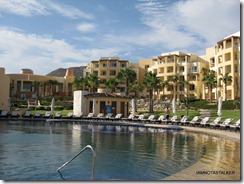 Before arriving in Cabo, I was a little apprehensive that it might be a somewhat dangerous place.  As it turns out, though, I don't think I've ever felt more safe.  The city is beautiful, the people are some of the friendliest I've ever encountered, and the Cabo way of life is extremely laidback.  And while people generally refer to the entire area as being called Cabo San Lucas, it is actually known as Los Cabos and is made up of three different sections which span the southern tip of the Baja Peninsula.  The sections include San Jose Del Cabo, The Corridor, and Cabo San Lucas.  Long before I had planned our honeymoon, I had heard Jennifer Aniston and Jennifer Love Hewitt describe Cabo as a "sleepy, little fishing town".  As it turns out, though, Jen and Love were not speaking about Cabo San Lucas proper, which is a major party city, but rather about San Jose Del Cabo, which is located about fifteen miles north.  Most celebrities choose to stay in one of the many five-star resorts located along The Corridor, the most popular of which are the Esperanza, the One&Only Palmilla, and Las Ventanas Al Paraiso.  Because The Corridor hotels are exorbitantly expensive, though, the Grim Cheaper and I chose instead to stay at a resort in Cabo San Lucas, but thankfully it was far removed from the whole party scene.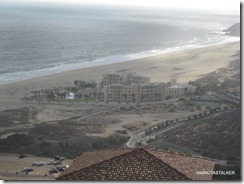 The 154-room Pueblo Bonito Pacifica Holistic Resort & Spa first opened in 2005 and is located inside of a gated community about five miles north of town.  Thanks to the hotel's strict adults-only policy and its remote location, it is an EXTREMELY quiet destination and has been billed as one of Cabo's most romantic locales.  And let me tell you, the GC and I absolutely LOVED the place.  The resort is so quiet that we often looked around and asked ourselves if we were the only two people staying there.  It was without a doubt the most relaxing, quiet vacation I have ever been on.  In fact, outside of wanting to do a little stalking, neither of us found any reason whatsoever to leave the resort during our entire nine day stay.  It was the perfect place to spend our honeymoon and, because it is so reasonably priced, we are already making plans for a return visit.  🙂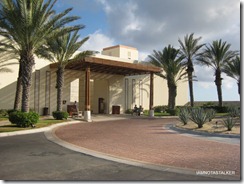 Upon first arriving at the resort, the Grim Cheaper and I were greeted with cool, wet towels infused with lavender oil with which to wash our hands.
The lobby, which overlooks the ocean, was also infused with a lavender scent, which made the experience of entering the hotel seem like walking into a spa. Love it!
The Pacifica features two pools, both of which overlook the ocean . . .
. . . and one of which features a swim-up bar.
The property is situated on a beautiful, private beach . . .
. . . where outdoor beds can be rented during the day and for overnight stays.  The beds can also be rented for an ultra-romantic dinner under the stars, which we unfortunately didn't find out about until the very last night we were there.  Ugh!  I so would have loved to have done that!  
Our room was absolutely beautiful . . .
. . . and featured a private balcony . . .
. . . with a stunning view of the ocean and pool area.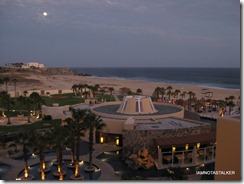 And at night the view only got more spectacular.  Sigh!  Oh, how I wish I was still there!
The Pacifica features four different restaurants and bars, all of which serve up SEPCTACULAR food – especially the nachos, which were some of the best I've ever had in my entire life.  In fact, I'd book a stay at the hotel just for those nachos – that's how good they were.  Best of all, the Pacifica also offers 24-hour room service, which the Grim Cheaper and I partook of virtually every single night.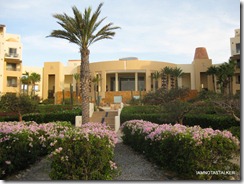 Because the resort is so remote and so private, numerous celebrities have checked in there over the years, including John Travolta and Kelly Preston, Lindsay Lohan, Cindy Crawford, Dolph Lundgren, and a bunch of sports stars, including a few Olympic gold medal winners, whose names I didn't recognize.  And, let me tell you, I just about died when I found out that my girl Jen had once visited the hotel's spa!  My Spanish isn't all that great, so when I was speaking to the woman at the spa, I originally thought she said that Jen had stayed at the hotel on one occasion, but after talking with the concierge it turns out that Jen was only on the premises for a spa appointment.  It was still very exciting for me, nonetheless.
Even more exciting, though, was when one of the Pacifica's bartenders informed me that all three fantasy dates from Brad Womack's season of The Bachelor had been filmed at the resort.  In the fantasy date episode, which aired on November 5, 2007, Brad flew his top three Bachelorettes – DeAnna Pappas, Jenni Croft, and Bettina Bell – down to Cabo San Lucas, Mexico.  And not only were all three overnight stays filmed at the resort, but according to this press release, the entire cast and crew also stayed on the premises.  ABC.com even sponsored a Bachelor contest, where viewers at home could win their own 4-day, 3-night fantasy vacation at the Pacifica.  Sadly, Season 11 of The Bachelor does not seem to be available for purchase anywhere and because I didn't watch the show that year, I am not sure which parts of the resort were featured in the fantasy date episode.   I was able to find the above clip of DeAnna Pappas' date on YouTube, in which one of the resort's timeshare villas, named the Montecristo Estates, is briefly shown.
As you can see in the above pictures, which I got off of the Montecristo Estates Website, the entrance, bedroom, and private pool terrace are exact matches to the fantasy suite where DeAnna and Brad spent the night.
Supposedly, the hotel's main restaurant, Siempre, also appeared on The Bachelor.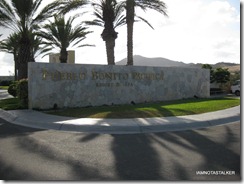 I honestly can't recommend stalking the Pueblo Bonito Pacifica Holistic Resort & Spa enough!  My honeymoon was truly one of the best vacations of my life!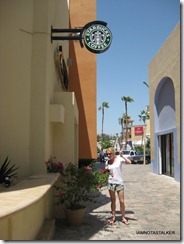 On a side note – For those who are planning a trip to the Cabo area, rest assured – the city does have a Starbucks.  🙂 
And it looks pretty much like any other Starbucks one might find in America . . .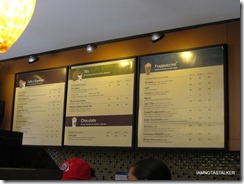 . . . except that the menu is, of course, in Spanish.  So darn cool!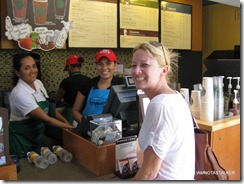 When I asked the baristas to pose for the above photograph, they wrongly assumed that I had never before been to a Starbucks, which prompted them to ask, "Don't you have a Starbucks where you come from?"  LOL LOL LOL  Oh, if they only knew!
Until next time, Happy Stalking!  🙂
Stalk It: Pueblo Bonito Pacifica Holistic Resort & Spa is located at Cabo Pacifica S/N, 23450 Cabo San Lucas, Mexico.  You can visit the hotel's official website here.  The resort is located inside of a gated community and I believe you have to have a dining reservation at one of the Pacifica's restaurants or at one of the restaurants located inside of its sister hotel, Pueblo Bonito Sunset Beach Resort & Spa, to be admitted entrance.
23268