Griffith Observatory
Sep 14th, 2010 | By
Lindsay
| Category:
90210 & Beverly Hills, 90210 Filming Locations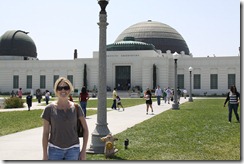 A couple of months ago I dragged my parents and my then-fiancé/now husband out to Los Feliz to do some stalking of the Griffith Observatory in Griffith Park – a place which I had never before visited despite having lived in Los Angeles for over a decade.  I had actually wanted to stalk the Observatory for close to 18 years –  ever since November of 1992, to be exact – thanks to the fact that it was featured in a Season 3 episode of fave show Beverly Hills, 90210.  But more on that later.
The land that now encompasses Griffith Park was donated to the City of Los Angeles by Welsh industrialist Colonel Griffith J. Griffith (and no, that was not a typo – the guy's first name was actually the same as his last!) on December 16, 1896.  Griffith stipulated that the donated parcel of land, which measured 3,015 acres, was to be used as a public park.  He said, "It must be made a place of rest and relaxation for the masses, a resort for the rank and file, for the plain people.  I consider it my obligation to make Los Angeles a happy, cleaner, and finer city.  I wish to pay my debt of duty in this way to the community in which I have prospered."  When Griffith passed away 26 years later, in 1919, he bequeathed the majority of his $1.5 million estate to the city for the purposes of building a theatre and an observatory inside of the park.  Construction on the observatory, which was designed by architect John C. Austin and engineer Russell W. Porter, began on June 20th, 1933 and the building opened to the public just under two years later, on May 14, 1935.  
The Griffith Observatory, which sits high atop Mount Hollywood, features a 300-seat state-of-the-art planetarium, a 2,700-square foot multimedia theatre, a Zeiss refracting telescope, an exhibit hall, and, as you can see above, views which are nothing short of incredible.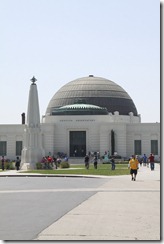 Hollywood location scouts took notice of the property right from the very beginning when it was chosen to appear in the 1935 movie The Phantom Empire shortly after its opening.  Since that time, the Observatory has been featured in hundreds upon hundreds of productions – far too many for me to be able to properly catalog here, but I'll do my best to give my fellow stalkers a broad overview.
As I mentioned above, the Observatory was featured in a Season 3 episode of Beverly Hills, 90210.  That episode was titled "Rebel With A Cause" and it was, ironically enough, one of my least favorite episodes in the entire history of the series.  The episode centers around the break-up of longtime couple Dylan McKay (aka Luke Perry) and Brenda Walsh (aka my girl Shannen Doherty), immediately after which Dylan puts the moves on Brenda's best friend Kelly Taylor (aka Jennie Garth).  Mind you, Dylan and Kelly had also been seeing each other behind Brenda's back for an entire summer at that point in the series.  Dylan then decides to take Kelly out on a date – just two nights after his break-up with Brenda! – and when Brenda randomly catches the two of them together in a restaurant, she calls Kelly a "bimbo" and Kelly actually has the nerve to be mad at Brenda.  I mean, HELLO, Kelly!  Not only did you spend an entire summer making out with your BEST FRIEND'S boyfriend, but when said best friend and said boyfriend break-up, it's not 48 hours later that you are out on a date with him.  With friends like that, who needs enemies??  Let me tell you, had that happened to me, I would have been calling Kelly a whole lot worse things than "bimbo".  And yes, I realize Beverly Hills, 90210 is just a television show and that the "Rebel With A Cause" episode aired almost two decades ago, but the whole thing still seriously upsets me!  But I digress.  Anyway, in the episode, before taking her out to dinner, Dylan brings Kelly to the Griffith Observatory, where they watch a show in the planetarium.
After the show, the two little home-wreckers head outside for a heart-to-heart chat and, even though I was strongly opposed to the whole Kelly/Dylan romance, for whatever reason, it was the location of that chat that I was most interested in stalking.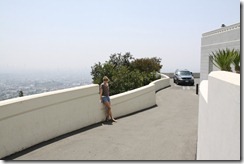 I had a very difficult time locating the wall where Dylan and Kelly sat, though, as it is not in an easily-visible part of the building.  It actually wasn't until we were heading back to our car that I finally spotted the right place.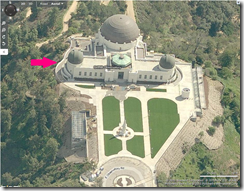 As it turns out, Kelly and Dylan's wall is located in the eastern-most section of the Observatory.  It is actually the wall to a ramp which leads to the back of the building and is located on the left-hand side of the Observatory (as you are facing it) and is denoted with a pink arrow in the above aerial view.
The Observatory's most famous onscreen appearance was, of course, in the 1955 James Dean classic Rebel Without a Cause, which, amazingly enough, I have never actually seen!  In the beginning of the flick, Jim (aka James Dean) and Judy (aka Natalie Wood), along with the rest of their high school class, go on a field trip to the Observatory where they watch a show in the planetarium.
And the very same wall from 90210 also appears in that scene.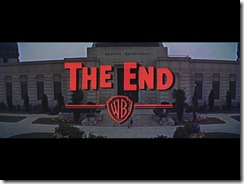 Rebel's final scene also takes place at the Observatory, but I do not want to post any screen caps of that scene as they would spoil the ending.
There is a statue of James Dean on display on the Observatory's front lawn which commemorates the historic filming that took place there in 1955.  So darn cool!
Griffith Observatory was also the site of the climatic scene in 1999's hilarious comedy Bowfinger, in which renegade, wanna-be movie director Bowfinger (aka Steve Martin) and his ragamuffin film crew secretly tape Daisy (aka Heather Graham) and Kit Ramsey (aka Eddie Murphy) fighting off a fictitious band of aliens.
In the first Transformers movie, Mikaela Banes (aka Megan Fox) and Sam Witwicky (aka Shia LaBeouf) are at the Observatory when they witness a group of Transformers crash landing on earth in the form of meteorites.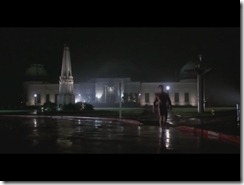 In The Terminator, the Observatory is the spot where the Terminator (aka Arnold Schwarzenegger) first emerges from a time warp and begins his mission to kill Sarah Conner (aka Linda Hamilton).
In 2008's Yes Man, the Observatory is the location of Allison's (aka Zooey Deschanel's) weekly jogging/photo class, during which Carl (aka Jim Carrey) crashes after drinking waaaaaaay too many Red Bull energy drinks.
It is also where Carl professes his love to Allison at the very end of the movie.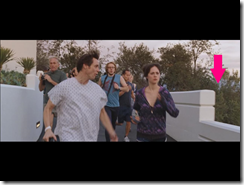 And it is during that ending scene that Carl and Allison run right by the exact spot where Beverly Hills, 90210 was filmed 16 years beforehand.  🙂
The scene in which Natalie Cook (aka Cameron Diaz), Dylan Sanders (aka Drew Barrymore) and Alex Munday (aka Lucy Liu) discover that Madison Lee (aka Demi Moore) is actually a fallen angel in Charlie's Angels: Full Throttle takes place at the Observatory.
The observatory was also featured in the music video for Paula Abdul's hit single "Rush Rush", which was an homage to the movie Rebel Without a Cause.
You can watch the full video, which starred Keanu Reeves, by clicking above.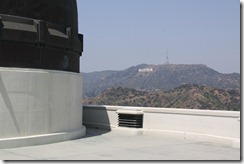 Griffith Observatory has also appeared in the movies Dragnet, Devil in a Blue Dress, The Rocketeer, House on Haunted Hill, Nancy Drew, and Earth Girls are Easy, and in episodes of NCIS: Los Angeles, 24, Star Trek Voyager, Alias, MacGyver, Melrose Place, Angel, Buffy the Vampire Slayer, and The Colbys.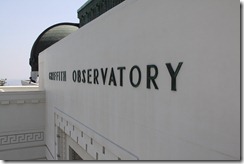 Until next time, Happy Stalking!  🙂
Stalk It: Griffith Observatory is located at 2800 East Observatory Road, inside of Griffith Park, in the Los Feliz section of Los Angeles.  You can visit the observatory's official website here.  Admission is free.  The observatory is closed to the public on Mondays and Tuesdays.
23460