The "E.T." House
Sep 16th, 2010 | By
Lindsay
| Category:
Movie Locations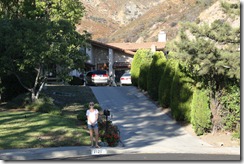 Although I consider myself somewhat of a master stalker (not as good as fellow stalkers Owen, Mike, from MovieshotsLA, or Chas, from ItsFilmedThere, of course), for whatever reason, up until this past weekend I had yet to visit one of the most famous movie locations of them all – the home where Mary (aka Dee Wallace), Elliot (aka Henry Thomas), Michael (aka Robert MacNaughton), and Gertie (aka Drew Barrymore) lived in the 1982 classic film E.T.: The Extra-Terrestrial.  I am not sure how, or even why, I avoided the location for as long as I did, but my best guess is that it is due to the fact that it is located in Tujunga, which is kind of out in the middle of nowhere, far from the areas I usually drag my husband out to stalk.  In fact, up until this past Saturday afternoon, I had never actually set foot in the Crescenta Valley suburb, which is situated just north of Glendale and just east of Sunland.  But, this weekend, while on our way home from doing some stalking in the Valley, a light bulb went off in my head and I asked my fiancé to take a little detour on the 210 Freeway so that I could finally, finally stalk the E.T. house.
It is absolutely amazing to me how iconic the E.T. home still is – almost thirty years after the movie was filmed!  As the Grim Cheaper and I drove up the hill where the residence is located and the property came into view, we both immediately recognized not only the actual house, but the cul-de-sac and neighboring residences which surround it.  Being that I haven't seen E.T. in almost three decades (I only watched it once, when it first came out, and I became so hysterical when E.T. left Elliot that my parents had to drag me out of the auditorium kicking and screaming and I've never been able to re-watch it since), I find that to be absolutely amazing!  The long, sloped driveway, the cul-de-sac, the mountains in the background – for better or for worse, those images of the house are indelibly engraved in my memories.
Thankfully, the residence still looks extremely similar today to how it appeared back in 1982 when E.T. was filmed.  The only real difference I noticed was the fact that the property is now dotted with large trees and shrubs, which wasn't the case thirty years ago.  At the time of the filming, the house was newly-built and therefore had very little foliage surrounding it.  I cannot tell you how awesome it was for me to stalk a place I haven't laid eyes on since 1982 and have it still look almost exactly the same now as it did then.  Love it!
According to director McG's DVD commentary, the house was also used in another Drew Barrymore flick – 2000's Charlie's Angels, as the residence where the character of Dylan Sanders falls after being shot by Eric Knox (aka Sam Rockwell).  I find it incredibly cool that McG decided to shoot a scene at this location!  Such a nice nod to the home's iconic cinematic history. 
The sliding glass door that Dylan knocks on in Charlie's Angels can also be seen in several scenes in E.T.
For those who haven't seen the above YouTube video, which chronicles most of E.T.: The Extra-Terrestrial's filming locations, you really need to check it out!  The video, which was put together by fellow stalker/filmmaker Herve Attia, artfully morphs clips of the movie with footage of how the locations look today.  It is simply amazing to watch!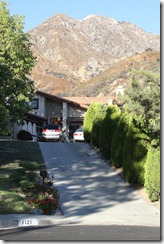 Until next time, Happy Stalking!  🙂
Stalk It: The E.T. house is located at 7121 Lonzo Street in Tujunga.
23557