The Restaurant Where Brenda and Donna Ate Veal Brains on "Beverly Hills, 90210"
Sep 21st, 2010 | By
Lindsay
| Category:
90210 & Beverly Hills, 90210 Filming Locations
One location that I have been on the lookout for for over eighteen years now is the Paris restaurant where Donna Martin (aka Tori Spelling) and Brenda Walsh (aka Shannen Doherty) ate veal brains in the Season 3 episode of Beverly Hills, 90210 titled "Too Little, Too Late/Paris, 75001".  Because almost two decades have passed since filming took place, though, and because there were virtually no clues visible in the background of the veal-brains-eating scene, this one proved to be a VERY tough find.  So, a few weeks back I finally decided to call in the team – Mike, from MovieShotsLA, Chas, from ItsFilmedThere, and fellow stalker Owen – and, amazingly enough, Owen found the restaurant in record time – in less than an hour, in fact!  Not joking!  I really need to start taking lessons from Owen, as he always comes up with extremely innovative ways of tracking locations down.  In this particular case, he decided to contact a few of the guest star actors who appeared in the episode, one of them being a girl named Lindsey Rosin.  Now, to someone like Owen who has never in his life watched an episode of 90210, the name Lindsey Rosin doesn't mean a whole lot, but to all of us diehard fans out there, the girl is a celebrity!  For those who are not in the know, Lindsey just happens to be the daughter of 90210's longtime executive producer Charles Rosin and, as a child, she appeared in several episodes of the series, including the "Too Little, Too Late/Paris, 75001" episode.  When Owen told me he had contacted her, let me tell you, I just about died from excitement!  Even more exciting, though, was the fact that not only did she write him back almost immediately, but she also knew exactly where the filming of the veal brains scene had taken place.  YAY!
As it turns out, Brenda and Donna's Paris restaurant was named Le Chardonnay and it used to be located on Melrose Avenue in West Hollywood.  Sadly, though, the eatery closed its doors for good just about a decade ago.  Since that time, the property has undergone several renovations and has re-opened as a few different restaurants, including the now-defunct French bistro Carafe and the Danny Masterson/Wilmer Valderrama/Ashton Kutcher-owned eatery Dolce.  Today, the space which once housed Le Chardonnay is an upscale Chinese food restaurant named Philippe Chow and even though it no longer looks anything like it did when it appeared on 90210, I just HAD to stalk the place.  So, this past Friday afternoon, since we were in the area running some errands, I dragged my dad there to grab some lunch.
Philippe Chow is a SUPER cute little restaurant that serves up some FABULOUS food!  Especially the chicken satay in cream sauce, which the restaurant is famous for.  The food is pricey, though – a bottle of sparkling water cost me a whopping $10!!!!!!!! – but, as they say, you get what you pay for, and the grub at Philippe Chow is EXTREMELY good!  The service was also fabulous and definitely lacking in the typical hoity-toity attitude one comes to expect from upscale L.A. eateries.  I honestly can't recommend the place enough! 
In the "Too Little, Too Late/Paris, 75001" episode of Beverly Hills, 90210, Brenda and Donna go out for dinner on one of their very first nights in Paris, France.  Neither one can speak the language very well and they end up ordering the one item on the menu that contains a word they recognize, Cerveaux de Veau – "veau" meaning veal.  As it turns out, though, Cerveaux de Veau actually translates to veal brains – something they don't discover until after they have already sampled the dish.  The scene is absolutely hilarious, mostly due to the comedic antics of Tori Spelling, who spits a bite of the brains out onto her plate and then proceeds to gargle with a glass of water.  And they say Tori Spelling can't act!  In my never-to-be-humble opinion, I think she was FABULOUS in that particular scene –
– which can watch by clicking above.
And while there is absolutely no trace of Le Chardonnay left on the Philippe Chow premises, there is some good news about this location.  After doing some research online, I discovered that Le Chardonnay was actually an almost-exact replica of the famous Restaurant Vagenende in Paris, France, which is still open, and as you can see in the above photographs, looks VERY similar to the restaurant which appeared on 90210.  So, while Le Chardonnay is no longer stalk-able, Vagenende thankfully is!  And, believe you me, if I ever go back to Paris, I am FOR SURE going to stalk the place!
Beverly Hills, 90210 is not the only production to have filmed on the Le Chardonnay premises.  Back when the restaurant had first been purchased by Wilmer Valderrama, Ashton Kutcher, and Danny Masterson, it was used in the Punk'd episode in which Ashton plays a prank on Wilmer by having a jealous boyfriend pretend to destroy his beloved Escalade – which you can watch by clicking above.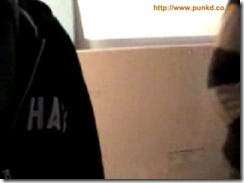 At the time Punk'd was filmed, Dolce had yet to open and was undergoing an extensive renovation process, and, as you can see in the above screen capture, the walls had yet to be painted and were still the same color pink that they were on 90210.  Love it!
Philippe Chow also recently appeared in the Season 5 episode of The Hills titled "Can't Always Get What You Want" as the spot where Kristin Cavallari and Brody Jenner meet up and discuss his wanting to get back together with ex-girlfriend Jayde Nicole.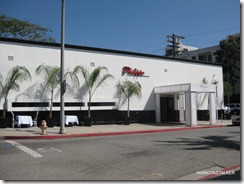 Philippe Chow is also something of a celebrity magnet.  Just a few of the stars who have been spotted there include Charlize Theron, Rihanna, Nick Nolte, Matt Kemp, Stephanie Pratt, Kelly Osbourne, Paris and Nicky Hilton, Lauren Conrad, Lindsay Lohan, Nick Jonas, Sofia Vergara, Selena Gomez, Lamar Odom, Kobe Bryant, and Kim and Khloe Kardashian.  Unfortunately, we didn't spot any celebs while we were there, though.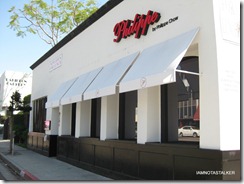 Big THANK YOU to Owen – and to Lindsey Rosin! – for finding this location!  🙂
Until next time, Happy Stalking!  🙂
Stalk It: Philippe Chow, the former Le Chardonnay restaurant where Brenda and Donna ate veal brains on Beverly Hills, 90210, is located at 8284 Melrose Avenue in West Hollywood.  You can visit the Philippe Chow website here.  Vagenende, the restaurant that Le Chardonnay was modeled after, is located at 142, boulevard Saint-Germain, in Paris, France.  You can visit the Vagenende website here.
23702