The Schaffer Residence from "A Single Man"
Sep 23rd, 2010 | By
Lindsay
| Category:
Movie Locations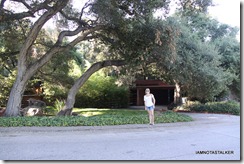 A couple of weeks ago, I dragged my new husband out to stalk an architecturally and cinematically famous house located in Glendale at the base of the Verdugo Mountains – the John Lautner-designed Schaffer Residence which appeared in fashion designer Tom Ford's directorial debut, A Single Man.  I found this location thanks to fellow stalker Gary from England, who immediately set about cyberstalking the residence after watching the flick back in February of this year.  And even though I've never actually seen A Single Man – I try to avoid any and all movies that have a depressing subject matter – because I am a HUGE fan of legendary architect John Lautner and because the house is simply gorgeous, I just had to stalk it.
The two bedroom, two bath Schaffer Residence, which was originally built in 1949, measures 1,698 square feet and sits on a heavily wooded quarter acre of land.  The home was constructed entirely out of steel, glass, redwood, and concrete and boasts an open floor plan with glass walls, which several websites have described as "transparent".  Apparently being in the home makes one feel as if they are actually outside.  The house is so spectacular, that according to the John Lautner Foundation website, both architects Frank Gehry and Frank Escher consider the Schaffer house to be among their most favorite abodes ever created.  Sadly, though, as you can see in the above photographs, not much of the house is visible from the street.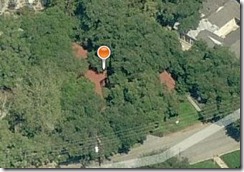 Nor is much visible from Bing's aerial views, either.  🙁
Thankfully though, the Schaffer Residence is currently for sale (for a cool $1,495,000 and as fellow stalker Gary said in his email to me, "I am saving as I type!!!!!") and there are plenty of pictures of the property on its real estate website.  You can also check out some fabulous photographs of the interior of the home on the Big Shed website here.  As you can see above, the Schaffer house is a post-modern masterpiece, stunning in its detail, and with its wood, steel, and glass features, is very reminiscent of both the abode belonging to Sebastian Stark (aka James Woods) on the television series Shark and the residence where Ted Crawford (aka Anthony Hopkins) lived in the movie Fracture.
In A Single Man, which premiered last year, the Schaffer Residence stands in for the Santa Monica-area home of Professor George Falconer (aka Colin Firth), and both the exterior  . . .
. . .  and the interior of the property were used quite extensively in the filming.  When I skimmed through A Single Man earlier today to make the above screen captures, I was actually surprised to see how the home was portrayed onscreen.  In the movie, George's house is very dark and dreary, which is ironic being that, in reality, a huge part of what makes the home so special and unique are the large plate-glass windows which bathe the interior of the property in an exorbitant amount of natural light.  As depicted in the real estate photographs and in all that I've read about the dwelling online, in real life the Schaffer residence is bright and airy – not at all how it appeared in A Single Man.  In fact, after seeing how it was depicted onscreen, I'm quite surprised that director Tom Ford chose to use the home at all in the movie.  I would have assumed that he'd want to film at a house that, at the very least, had less windows.  But what do I know?  😉  
The Schaffer Residence also made an appearance in the ultra-strange 2005 dramedy Happy Endings as the residence where Charley (aka Steve Coogan) and Gil (David Sutcliffe) lived.
On a side note – If you want to see photographs of the house where Charley (aka Julianne Moore) lived in A Single Man, you can do so on MovieShotsLA.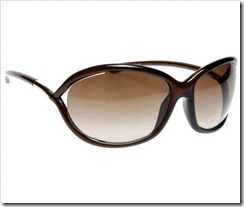 On another  side note – A Single Man director Tom Ford also just so happens to be the designer behind my girl Jennifer Aniston's favorite sunglasses – the "Tom Ford Jennifer sunglasses" (pictured above).  Jen loves the glasses so much, in fact, that legend has it that Tom even named them after her.  Oh, what I wouldn't give to own a pair of those!  🙂 
Big THANK YOU to fellow stalker Gary for finding this location!  🙂
Stalk It: The Schaffer Residence from A Single Man is located at 527 Whiting Woods Way in Glendale.  You can check out the home's real estate website here.
23898