Liberace's Former Home
Sep 27th, 2010 | By
Lindsay
| Category:
Celebrity Homes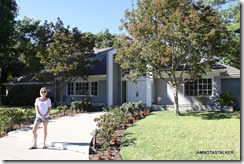 A couple of weeks ago, while doing some stalking in the Valley, I became a bit obsessed with locating the home where legendary pianist Liberace lived back in the 1950s.  I first heard about this location, ironically enough, from comedian and Whose Line Is It Anyway? star Ryan Stiles, who also owned the property at one point in time.  I got to know Ryan – and several other members of The Drew Carey Show cast and crew – after some extra work I did on the series in the summer of 2000.  For about a year I would fairly regularly meet up with "the Drew Crew", as I liked to call them, after the show taped every Tuesday night at the now-defunct Dalt's Grill in Burbank.  During one of those outings, Ryan mentioned that he lived in a Sherman Oaks-area home that had once belonged to Liberace and that the home had a piano-shaped swimming pool in the backyard, which I thought was just about the coolest thing ever!  Being that that conversation took place almost a decade ago, though, I'm not quite sure what made me think of it two weeks ago, but for whatever reason, as my fiancé and I drove through the Valley my mind flashed on that piano-shaped pool and I immediately pulled out my blackberry and started cyberstalking the place.  I fairly quickly stumbled upon this Los Angeles Times article from July of 2007 which listed the address of Liberace's former house and immediately dragged my new husband right on over to stalk it.
Liberace himself designed the L-shaped house, which, of course, was decorated with a piano motif throughout, in 1953 and he and his mother, Francis, moved in that very same year.  As his fame grew, fans would reportedly hop the fence into his backyard to catch a glimpse of the entertainer at home and the property was eventually deemed far too accessible for a man who was, at the time, the highest-paid entertainer in the entire world.  Liberace moved out of the 4-bedroom, 4-bathroom, 3,907-square foot home sometime in or around 1958 and migrated to the Palm Springs area, while Francis stayed behind.  Amazingly enough, the property still looks much the same today as it did when Liberace first built it over 57 years ago.  So darn cool!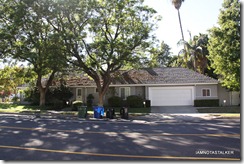 The residence made headlines in July of 1957, when Francis was attacked by two masked men while throwing away trash in the garage.  At the time, Liberace was involved in a $20 million libel lawsuit against Confidential Magazine which had featured a recent cover story insinuating that the entertainer was gay.  Liberace had given a deposition earlier that day and it is widely believed that the attack on his mother was a direct result of the lawsuit, although the perpetrators were never identified.  
Sadly, the piano-shaped pool that I had so loved hearing about from Ryan Stiles cannot be seen from the street.  But thankfully it is visible via Bing's aerial views and was also featured in a Life Magazine photoshoot from 1954.  Oh, what I wouldn't give to see that pool in person!
Until next time, Happy Stalking!  🙂
Stalk It: Liberace – and Ryan Stiles' – former home is located at 15405 Valley Vista Boulevard in Sherman Oaks.
23972