My Picture on "SNL" and Hanging Out With Michael Vartan!
Oct 11th, 2010 | By
Lindsay
| Category:
Celebrity Sightings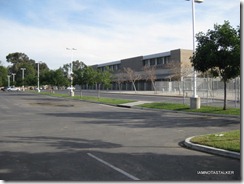 This past Saturday was an incredibly lucky and, as my best friend later described, celebrity-fueled day for me.  My family, the Grim Cheaper, and I had headed down to San Diego for the weekend to do some relaxing after the stress of my parent's recent move.  While we were walking around Coronado Island on Saturday morning I got an email from a photo licensing coordinator over at NBC Universal who wanted to know if I would grant him permission to use one of my stalking photographs of Juan Rodriguez Cabrillo High School, aka William McKinley High School from Glee, on that evening's episode of Saturday Night Live, which was being hosted by actress Jane Lynch.  Well, let me tell you, I just about had a heart attack right then and there and immediately granted permission for the above photograph to be featured on the show.  The coordinator told me he wouldn't know for sure whether the pic would actually be used or not until Saturday Night Live aired that evening, so I called up my best friend Kylee (who lives in San Diego) and asked her to come over to our hotel, the Coronado Island Marriot Resort, so that we could all watch the show and celebrate together.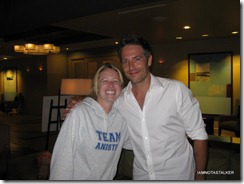 Because my dad wasn't feeling well, Kylee, the Grim Cheaper, and I ended up heading over to the hotel's Tides Lounge to watch the show and grab some celebratory cocktails, which turned out to be a very lucky move because not long after we got there, Kylee looked to her left and said, "Isn't that Jennifer Garner's ex-boyfriend sitting over there?"  I turned my head to catch a quick glimpse and, sure enough, there was cutie actor Michael Vartan sitting at a table just a few feet away from us!  I have no idea how in the heck I didn't notice him, but I do have to admit that Kylee is an absolute master at spotting celebrities in public –  dare I say it, even better than me.  Kylee is actually the one who spotted actress Julianne Moore while the two of us were in line at Magnolia Bakery in New York a few years back, but I digress.  Anyway, I, of course, just HAD to go up to Michael and ask for a picture and, let me tell you, the guy could NOT have been nicer!  When I apologized to him for interrupting his evening out with friends, he told me not to worry about it "at all".  And when I told him that I absolutely loved the movie Never Been Kissed, he said, "Oh, that's back when I was young!"  LOL  A few hours later, as Michael was leaving the bar he passed by our table and made it a point to say good-bye to all of us.  SO INCREDIBLY NICE!  Sigh!
But my luck didn't stop there!  Right after snapping my photograph with Michael, I received an email from the SNL photo coordinator who informed me that my photograph was indeed used on the show that night!  A celebrity sighting AND one of my pictures appearing on national TV all in the same day??  It was almost too much for me to bear!  So, at around 11:30 p.m., I asked the Tide's bartender to put the TV on Channel 4 so that we could watch SNL, and sure enough, just a few minutes later my picture appeared on the screen!  SO INCREDIBLY COOL!  The sketch which featured my pic centered around the SNL character Gilly (aka Kristin Wiig) joining the McKinley High Glee club and wreaking her usual havoc in the process.  After gluing a crown to Kurt's head, shooting Finn with a bow and arrow, and pushing Artie and his wheelchair offstage, she brings in a bomb and blows up the school, which is the point when my photograph was featured. 
You can watch the Saturday Night Live Glee sketch which features my photograph by clicking above.
Until next time, Happy Stalking!  🙂
Stalk It: The Coronado Island Marriott Resort is located at 2000 Second Street on Coronado Island in San Diego.  We met Michael Vartan in the hotel's Tides Lounge.  You can visit the resort's website here.
24334