Lucy's El Adobe Cafe
Oct 12th, 2010 | By
Lindsay
| Category:
This and That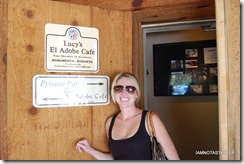 Two Mondays ago, after Mike, from MovieShotsLA, and I finished our tour of Paramount Studios in Hollywood (which I still have yet to blog about), the two of us headed across the street to grab a bite to eat at a little restaurant that has been at the top of my To-Stalk list for close to a decade now – Lucy's El Adobe Cafe.  I hadn't actually heard much about Lucy's before our recent trip there, but had passed by it countless times and figured it had to be something of a celebrity hot spot due to its close proximity to three different Hollywood studios – Paramount, Raleigh, and the now defunct KCAL/KHJ.  As it turns out, my hunch could not have been more spot on!  Lucy's was originally founded over four decades ago and has been attracting film, television, and music stars and well-known politicians pretty much ever since.  Not only that, but Mike and I discovered that the restaurant is also a filming location!  And the food there is absolutely AMAZING, to boot.  As Mike said to me upon leaving the restaurant, "This place is a hidden jewel!"
Lucy's El Adobe Cafe was first founded in 1964 by Los Angeles native Frank Casado, who named the eatery in honor of his beloved wife Lucy.  Frank managed and worked at the restaurant, along with members of his family, for over two and a half decades until he passed away in 1990, upon which Lucy took over.  She still owns and runs the place along with their daughter, Patricia, to this day.  Amazingly enough, most of Lucy's employees have also been there since the day the place opened, including our extremely nice waiter Ricardo, whom Lucy calls a "Juan-of-all-Trades".  🙂  The Cafe originally consisted of only one single storefront – a tiny room lined with brown leather booths – but thanks to its immense popularity, the place has since expanded to include both the storefronts to the left and to the right of it. 
Ricardo was so incredibly proud of the restaurant's history and excited that Mike and I were so very interested in hearing about it that he ended up taking us on our very own thirty minute private tour of the property and told us countless stories about the many stars who have dined there over the years.  Included in our tour was Lucy's large VIP/Private Party room, where most of their celebrity patrons dine.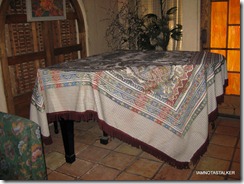 The VIP room also just so happens to be the spot where the restaurant displays the piano that was gifted to them by musician Phil Collins, who is a regular patron!  SO INCREDIBLY COOL!  There is even a picture displayed on the restaurant's walls of Phil tickling the piano's ivories.  LOVE IT!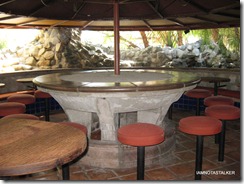 Ricardo also showed us the restaurant's ultra-cool looking front patio area, which he says gets extremely crowded each Friday and Saturday night.  I am so going to have to take the Grim Cheaper back there to grab a drink in the near future.
My favorite part of the tour, though, had to be when Ricardo showed us Lucy's extensive wall of autographed celebrity photos, accompanied by quite a few of his personal anecdotes from his various dealings with them. 
It would be impossible for me to name all of the celebs who have dined at the restaurant over the years, but a partial list includes celebrity siblings Jake and Maggie Gyllenhaal (who ate there quite often as children), Lyle Lovett (who often thanks the restaurant in the liner notes of his albums), Ugly Betty's Ana Ortiz (who first met husband Noah Lebenzon while at the Cafe), the cast of Family Ties (who were regulars during the series' seven year run), Ronald Regan, Dolly Parton, Tom Selleck, Harland David Sanders (aka "Colonel Sanders"), Bernadette Peters, Magic Johnson, and all of the members of the Eagles rock group.  One of the restaurant's most loyal patrons is former California governor Jerry Brown who has been eating at Lucy's since the early 1970s and considers Lucy, Frank, and Patricia to be part of his extended family.  He even used the restaurant as an unofficial office during his tenure as governor.  And it was at Lucy's that Jerry first met singer Linda Ronstadt. The Cafe now has an entree named after the former governor – the Jerry Brown Special, which consists of chicken and rice.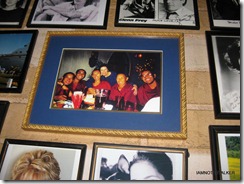 Most amazing of all, though, is the fact that the Dalai Lama himself is a regular!  He has been eating at the restaurant at least once each year for well over a decade!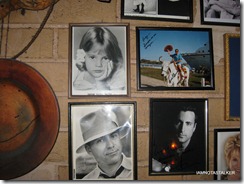 Lucy's is considered something of a lucky charm among celebrities, as many now-famous stars were regular patrons there long before becoming household names – the most notable of whom is Drew Barrymore who has been dining at Lucy's since before she could talk.  In fact, Ricardo still remembers the day a young Drew told him that she had just been cast in Steven Spielberg's latest movie.  😉
The actress continued to dine at Lucy's long after becoming famous and even held one of her childhood birthday parties at the Mexican restaurant (pictured above).
And I just had to take a pic sitting in Drew's favorite booth (which is the very first booth located on the right-hand side of Lucy's main room) for fellow stalker and Drew Barrymore aficionado Ashley, from the Drewseum website.  🙂
Then-presidential candidate Robert F. Kennedy once dined at Lucy's back in June of 1968, just a few short days before he was assassinated at the Ambassador Hotel.  The above photographs were taken as the senator was leaving the restaurant through Lucy's rear door.
Lucy's restaurant also appeared in the 2010 flick Greenberg, which was directed by Noah Baumbach, husband of Jennifer Jason Leigh.  According to this Los Angeles Times article from March of 2010, Jennifer has been a patron of Lucy's ever since childhood, which is why Noah decided to feature the restaurant in his movie.
Lucy's El Adobe Cafe has become such a Hollywood landmark that in 2007 the Los Angeles City Council voted to name the intersection of Melrose Avenue and North Plymouth Boulevard as "I Love Lucy Square" in honor of both Lucy Casada, the restaurant's owner, and Lucille Ball, who owned a portion of the Paramount lot back when it was known as Desilu Studios.  So amazingly cool!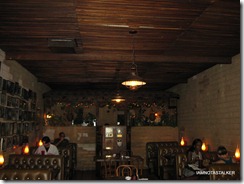 As I mentioned above – and despite what many Yelp reviews may state – both Mike and I thought the food at Lucy's was absolutely spectacular!  I opted for the ground beef tacos, which were AMAZING, and Mike ordered the cheese quesadillas, which he said were fabulous.  I honestly can't recommend stalking this place enough!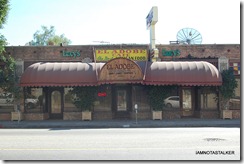 Until next time, Happy Stalking!  🙂

Stalk It: Lucy's El Adobe Cafe is located at 5536 Melrose Avenue in Hollywood, directly across the street from Paramount Studios.
24386