Eagle Rock Plaza from "Glee" and Michael Buble's "Crazy Love" Photoshoot
Oct 13th, 2010 | By
Lindsay
| Category:
Glee Filming Locations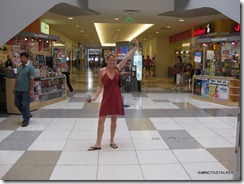 This past Monday morning, Mike, from MovieShotsLA, called me up to ask if I wanted to do some stalking with him in the San Gabriel Valley.  As it turns out, Monday was a holiday – although I hadn't realized it beforehand – and Mike had the day off from work.  So, after first loading up on some Starbucks coffee (but of course) the two of us headed right on over to Eagle Rock, where the first item on our stalking agenda – Eagle Rock Plaza mall – was located.  I had been dying to stalk the mall ever since May 18th of this year when it appeared in the Season 1 episode of Glee titled "Dream On", in the scene in which Artie Adams (aka Kevin McHale) starts a flash mob in the middle of a supposed Ohio-area shopping center.  My good friend and fellow stalker Kerry's daughter, Jen – who is a total Gleek – had challenged me to find this location the day after the episode aired and, amazingly enough, it wasn't too hard to track down at all.  I just simply used Google Images to search through interior photographs of Los Angeles-area malls and fairly quickly came upon one of Eagle Rock Plaza, which I recognized immediately.  And even though I live only a few miles outside of Eagle Rock, for whatever reason it has taken me this long to get out there to stalk the place.  Oh well, better late than never, right?  [And yes, I am pretending to dance like Artie in the above picture.  ;)]
In the "Dream On" episode of Glee, Artie visits a local mall with his girlfriend Tina Cohen-Chang (aka Jenna Ushkowitz), and while she is in line buying a hot pretzel, he daydreams about being able to get up out of his wheelchair and dance.  He ends up starting a huge flash mob to the 80's song "Safety Dance" by Men Without Hats.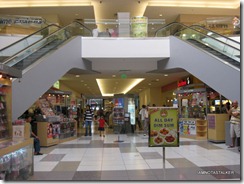 As it turns out, Eagle Rock Plaza is a very tiny mall and it wasn't hard at all to track down the exact spot where filming had taken place.   Artie's flash mob scene was shot in the very center of the property, right in between the mall's two main escalators and directly in front of the Seafood City Supermarket. 
You can watch the "Safety Dance" number by clicking above.
While we were there, Mike and I stopped by the Eagle Rock Plaza's management office to ask about the filming that has taken place there over the years and the woman on duty literally could NOT have been nicer!  She spent quite a bit of time chatting with us and filling us in on some of the productions that have been shot on the premises, including the Season 4 episode of The Closer titled "Time Bomb", in which Brenda Leigh Johnson (aka Kyra Sedgwick) and her fellow members of the L.A.P.D.'s Major Crimes Division investigate a bomb threat at a local mall.
Ironically enough, only the interior of Eagle Rock Plaza appeared in that episode.  All of the exterior scenes were filmed at Los Angeles City College, in front of the campus' Communications Center, which does actually look quite a bit like a mall.
Eagle Rock Plaza was also featured in Avril Lavigne's music video for the 2002 hit song "Complicated" . . .
. . . which you can watch by clicking above.
One production that shot on location at Eagle Rock Plaza that the management didn't know about, but that I recognized immediately was Michael Buble's 2009 behind-the-scenes DVD titled "The Making of Crazy Love".  In the documentary, Michael is shown posing for a photo shoot outside of a Macy's department store during which he is made to run back and forth through a large parking lot.  Michael is a total goofball and EXTREMELY funny during the shoot, announcing to one passerby who drives by, "Welcome to Macy's!"  LOL  I can only imagine if I had arrived at the mall on a random day to do some shopping only to find MICHAEL BUBLE standing at the entrance welcoming me!  I probably would have had a heart attack right on the spot.  But I digress.  Anyway, for whatever reason (most likely because MB was so darn funny in the spot – at one point he says, "The next shot is of me shopping at Macy's . . . finding discounts . . . there is a pillow set that is to die for!"  LOL LOL LOL), I have been literally hell-bent on stalking that parking lot ever since watching the DVD late last year.  Trouble was, I couldn't seem to find the darn place anywhere. 
Until this past Monday that is, when Mike just happened to drive through the part of the Plaza's parking lot that is located directly behind Macy's and I recognized it immediately.  YAY!  Thank you, Mike!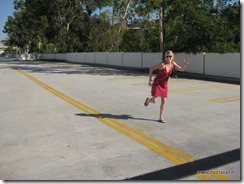 And I, of course, just had to imitate MB running while I was there.  🙂
You can watch Michael's absolutely hilarious photo shoot in the Macy's parking lot by clicking above.
Big THANK YOU to Jen for challenging me to find this location and to Mike, from MovieShotsLA, for taking me there!  🙂
Until next time, Happy Stalking!  🙂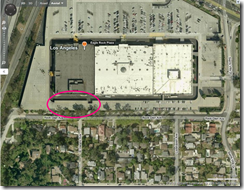 Stalk It: Eagle Rock Plaza is located at 2700 Colorado Boulevard in Eagle Rock.  You can visit the mall's official website here.  Michael Buble posed for his running photographs in the southwestern portion of the Plaza's parking lot, directly behind Macy's department store, in the area depicted with the pink circle in the above aerial view.  The "Dream On" episode of Glee was filmed in the center-most point of the mall, in between the property's two main escalators and directly in front of the Seafood City Supermarket.
24451