Elliott Bay Cafe – The Inspiration for Cafe Nervosa on "Frasier"
Oct 14th, 2010 | By
Lindsay
| Category:
TV Locations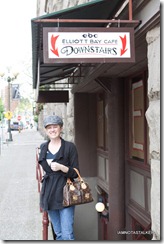 Another location that I stalked while visiting the Pacific Northwest this past May was Elliott Bay Cafe – the Seattle-area coffee shop that was the inspiration for Cafe Nervosa on the hit television series Frasier.  I first learned about this location from my good friend Nat, who in turn learned about it a few years earlier while taking Bill Speidel's "World Famous" Underground Tour of Seattle's historic Pioneer Square District during a vacation in Washington State.  And even though I was never a huge fan of Frasier (I watched the show occasionally, but it wasn't a part of my weekly must-see-TV lineup), when I found out that I was going to Seattle I decided I just had to stalk the place – mostly because of how much I love me some coffee!  So, just a few hours after stalking the very first Starbucks store, I dragged the Grim Cheaper, my good friend and fellow stalker, Kerry, and her husband, Jim, out to Elliott Bay Cafe for my second latte of the day.
As it turns out, Elliott Bay Cafe is a SUPER cool little spot.  In fact, I think I would have liked the place even had it not been a (sort-of) filming location.  The cafe is located in Pioneer Square's Globe Building, which dates back to 1891, and is actually most famous for the legendary bookstore, Elliott Bay Book Co., which up until earlier this year was located upstairs from it.  The huge store, which carried over 150,000 different titles, originally opened in 1973 and had been patronized by everyone from former-President Bill Clinton to authors Barbara Kingsolver, Norman Mailer, and George Saunders.  I've said it before and I'll say it again – I think there is absolutely nothing cooler than a combination coffee bar/bookstore.  When Elliott Bay Book Co. was open, shoppers could buy a cup of espresso and then venture upstairs to loiter among the shelves or, consequently, grab a few books to peruse while sitting downstairs sipping on a latte.  So darn cool!  Sadly, the Elliott Bay Book Co. moved to a new location on Capital Hill in early 2010, but thankfully the Frasier cafe, which is actually located underground, remained behind.  And yes, you read that right – Elliott Bay Cafe is located underground.  Most of Seattle was situated "underground" at one point in time actually.  The Pioneer Square District, which was established in 1852 and is considered the birthplace of Seattle, was originally built on tidal flats that, in the early years, would flood horribly each and every time it rained – which was quite often.  So, after the Great Seattle Fire of 1889 destroyed most of the city, it was decided that the new streets would be raised a full story higher than their predecessors.  To accomplish this feat, retaining walls were constructed on each side of the district's former roads.  The area between them was then filled in with dirt and subsequently cemented over, which raised the entire city one full level.  During the street raising, storeowners had built temporary street-level shops, so as not to lose out on business during the interim.  When construction on the new roads was finally completed, the storeowners simply vacated their former shops and moved up to the second level to sell their goods.  The street level spaces were then left abandoned and forgotten for the next seven decades. 
Until 1965, when, in an attempt to restore the Pioneer Square District, a Seattle preservationist named Bill Speidel decided to start giving tours of the underground area.  The tours became a huge hit with residents and tourists alike and has been going strong ever since.  So, on the recommendation of my good friend Nat and because I wanted to learn more about the Frasier coffee shop, the Grim Cheaper and I purchased tickets for Bill Speidel's Underground Tour.  Sadly though, while I thought Elliott Bay Cafe was absolutely awesome, I can't say the same for the tour.   While the whole thing sounds very exciting, as you can see in the above photographs there just isn't a whole lot to see.  And the tour guides seemed to be more interested in telling lame jokes than they were in teaching us about Seattle's unique history.  From what I've read on the Yahoo! Travel reviews, the tour used to be fabulous, but has deteriorated greatly since Bill's death in 1988.  Whether or not it was ever good, I can't say for sure, but I do know that the tour the Grim Cheaper and I embarked on was HORRIBLE.  Like really, really horrible.  So bad, in fact, that at one point while we were underground, the GC grabbed my arm and said, "I think I've found an exit door! I am pretty sure we can escape from this thing unnoticed!"  LOL  But I digress.
Anyway, Cafe Nervosa appeared weekly throughout Frasier's eleven season-run as the hang out of radio host Frasier Crane (aka Kelsey Grammer) and his fellow KACL employees.  As you can see in the above screen captures, while Cafe Nervosa does bear a passing resemblance to the real life Elliot Bay, according to the barista I spoke to while there, the place has been remodeled numerous times since Frasier was on the air, most recently in November of 1999, and formerly looked much more similar to its TV counterpart.  Boo!
The exterior of Cafe Nervosa was also shown on the series from time to time. 
As you can see in the above photographs, though, besides having a green awning, the set exterior looks nothing like Elliot Bay Cafe's real-life exterior.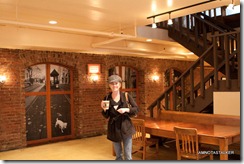 Even though the coffee house doesn't much resemble Cafe Nervosa, I still HIGHLY recommend stalking the place!  It's a far better way to experience Seattle's Underground than embarking on the tour AND they serve up some fabulous coffee to boot!  🙂
You can watch the Season 1 episode of Frasier titled "My Coffee With Niles", which takes place in its entirety at Cafe Nervosa, by clicking above.
Until next time, Happy Stalking!  🙂
Stalk It: Elliott Bay Cafe is located at 103 South Main Street in Seattle, Washington.  You can visit the Cafe's official website here.
24501