The House Where Matt Damon and Ben Affleck Lived While Writing "Good Will Hunting"
Oct 18th, 2010 | By
Lindsay
| Category:
Celebrity Homes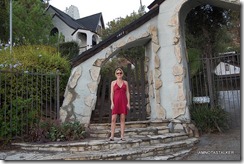 A few months back, Mike, from MovieShotsLA, was doing some research on the town of Eagle Rock when he came across a Wikipedia page which mentioned that Matt Damon and Ben Affleck had lived in the Los Angeles neighborhood – in a home on Hill Drive – while writing the screenplay for their 1997 Oscar-winning movie Good Will Hunting.  I found it a bit hard to believe that Matt and Ben, two twenty-something actors trying to make it in "the biz", would have been living in a San Gabriel Valley suburb and not in the heart of Hollywood, but as it turns out Ben had previously attended Occidental College, which is located in Eagle Rock, for a brief period of time, so he would have been familiar with the area.  According to IMDB, of his living situation at the time, Ben said, "I lived all over the place.  I lived in Hollywood, then I moved.  [Matt Damon] and I got money from School Ties and we blew it all in a couple of months.  We made $35,000 or $40,000 each and thought we were rich.  And we were shocked later on to find out how much we owed in taxes.  We were appalled: $15,000!  What?  But we rented this house on the beach in Venice and 800 people came and stayed with us and got drunk.  Then we ran out of money and had to get an apartment.  It was like everything was exciting.   So we lived in Glendale and Eagle Rock and we lived in Hollywood, West Hollywood, Venice, by the Hollywood Bowl, all over the place.  We'd get thrown out of some places or we'd have to upgrade or downgrade depending on who had money."  So, while Mike and I were in Eagle Rock this past Monday, we decided to try to track down the exact house where they twosome had lived while writing their famous screenplay.  As it turns out, it wasn't too hard to locate.  Using my Blackberry, I fairly quickly came across this Curbed LA Article about an Eagle Rock home for sale in which a reader had commented that it was "rumored to be the house where Matt Damon and Ben Affleck allegedly wrote Good Will Hunting".  I then Googled the property's address and found countless other websites which further substantiated that the twosome had once called the place home.  So, we immediately headed right on over to stalk the place.
Come to find out, Mike and I had actually already stalked this location earlier that same day!  We had come across the Tudor/fairytale-style home while driving to another locale in Eagle Rock a few hours prior and Mike immediately noticed its odd gate and even odder architecture, so he stopped to snap some pics.  When we pulled back up to the property a few hours later after finding Matt and Ben's former address online, we both just about died! 
Matt and Ben's former residence, which is known as both the '"Brauch House" and "Ma Castle" in architectural circles, was originally built in 1923 by the architecture team of Egasse & Brauch.  Of the design, Brauch, who built the house as his personal residence, said, "In this particular instance, Norman lines, such as were left by the descendents of the Vikings, following their peregrination of the ante-medieval period, were the main source of inspiration."  Apparently, when it was first built, the interior of the home featured numerous wall murals depicting the Norse warriors in action.  The Brauch House is actually made up of two separate dwellings – a 4 bedroom, 2 bathroom, 2,187-square foot main house . . .
. . . and a detached guest cottage which is located directly behind it.  And while I can't say with absolute certainty that Matt and Ben ever actually lived on the premises, it is my best guess that if they did, the two stars, who were struggling financially at the time, most likely lived in the guest property and not in the main house.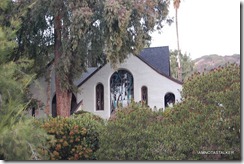 Matt had originally written Good Will Hunting as a play while in a creative writing class when he was a student at Harvard University.  After landing a role in the 1992 film Geronimo: An American Legend, Damon dropped out of college and moved to Los Angeles to pursue his acting career full time.  He eventually moved in with his long-time friend Ben, at one point crashing on his couch for an extended period of time.  One fateful night, Matt showed the play to Ben and the two decided to turn it into a movie in which they would star.  They ended up selling the screenplay to Miramax a few years later for a reported $600,000 and the rest, as they say, is history!  You can see some great interior photographs of the Brauch House on the Curbed LA website here.
Until next time, Happy Stalking!  🙂
Stalk It: Matt Damon and Ben Affleck (supposedly) lived at 2327 Hill Drive in Eagle Rock while writing the screenplay for Good Will Hunting.
24635