The Gas Station from the "Palm Springs Weekend" Episode of "Beverly Hills, 90210"
Nov 3rd, 2010 | By
Lindsay
| Category:
90210 & Beverly Hills, 90210 Filming Locations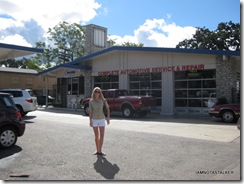 One location that I have wanted to stalk for what seems like forever now is the gas station where Brenda Walsh (aka Shannen Doherty), Kelly Taylor (aka Jennie Garth), Donna Martin (aka Tori Spelling), Steve Sanders (aka Ian Ziering) and David Silver (aka Brian Austin Green) fueled up their cars in the Season 1 episode of fave show Beverly Hills, 90210 titled "Palm Springs Weekend" (aka "A Fling in Palm Springs").  Because "Palm Springs Weekend" was one of my all-time favorite episodes of the entire series, and was also coincidentally the very first episode of the show that I ever saw, it holds an extremely special place in my heart and I was absolutely dying to stalk all of the locations featured in it.  And while I had found most of the other "Palm Springs Weekend" filming sites a while back, for whatever reason, try as I might, I just couldn't seem to track that gas station down.  So, I recently enlisted the help of fellow stalker Chas, from ItsFilmedThere, who contacted one of the show's former crewmembers, who happened to remember that the gas station was located on Thousand Oaks Boulevard just a few blocks west of Hampshire Road in Thousand Oaks.  As soon as Chas gave me that detailed information, I immediately dragged the Grim Cheaper out to the Valley to look for the place.  Amazingly enough, though, even with the crew member's detailed directions, I just could not seem to find it.  So, after returning home I emailed fellow stalker Owen and asked if he might be able to lend a hand.  Magically, Owen found the gas station almost immediately!  As it turns out, the GC and I had relegated our search to too small of an area and had only stalked the short stretch of Thousand Oaks Boulevard located immediately to the west of Hampshire Road.  Had we ventured just one more block west, though, we would have found the station right there on the corner of Thousand Oaks Boulevard and Live Oak Street.  UGH!  So, this past weekend, while on our way to Santa Barbara, I made the GC take a little detour off the 101 so that I could finally, finally stalk the "Palm Springs Weekend" gas station!
In the "Palm Springs Weekend" episode, which originally aired almost twenty years ago on February 21, 1991, Brenda and the gang stop by the gas station while on their way to Palm Springs, where they are all spending President's Day weekend.  Quite a lengthy scene takes place at the station, at one point during which Steve informs David that if he wants to hang out with him and pick up girls he needs to "at least attempt to be cool", to which David says, "Oh, OK, so you think I should, like, hold off and give 'em, like, a Johnny Depp-type attitude thing?"   That line absolutely amazes me every time I hear it being that it still holds true to this day, almost two full decades later, as Johnny Depp is still considered the epitome of cool in Hollywood!  Talk about a star having staying power!   
Today, the 90210 gas station, which at the time of the filming was operated by Shell Gas Company, is now an auto repair shop named Steve's Automotive.  I had the pleasure of speaking with Steve, the super-nice owner, while I was stalking the place and he was pretty excited to learn that his shop had once appeared on the iconic series.  He also informed me that it had been used a few times in car commercials in more recent years.
Amazingly enough, even though the property has since changed ownership and is no longer a gas station, it still looks much the same today as it did nineteen years ago when filming took place.  I was most excited to see that the bathroom area, where David met Tuesday (aka Shana Furlow), was still there and that it still looks EXACTLY the same as it did in the episode!  So incredibly cool!!!!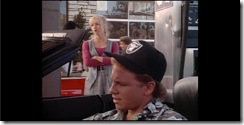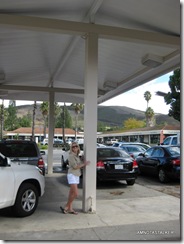 And, of course, I just had to take a picture in the spot where Kelly had parked her car in the episode.  🙂
Big THANK YOU to both Chas from It'sFilmedThere and fellow stalker Owen for finding this location!  🙂
Until next time, Happy Stalking!  🙂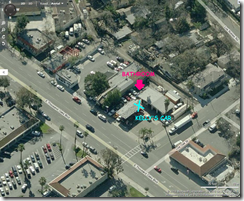 Stalk It: Steve's Automotive, aka the gas station from the "Palm Springs Weekend" episode of Beverly Hills, 90210, is located at 2658 East Thousand Oaks Boulevard in Thousand Oaks.  The bathroom where David met Tuesday, which is denoted with the pink arrow in the above aerial view, can be found just to the left of and around the corner from the front of the auto shop.  The area where Kelly was parked is located under the carport, directly in front of the entrance to the office portion of Steve's Automotive and is denoted with a blue "X" in the above aerial image.
25281