Villa Sorriso – The Restaurant Where Michael Jackson's "Celebration of Life" Reception Was Held
Nov 8th, 2010 | By
Lindsay
| Category:
Michael Jackson Locations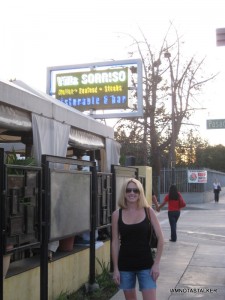 One location that I stalked quite a while back, but, for whatever reason, have yet to blog about is Villa Sorriso Ristorante – the Italian eatery where the Jackson family hosted the September 3, 2009 "Celebration of Life" reception for pop star Michael Jackson following his burial at Forest Lawn Memorial Park in Glendale.  I dragged my good friend Nat, who was in town visiting from the San Francisco-area, and the Grim Cheaper out to the Old Town Pasadena restaurant this past June to celebrate my 33rd birthday after the place had been high up on my "To Stalk" list for close to a year.  And I have to say that the restaurant was definitely worth the wait!  I absolutely fell in love with the place immediately upon entering. 
Villa Sorriso is absolutely HUGE and is composed of two formerly separate spaces that originally housed the restaurants Clearwater Seafood and Old Town Bakery.  The 12,000-square foot property currently consists of a central outdoor courtyard that encircles a large silver fountain, a side patio with private cabanas that are available for rent, a martini bar and lounge complete with a separate VIP section, a private upstairs lounge named Zebra, and several indoor dining areas.  Sorriso, as it was originally known, first opened back in 1991 and at the time was located at 46 East Colorado Boulevard, across the street from its current location, and was, ironically enough, the very first Pasadena restaurant my family and I ate at upon moving to the City of Roses a little over a decade ago.  The eatery moved to its current location in early 2004, whereupon "Villa" was added to its name.  Ironically enough, the Italian restaurant is actually owned by a Taiwanese-born aerospace engineer/investment baker named Jack Huang.  After working in the aerospace industry for over a decade, Huang had a short stint heading up the worker's compensation department of the popular Panda Express Chinese food chain, during which he became interested in opening a restaurant of his own.  In 1994, Jack, along with his wife, Karen, founded his first eatery, Wok 'N' Roll Sushi, which was also coincidentally Old Town Pasadena's very first sushi bar.  In 2000, he purchased the already established Sorriso Ristorante from its original owner, Varo Angeletti, and set about revamping and updating the property which, at the time, was floundering.  The restaurant became a hit and a few years later he moved it to its current, larger home.  Instead of subletting the lease on the former Sorriso space, Jack decided to open up a tapas bar named Bar Celona in its place.  And in November of 2009, he bought out the owners of the now-defunct Fred's Mexican Cafe and opened up ix-Tapa Cantina, a spot which just so happens to be my very favorite Mexican restaurant in Pasadena.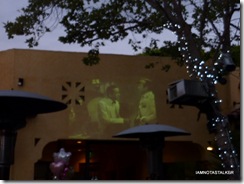 Villa Sorriso is an absolutely beautiful place that serves up some fabulous food and I honestly can't recommend stalking the place enough.  I ordered the crusted rosemary chicken entree while I was there and it was simply delicious!!  My favorite part about the restaurant, though, had to be the fact that old black-and-white movies are projected onto the walls of the courtyard each night, as you can see in the above photograph.  So incredibly cool!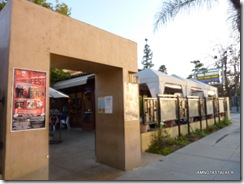 For Michael Jackson's "Celebration of Life", the Jackson family rented out the entire restaurant to host 250 of the King of Pop's closest family and friends.  Guests included Macaulay Culkin, Mila Kunis, Corey Feldman, Al Sharpton, and Gladys Knight.  The entire Jackson family – most notably Jermaine – has apparently been frequenting the restaurant since it first opened back in 1991, which is how they decided upon holding the gathering there.  Quite a few industry parties have been held there over the years as well, including the January 2010 FOX Broadcasting Company's UpFront after-party, at which Lisa Edelstein, Jesse Spencer, Mary Lynn Rajskub, Dianna Agron, Jane Lynch, Cory Monteith, Kevin McHale, Lea Michele, Jenna Ushkowitz, Emily Deschanel, Olivia Wilde, and Seth Green were all in attendance.  You can see photographs of that party here.  My girl Shannen Doherty has also been spotted at the restaurant in the past.
Until next time, Happy Stalking!  🙂
Stalk It: Villa Sorriso is located at 168 West Colorado Boulevard in Old Town Pasadena.  You can visit the restaurant's official website here.
25393