Lucky Baldwin's British Pub and Cafe from "The Big Bang Theory"
Nov 12th, 2010 | By
Lindsay
| Category:
This and That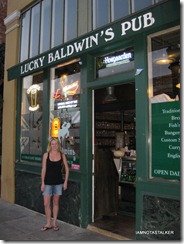 In the recently-aired Season 4 episode of fave show The Big Bang Theory titled "The Irish Pub Formulation", Sheldon Cooper (aka Jim Parsons) refers to an Old Town Pasadena-area restaurant named Lucky Baldwin's Pub.  Ironically enough, just a few days prior to watching that episode, fellow stalker John from Northern California had mentioned that very establishment to me in an email.  While John was vacationing in Los Angeles earlier this summer, he had ventured out to Pasadena and stopped by both POP Champagne Bar, my very favorite restaurant, and Lucky Baldwin's Pub and had written to me to let me know about his experiences there.  Amazingly enough, I had never actually heard of Lucky Baldwin's before receiving his email, but John said that the place had a good atmosphere so I made a mental note to check it out in the near future.  Well, imagine my surprise when just a few days later I heard the place referenced on The Big Bang Theory!  I am so incredibly thankful to John because had he not mentioned the bar in his email, I would have written the place off as a fictional locale that was created by the writers of the show.  So, once I knew that it was, in fact, a real-life establishment, I just had to stalk the place.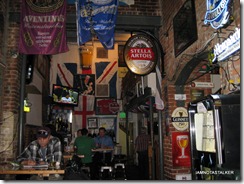 Lucky Baldwin's is an incredibly cool little bar tucked away on a side street of Old Town Pasadena.  It is a low key, down-to-earth place that boasts an extensive menu of British pub favorites, including Bangers and Mash, Fish & Chips, and Pigs in a Blanket.  Because I have always been the type of girl who prefers chicken strips to chicken marsala, a place like Lucky Baldwin's is truly right up my alley.  The only problem with chicken-strip-serving-type establishments, though, is that they tend to not feature champagne – my drink of choice – on their cocktail menu, but I am VERY happy to report that that was not the case at Lucky Baldwin's!  A bar that serves pub food AND champagne – that is simply music to my ears!  Lucky Baldwin's was first founded just over fourteen years ago, in July of 1996, by an Englishman named David Farnworth and his partner Peggy Simonian and was named after Elias Jackson "Lucky" Baldwin, the California businessman who founded Santa Anita Park in Arcadia and who owned the land that now makes up the Los Angeles County Arboretum and Botanic Garden.  In 2005, Farnworth and Simonian opened a second restaurant named Lucky Baldwin's Delirium Pub a few miles away in the sleepy little town of Sierra Madre.  According to the Old Pasadena website, Lucky Baldwins is "truly Old Pasadena's favorite secret hideaway" and I couldn't agree with that statement more – the restaurant is definitely a secret.  I've lived in Pasadena for over a decade now and had never even heard of the place!  It is definitely going to be a frequent stomping ground for me and the Grim Cheaper in the future, though, because we absolutely loved the place.
In "The Irish Pub Formulation" episode of The Big Bang Theory, Sheldon discovers that Leonard Hofstadter (aka Johnny Galecki) has spent the night with their friend Raj Koothrappali's (aka Kunal Nayyar's) little sister, Priya (aka Aarti Mankad).  To protect Leonard's secret, Sheldon comes up with an "iron clad alibi" about that night which revolves around the fictional "fun-loving and morally-loose Miss Maggie Magarie".  Of Maggie, Sheldon says, "You met her at Pasadena's most popular Irish watering hole, Lucky Baldwin's, where Maggie spends her nights tending bar with a head full of curls and a heart full of dreams."  I think it is so amazingly cool that the writers of The Big Bang Theory, which is set in Pasadena, chose a real life locale to refer to in the episode. I love, love, love it when real life places are mentioned in movies and television shows.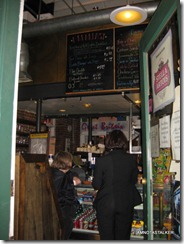 They did get a couple of things wrong, though.  In reality, Lucky Baldwin's is British, not Irish, and the restaurant does not currently serve pickled eggs or whiskey (or any other hard alcohol), as Sheldon alludes to in the episode.  But the Big Bang writers definitely did their homework on this one because, according to our waitress, the bar is a popular hangout for both Caltech and Jet Propulsion Laboratory employees.  On the series, Leonard, Raj, and Sheldon all work at Caltech, while Howard Wolowitz (aka Simon Helberg) is employed by JPL.  The Bob's Big Boy in Toluca Lake, which was also mentioned in "The Irish Pub Formulation" episode of The Big Bang Theory, is also, in fact, a real life locale.  And while it might seem a bit crazy that I stalked this location due to a mere mention on a TV show, as you can see in this Yelp review, I wasn't the only one to do so! 
You can watch the hilarious "alibi" scene by clicking above.
Big THANK YOU to fellow stalker John for telling me about this location!  🙂
And a BIG shout out goes to fellow stalker Debbie who is celebrating a special birthday today!   Happy Birthday Debbie!
Until next time, Happy Stalking!  🙂
Stalk It: Lucky Baldwin's British Pub and Cafe, from The Big Bang Theory, is located at 17 South Raymond Avenue in Old Town Pasadena.  You can visit the restaurant's official website here.
25742