Little Dom's Restaurant from "90210"
Nov 16th, 2010 | By
Lindsay
| Category:
90210 & Beverly Hills, 90210 Filming Locations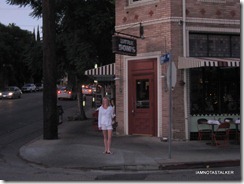 This past Saturday night, I dragged the Grim Cheaper out to Los Feliz to stalk Little Dom's – an Italian eatery owned by Warner Ebbink and Brandon Boudet of the Eat Heavy Restaurant Group, the very same team that was responsible for founding the 101 Coffee Shop that I blogged about yesterday.  The GC and I had actually breakfasted at the Los Feliz-area establishment once before a couple of years ago, but at the time I had no idea the place was a filming location or a celebrity hotspot, so I, unfortunately, did not take any photographs while there.  Well, imagine my surprise when just a few months later the restaurant was featured in a Season 2 episode of fave show 90210.  I recognized the place immediately, and, let me tell you, just about fell out of my chair.  And then this past September, I just about had a heart attack when the eatery appeared on 90210 yet again.  And then, last week, when I came across these November 4th paparazzi photos of the cast of Glee – including Lea Michele, Dianna Agron, Cory Monteith, Amber Riley, Harry Shum Jr., Kevin McHale,  Jenna Ushkowitz, Naya Rivera, and Chord Overstreet – dining at the restaurant, I just about died and immediately informed the GC that Little Dom's was where the two of us would be spending our upcoming Saturday night.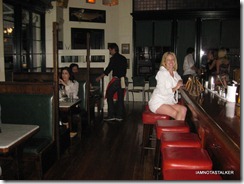 Little Dom's first opened in January of 2008 on the corner of Hillhurst Avenue and Avocado Street in the heart of Downtown Los Feliz in the space that previously housed the French bistro La Belle Epoque.   Warner Ebbink, who so ingeniously designed the 101 Coffee Shop interior, completely gutted the former Epoque property and created the Manhattan-esque decor of his new Italian eatery from scratch.  The interior designer/restaurateur searched far and wide, and I mean that literally, for the items that now make up his eclectic establishment.  He purchased and then transported the wooden bar, which dates back to the 1930's, from a former saloon in Eaton, Pennsylvania; he found the authentic leaded-glass windows, which now make up some of the restaurant's interior walls, at an about-to-be-demolished building in New York City, and the picture of Yosemite National Park which hangs above the bar area was requisitioned from none other than Warner Brothers Studios.  As the Eater website so aptly stated in their January 2008 review of the restaurant, "Warner Ebbink is an ace at making an entirely new space feel like it's been there forever."  I couldn't agree more!  Sitting at the antique bar and looking around at the dimly-lit, tin-ceilinged space, I found it very hard to believe that the place had not been around during the heyday of Hollywood catering to members of the Rat Pack. 
Besides the spectacular ambiance, Little Dom's also serves up some fabulous food!  I absolutely gorged myself on the Brussels Sprouts with Shaved Parmesan side dish and the Truffled Chicken Salad with Arugula Sandwich entrée – both of which were divine!  And I just about died from excitement when I saw that they featured my very favorite dessert, Affogato – vanilla gelato with a shot of espresso (pictured above) – on the menu!  I never actually knew that my favorite dessert had a name, nor had I ever actually seen it featured on a restaurant menu before, but I have been ordering a scoop of vanilla ice cream with a shot of espresso on the side as dessert for just about as long as I can remember.  So, the fact that Little Dom's had it named on their menu was simply amazing to me!  The restaurant also breaks down their wine list into three sections – "Tried and True", "Your New Best Friend", and "Go Out on a Limb" – which I thought was just about the cutest thing ever.  The eatery's prices were also extremely, extremely reasonable, which, needless to say, the Grim Cheaper was thrilled about.  We both absolutely LOVED the place and cannot wait to go back there for another stalking/culinary adventure.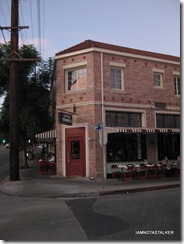 It should come as no surprise that, in the three short years that it has been in operation, Little Dom's has become a big time celebrity hot spot.  Just a few of the stars who have been spotted there recently include Drew Barrymore, Jason Segel, Katherine Heigl, Josh Kelly, Rachel Bilson, Joe Jonas, Pixie Lott, Conan O'Brien, Ryan Reynolds, Megan Fox, Kate Walsh, Zachary Quinto, Michelle Williams, Spike Jonze, Vince Vaughn, Gisele Bundchen, Ron Livingston and, as I mentioned above, most of the cast of Glee.  And while the GC and I, unfortunately, did not spot anyone famous on this most recent trip to the restaurant, we did see actor Michael Cera, who played Paulie Bleeker in the 2007 movie Juno, during our first visit there.
And the place is also a filming location!  Little Dom's appeared in the Season 2 episode of 90210 titled "Women's Intuition", in the scene in which Debbie Wilson (aka Lori Loughlin) confronts Sasha (aka Mekia Cox) about what she suspects is her fake pregnancy.  That scene was filmed in the booth located closest to the restaurant's front door.
Little Dom's was also used in the Season 3 episode of 90210 titled "2021 Vision", in the scene in which Mr. Cannon (aka Hal Ozsan) "accidentally" bumps into Erin Silver (aka Jessica Stroup).
In the scene, Silver sat in the booth located third in from the restaurant's front door.  That particular booth was, sadly, occupied while I was stalking the place, so I had to settle for taking a photograph in the one directly next to it.
Silver's Vespa was parked just outside of the restaurant, on Avocado Street, in the scene.  And I just have to say here that I am absolutely hooked on 90210 this year.  The series started getting pretty good last season, but I think it is just now finally beginning to hit its stride and I absolutely love it, love it, love it.  Especially the brewing romance between Liam Court (aka my latest celebrity crush Matt Lanter) and Annie Wilson (aka Shenae Grimes).  Those two are SO darn cute together!!!
Little Dom's also appeared in the 2010 movie The Kids Are All Right, in the scene in which Nic (aka Annette Bening) and Jules (aka Julianne Moore) discuss the fact that their children's biological father Paul (aka Mark Ruffalo) is now a part of their lives. 
Until next time, Happy Stalking! 

Stalk It: Little Dom's restaurant from 90210 is located at 2128 Hillhurst Avenue in Los Feliz.  You can visit the restaurant's official website here.
25898