Paramount Studios . . . A Third Time
Nov 17th, 2010 | By
Lindsay
| Category:
Celebrity Sightings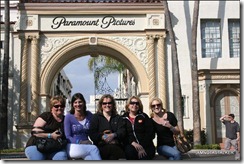 As I mentioned in last Thursday's post about my second VIP Tour of the Studios at Paramount Pictures in Hollywood,  I also recently embarked on a third tour of the lot, along with fellow stalkers Lavonna, Debbie, Connie, and Beth, who were all in town visiting from Ohio this past October.  And I am very happy to report that my third Paramount tour was just as fabulous as my first two.  If you have yet to visit the famed Hollywood studio, all I can say is that you REALLY must!  As I've stated numerous times in the past, it is simply the best studio tour Los Angeles has to offer.  This time our tour group consisted of two guides, the five of us, and only one other gentlemen (who showed up in a business suit with the intention of handing out headshots to various studio executives that we might happen to pass along the way, which was extremely uncomfortable for everyone involved, but that's a whole other story), so we were very lucky in that our group was not only smaller than normal, but our tour was also very much catered to the places on the lot that Lavonna and Co. were interested in seeing.  I should mention here that Paramount guides are very good about customizing tours for each particular group, so if you do happen to embark on a visit to the lot, I highly encourage you to speak up and tell your guide exactly what it is that you are interested in seeing.  
Our first stop, as always, was Lucy Park, the history of which I wrote about in last week's Paramount post.  One thing I forgot to mention, though, was that the Chevalier Building, which runs along the eastern side of the park, was used as Milwaukee, Wisconsin's Jefferson High School on the 1970's television series Happy Days.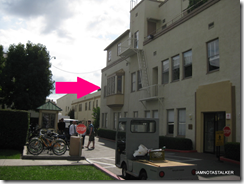 Directly across from Lucy Park is the Ball Building, named in honor of actress Lucille Ball, where Tom Cruise's production offices were formerly housed.  Tom's office is the one with the large bay window denoted with the pink arrow in the above photograph, from which is a fabulous view of the Hollywood sign.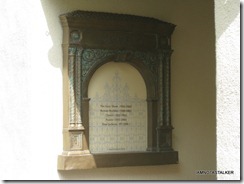 We were then shuttled by Stage 25, which is considered by many to be an extremely lucky stage being that two of the most successful shows in television history, Cheers and Frasier – both of which ran for eleven seasons and both of which starred actor Kelsey Grammar as Doctor Frasier Crane – were filmed there.  Our guide told us that Grammar likes to joke that his short-lived television series Back to You, which was filmed elsewhere, would have been much more successful had it been lensed on Stage 25.
Next up was Stage 28 where the Nickelodeon Television series Big Time Rush is filmed.  The exterior of that particular stage is used each week for establishing shots of the Rocque Records offices on the show.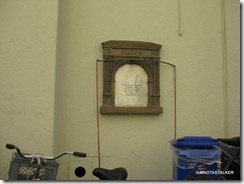 Right next door to Stage 28 is Stage 27, where the Grim Cheaper's favorite movie of all time, The Godfather, was filmed, so of course I just had to snap a photograph of it.
We were then taken inside the set of the apartment belonging to Alex (aka Elisha Cuthbert) on the yet-to-be released series Happy Endings.  Alex's apartment, which we unfortunately were not allowed to take photographs of, but which you can see in the above screen captures, is VERY reminiscent of Monica and Rachel's apartment on Friends.  It was absolutely amazing to be able to see the set in such an up-close-and-personal manner and to discover how truly realistic everything actually was.  At one point Lavonna and I wandered into Alex's bathroom – which according to our tour guide is not going to be used for actual filming but will only be seen in the background of certain scenes – and were shocked to discover how incredibly detailed it was.  There was a huge make-up basket filled with actual make-up on the counter, there was a toothbrush and toothpaste by the sink, and the drawers were filled with hairbrushes and other beauty paraphernalia.  The attention to detail was astounding, especially considering that the bathroom will only be appearing in the background, if at all!  There were also real life bills being stored in Alex's mail holder and actual books piled on her bookshelves.  So incredibly cool!
You can watch the promo for Happy Endings by clicking above.
Up next was my VERY favorite section of the Paramount lot, New York Street, where filming for both Happy Endings . . .
. . . and Community was taking place.  I happened to spot cutie Joel McHale walking around the Community set, but I couldn't get my camera out fast enough to snap a photograph of him, which was so   unbelievably frustrating I cannot even tell you!  UGH!
Paramount Studios was used as the location of the Junior Prom in the Season 1 episode of fave show 90210 titled "Zero Tolerance".  In the episode, Naomi Clark (aka AnnaLynne McCord) and Liam Court (aka Matt Lanter – sigh!) decide to take a break from the dance to walk around New York Street and they wind up sitting on a brownstone stoop where, in a drool-worthy moment, Liam finally admits to Naomi that he has actual feelings for her . . . and then, it begins to snow!  So darn cute! 
I was absolutely dying to take a picture while sitting on Liam and Naomi's stoop, but unfortunately I could not remember exactly which one it was, so I ended up sitting a few houses too far to the north.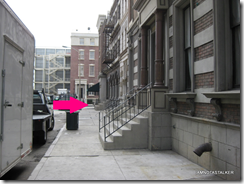 Liam and Naomi's actual stoop is located on the Lower East Side portion of New York Street and is the stoop located closest to Washington Square and is denoted with the pink arrow in the above photograph.
The café from Spiderman 3, where Peter Parker (aka Tobey Maguire) tells Harry Osborn (aka James Franco) that Mary Jane Watson (aka Kristen Dunst) is in love with someone else, is also located on New York Street, in the Greenwich Village area. 
Much like the jazz club from Spiderman 3 which I talked about in my previous Paramount post, the café is a "practical set", which means that it is not just a façade, but that it also has an interior area where filming can take place.
We actually got to step inside one of the facades while we were on New York Street, which I had never done before on a previous tour.  As you can see in the above photographs, the interior of the facade consists mainly of large metal beams, from which set electricians can hang lights, and open space, where background actors are sometimes held in between takes.
The "Schlemiel, Schlimazel, Hasenpfeffer Incorporated" segment of the Laverne & Shirley opening credits was also filmed on New York Street, in the Washington Square section.
Interestingly enough, the exterior of Rosalita's Bar from Happy Endings was dressed a bit differently than it was the last time I visited the lot a few weeks beforehand.
The way it looked on my previous tour is pictured above.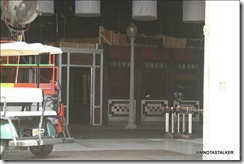 Fellow stalker Beth also somehow managed to snap the above photograph of the interior of the soundstage where Happy Endings is filmed, the door of which happened to be open as we drove by.  As you can see, the doorway and part of the exterior of Rosalita's Bar has also been built inside of the soundstage, which was very cool to see!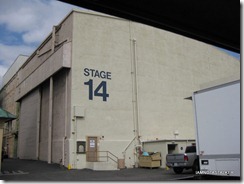 Next up was the famed Stage 14, where fave show Glee is filmed.  Because Lavonna, Debbie, Connie, Beth, and I are all diehard Gleeks, we were hoping to have the same star-sighting luck outside of Stage 14 that I had on my previous tour, but alas, that was not to be.
We all just about died a few minutes after driving away from the stage, though, when who should we spot being shuttled around on a golf cart but Miss Lea Michele!  I was beyond excited to catch a glimpse of Lea as I had only seen her for a split second during my previous Paramount tour and, aside from Will Schuester (aka Matthew Morrison), Rachel Berry is my favorite character on the show.  Sadly though, the experience was not a good one.  As Lea's cart approached, the driver put her hand up to block the actress' face from us, which was absolutely unbelievable!  It's rude enough when an actor puts up their own hand to block their face from fans, but to have an assistant do it for you is an absolute diva maneuver if I ever saw one!  The whole thing was extremely disappointing for us as, prior to that, we had all LOVED Lea.  Our tour guide on the the previous tour had told us that Lea was the worst one of the entire Glee bunch and that the studio staff had taken to humming the Wicked Witch of the West theme song from The Wizard of Oz every time she rode past them on her bike, but, even after hearing that, I had still believed she was nice.  Sadly that did not seem to be the case, though.  Such a shame.
Next up was the exterior of Stage 15 where NCIS: Los Angeles is filmed, which I was absolutely FLOORED about seeing (and which took my mind off of the whole Lea Michele debacle) as the outside of it is used for the filming of the exterior of the NCIS Office of Special Projects on the series.  So incredibly cool!
We were then taken to Paramount's Production Park, where the Lubitsch Building is located, which was used as Westdale High School on fave show The Brady Bunch.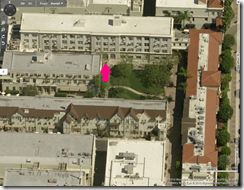 The Lubitsch Building is located on the east side of Production Park and the doorway which was used as the entrance to Westdale High is denoted with the pink arrow in the above aerial view.
Production Park was also recently used in the Season 1 episode of Rizzoli & Isles titled "Money for Nothing", in the opening scene in which Detective Jane Rizzoli (aka Angie Harmon) and Dr. Maura Isles (aka Sasha Alexander) are shown stretching before a morning run.
The filming of an episode of Nickelodeon's Big Time Rush had just wrapped when we arrived at the park, which is what the sign reading "Palm Woods Park" was set up for.  Filming had involved the cast of the show being in some sort of a mud pit and the crew was covering up the pit while we were there, which is what you see in the above photograph.
We also made a stop at the Paramount Studios Theatre and while we were there our tour guide mentioned that the theatre lobby had been used as a hotel in a certain movie, but when I sat down to write today's post, I could not for the life of me remember which movie.  Enter Lavonna, who CALLED UP Paramount to find out for me!  Amazingly enough, who should answer the phone, but our actual tour guide who informed Lavonna that the movie he had told us about was Clear and Present Danger.  Thank you, Lavonna!  🙂
Our final stop was the famous Paramount Studios water fountain, which was also featured in the "Zero Tolerance" episode of 90210.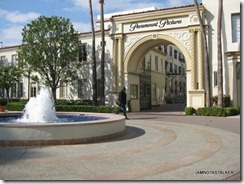 Despite our disappointment over Lea Michele, the tour was still a FABULOUS, FABULOUS experience and I honestly cannot recommend taking it enough!  I've said it before and I'll say it again – Paramount is hands down the best studio tour in Hollywood!
Until next time, Happy Stalking!

Stalk It: Paramount Studios is located at 5555 Melrose Avenue in Hollywood.  Tours are given Monday through Friday at 10 a.m., 11 a.m., 1 p.m., and 2 p.m. and cost $40 per person.  Reservations can be made by calling (323)956-1777.  Parking for the tour costs $7 per car and the tour lot is located on Bronson Avenue, directly across the street from the studio's main entrance.  I recommend booking your tour at least a week in advance, as they tend to sell out quickly.  You can find out more information about the Paramount Studios Tour here.
26035