The Whisper Lounge – One of Michael Buble's Favorite L.A. Restaurants
Nov 23rd, 2010 | By
Lindsay
| Category:
This and That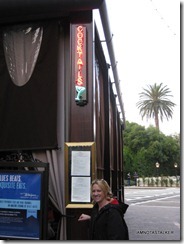 Last week, Michael Buble's tour marketing manager, Tory Class, who I follow on Twitter (
@ToryonTour
), sent out a link to a recent interview the cutie crooner had done with
The Hollywood Reporter
during which he named his five favorite places to hang out in Los Angeles.  I, of course, watched the video immediately and just about died when he mentioned the Whisper Restaurant and Lounge at The Grove as one of his favorite area restaurants, being that the Grim Cheaper and I had just dined there a few months prior.  I, unfortunately, did not take any photographs of the place at that time, though, so I promptly added the eatery to my ever-growing "To Stalk" list and informed the GC that we would be dining there that very weekend.  And we, indeed, did, this past Saturday night.  Ironically enough, Michael actually mistakenly referred to the place as the "Viper Lounge" in his interview, but being that there is no such restaurant at The Grove and being that there is only one spot there that has the word "lounge" in its name, I was able to figure out which establishment he was talking about.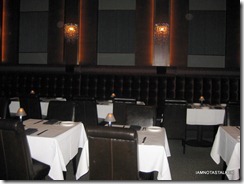 The Whisper Restaurant and Lounge, which first opened in January of 2004, is owned and operated by billionaire real estate developer Rick Caruso (no relation to actor David Caruso), the man who was the brains behind both The Grove shopping center and the more recent Americana at Brand in Glendale.  The eatery was modeled after the private supper clubs that thrived during the heyday of Hollywood and was designed to resemble a 1940's speakeasy (hence the "whisper" in the name), with dim lighting, dark wood-paneled walls, large leather booths, an indoor/outdoor canopied patio, and Rat Pack music on the stereo.  It's a very quiet, intimate spot and both the GC and I fell in love with the place immediately.  Being that it is on the pricier side, though, I almost fell right off my bar stool when the GC announced that he couldn't wait to bring my parents back there as he knew that they would also love it and suggested that we do so this upcoming weekend!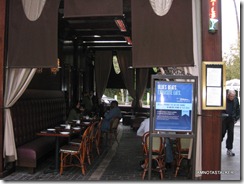 In
The Hollywood Reporter
interview, Michael mentioned that the restaurant serves "the best flat crust pizza ever" and I have to say that I wholeheartedly agree with that sentiment.  The GC and I opted for the Wild Mushroom and Truffle version and it was nothing short of A-MA-ZING!  The couple dining next to us ordered the Pizza Margherita with prosciutto added to it and, holy schmoley, did it look good.  I am going to have to sample that myself on my next visit there.  The Grilled Baby Broccoli with Garlic Butter side dish that I ordered was also spectacular – easily the BEST broccoli I have ever eaten in my entire life.  I was seriously tempted to lick my plate clean. 

  The service was also impeccable and lacked any sort of the typical L.A. snootiness that is usually found in upscale Hollywood-area restaurants.  The bartender was INCREDIBLY nice and, because she had only worked at the Lounge for two months, was not sure if Michael Buble had ever frequented the place, so she sought out a few of the more veteran servers to find out for me, and, sure enough, they confirmed that the singer is a regular patron.  So incredibly cool!  While we were dining, we also had the pleasure of meeting the  Assistant General Manager, a SUPER nice man named Eric Todd, who was very excited to hear that Michael had mentioned the eatery in a recent interview and did not think I was at all weird for stalking the place because of it.
Apparently, Michael Buble is not the restaurant's only famous fan.  In fact, the place seems to be a veritable celebrity haven.  Just a few of the stars who have been spotted there recently include Halle Berry, Kim Kardashian, Kris Kardashian, Bruce Jenner, Spencer Pratt, Heidi Montag, Keanu Reeves, Cameron Diaz, Jennifer Lopez, Leah Rimini, Lauren Conrad, Jessica Simpson, Lara Flynn Boyle, Vivica A. Fox, Nick Lachey, David Spade, Sam Worthington, former Bachelor- contestant Jerry Ferris, and Antonio Sabato, Jr.  And while we, unfortunately, did not spot any celebs while dining at the restaurant, we did see actress and former Real World-er Jacinda Barrett and her husband, actor Gabriel Macht, and comic book legend Stan Lee, who was doing a signing at Barnes & Noble, while walking around The Grove earlier in the day.
Michael Buble's Five Favorite Places in L.A.
You can watch Michael Buble's Hollywood Reporter interview by clicking above.  And for those who are not able to watch, his five favorite Hollywood haunts are as follows: 1. Koi Restaurant, 2. The Chateau Marmont hotel, 3. His house in West Hollywood, 4. The Grove and the Whisper Lounge, and 5. Disneyland!  Because I am an absolute Disney freak, I was incredibly excited to hear that last one.  Of the park, Michael says, "When I walk in there now and I go through the gates, I'm seven years old.  I go right back.  I just, I can't get enough of it."  Love it!  And congratulations are also in order here as MB won his very first American Music Award this past Sunday night for Favorite Adult Contemporary Artist!  Whoo-hoo!
Justin Bieber's AMA Speech
On an AMA side note – I just have to say that I absolutely LOVED Justin Bieber's speech after winning Favorite Pop/Rock Male Artist, in which he acknowledged the King of Pop, saying, "I want to thank Michael Jackson because without Michael Jackson, none of us would be here."  Love it!  Then when he called Usher up on stage after winning the Artist of the Year award, I literally got tears in my eyes!  (You can watch his Artist of the Year award speech by clicking above).  What can I say?  I love me some Biebs! 
New Kids on the Block and Back Street Boys 2010 AMA's Performance
I also absolutely LOVED LOVED LOVED the NKOTB/BSB performance!  It was – dare I say it – the best performance of the night and, because I've had New Kids on the Blocks songs on my iPod for as long as I can remember, so think I am going to have to get myself some tickets for that tour!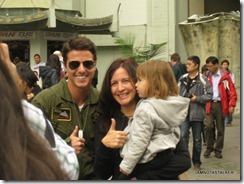 On another side note – While doing some stalking in Hollywood this past Saturday morning, the Grim Cheaper and I spotted the above-pictured Tom Cruise look alike in the forecourt of Grauman's Chinese Theatre and I just about died from excitement!  The guy looked SO much like the movie star that it was absolutely UNCANNY.  The GC and I both did a double take and for a few brief moments I actually believed he was the real Tom Cruise doing some sort of a press appearance at the legendary Hollywood theatre.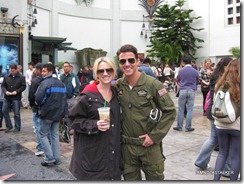 The guy was being absolutely MOBBED by people wanting to take a photograph with him and I have to admit that in the ten-plus years that I have lived in Los Angeles, never once have I paid – or been tempted to pay – to have my picture taken with the faux celebrities or superheroes who make their living on the Boulevard, but I HAD HAD HAD to get my picture taken with Tom. 

  There was absolutely NO way I was going to let that opportunity pass me by.
Until next time, Happy Stalking!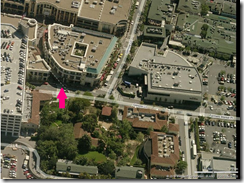 Stalk It: The Whisper Lounge is located inside of The Grove shopping center, near where Farmers Market Place meets Gilmore Lane, across the street from the Wonderland Bakery, in Los Angeles.  The restaurant's exact location is marked with a pink arrow in the above aerial view.  You can visit the restaurant's official website here, its Facebook page here, and you can follow the Lounge  on Twitter here.  The Whisper Lounge is currently hosting a "Blues Beats, Exquisite Eats" event each Sunday night, with live jazz music and a five-course tasting menu.  You can find out more information about "Blues Beats, Exquisite Eats" here.
26208