Our Save-the-Date Cards
Dec 2nd, 2010 | By
Lindsay
| Category:
My Movie-Themed Wedding
,
This and That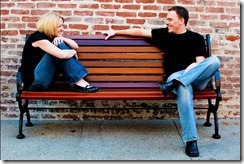 In November of last year, the Grim Cheaper and I met up with our wedding photographer, Rob Greer – whom I blogged about yesterday – for an engagement photography session in Old Town Pasadena.  Our original plan was to take a few photographs in front of the Laemmle movie theatre located in the One Colorado Shopping Center.  Because our wedding was going to be movie-themed, I thought it would be cute to use the theatre pictures as our Save-the-Cards by having the GC digitally alter the marquee to read "Save the Date for Bret and Lindsay's Wedding, August 21, 2010".  (And yes, the GC's real name is Bret.)  When we arrived at Laemmle, though, we discovered that the theatre had not only been shut down a few weeks prior, but that it was also completely boarded up.  Not exactly the look we were going for for our Save-the-Date cards.  So, Rob suggested that we meet up at a theatre in Downtown Los Angeles at a later date to take our marquee pictures, but that we continue on with our engagement session that day in Old Town Pasadena as originally planned.  So, off we went.  And, as it turns out, we never needed to meet up in Downtown Los Angeles after all!  Out of that session in Pasadena came the above photograph which my good friend Nat – who is a party planner and who was the friend who co-hosted my Sex and the City-themed Bachelorette Party back in July – took one look at and called me up immediately to say, "Forget the marquee!  You guys should do a Coming Soon movie poster as your Save-the-Date cards!  That picture of you on the bench just screams 'movie poster' to me!"  Ironically enough, that very same day I had asked fellow stalker Owen, who is one of the most creative people I have ever met in my entire life, if he had any ideas for unique Save-the-Date cards.  His suggestion?  The very same as Nat's!  So with that, the GC, Nat, and I got right to work.
The only problem was that neither the GC nor I could come up with a fitting title for our "movie".  I wracked my brain for a good eight hours trying to think of something – anything – that would be fitting, but sadly nothing came to mind.  Our title had to be something that actually was "coming soon", and I could not think of any sort of wording that would correctly fit that description.  So, once again, I emailed Nat for help and she replied not five minutes later saying, "What about 'Mr. & Mrs. Kinkele'?" – Kinkele being the GC's last name.  And with those words an idea was born.  We ended up using "Mr. & Mrs. Kinkele" as the theme for our entire wedding.  From there, I came up with the tag line "A love story ten years in the making!", because the GC and I had been dating just a few months shy of a decade by the time we actually tied the knot.  Yes, a decade!!!  Nat also suggested that we put a few quoted "reviews" on the poster and, with that, the GC set about designing the cards on his computer.  I jokingly call the GC "my little computer nerd", but the truth is that he is an absolute GENIUS when it comes to electronics!  He laid out the above design in less than 4 hours.  Not kidding!  So love it!
Pictured above is a hard copy of our Save-the-Date postcards.  We also ordered photostamps from the website Zazzle, with the words "SAVE THE DATE, AUGUST 21, 2010" written on them, which completed the look perfectly.  I cannot tell you how many people wrote to us after receiving the cards saying how much they loved them and how incredibly unique they were. 

So, thank you, Nat and thank you, Owen!  And because we made them ourselves, the cost was extremely minimal.  If I remember correctly, we spent about $70 for everything, including postage, which the Grim Cheaper was absolutely over the moon about.  If you are considering sending out Save-the-Date cards for your wedding, I highly recommend printing them through a do-it-yourself website such as Moo, Snapfish, or Shutterfly, as doing so can save you massive amounts of money.  We also printed our wedding invitations via a do-it-yourself website, but more on that tomorrow.
Until next time, Happy Stalking! 

Stalk It: You can contact photographer Rob Greer through his website here.  You can contact Natalie Drees for your invitation needs via her party planning website Pop Planning here.  Natalie can create and customize invitations for any and all types of celebrations, including weddings, birthday parties, retirement dinners, etc. etc. etc.  We had our Save-the-Date postcards printed through Moo.  Out of all the do-it-yourself printing websites I have utilized over the years, I have found Moo to be the best and most affordable when it comes to printing postcards, however they only print 4.13" x 5.82"-sized cards.  If you are looking to print larger cards, I would recommend using Snapfish.  Personalized photo stamps can be ordered through Zazzle.
26400