Our Movie Ticket Wedding Invitations
Dec 6th, 2010 | By
Lindsay
| Category:
My Movie-Themed Wedding
,
This and That
After the favorable response we received from our movie poster Save-the-Date cards, I knew the Grim Cheaper and I had to do something equally creative and unique for our wedding invitations.  The only problem was that neither one of us could come up with any award-winning ideas.  So, I once again called in the troops, so to speak, by enlisting the help of my good friend/party planner extraordinaire Natalie Drees, who immediately came up with the idea of designing our invitations in the style of movie tickets.  And, once again, with those words, an entire concept was born!  We decided that our wedding would not only be movie-themed, but movie premiere-themed – aka the "World Premiere" of Mr. & Mrs. Kinkele.  So, with that, Nat got to work and ended up creating the whole ticket for us.  She also came up with the idea of making the perforated section of the ticket the RSVP card that guests would tear off and send back to us, which I thought was just about the cutest thing ever!  And she numbered the SKU of each ticket as 8212010, aka 8/21/2010 – the date of our wedding.  Love it!  Once Nat finalized the design, she was able to print it out on her computer and I have to say that it turned out absolutely FABULOUS.  Unfortunately though, when she sent the image file to the GC and he tried to print it out on our own home computer, it looked like it had . . . well, been printed on our home computer.  Needless to say, Nat has a much better printer than we do.  Because I wasn't about to have her print out every single one of our invitations, I started looking into printing her design professionally and came across a website called Next Day Flyers.  Well, let me tell you, I just about had a heart attack when I saw that we could actually add a photograph to the front of the ticket and I immediately had the GC alter Nat's design so that it included our movie poster picture, which had been taken by photographer Rob Greer.  Pictured above is the design the GC came up with, which I absolutely FELL IN LOVE WITH!

Printed on the back of the ticket was all of the pertinent wedding information, including the rehearsal dinner and ceremony addresses and times.  The GC also included a small silhouette of a turtle in the above design as turtles are my favorite animal and have always been special to the two of us for various reasons that are too lengthy to go into here.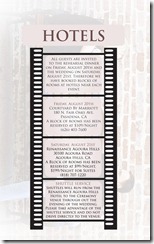 Nat also created the above image file with all of our wedding hotel information and suggested that we print it on a piece of cardstock paper to include with the invitations.  Randomly enough, though, while I was searching for a place to print out our tickets, I came across a website called BandPasses.com which specializes in custom-made VIP passes at fairly reasonable prices.  Well, let me tell you, I took one look at those passes and knew we had to incorporate them into our invitation in some way.  The GC came up with the idea of printing the above design on the back of the passes and the rest, as they say, is history.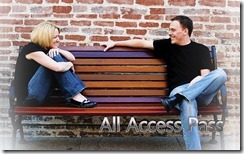 He then modified our movie poster photograph and added the words "All Access Pass" to be used as the image on the opposite side of the hotel information and, let me tell you, I just about died over the whole thing.  So darn cute!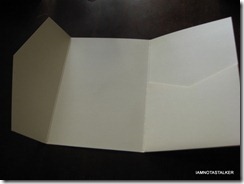 To tie everything together, Nat suggested that we use a Pocket Fold enclosure from the Envelopments company (pictured above) with our movie poster pasted in the center of it.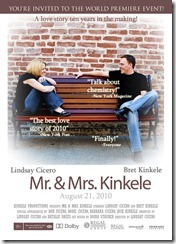 So, the GC immediately got to work transforming our Coming Soon poster into a World Premiere movie poster, the final design of which is pictured above.  And, with that, we had ourselves a completed invitation!  YAY!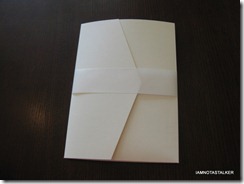 The hard copy of our invitation is pictured above.  Nat had the idea of putting a vellum band around the Pocket Fold to keep it closed in its outer envelope, but instead of purchasing actual bands, she suggested I make them myself.  I ended up finding the perfect paper in 8.5 x 11-inch sheets at fave store Paper Source and I simply cut each sheet into one-inch strips to create the band.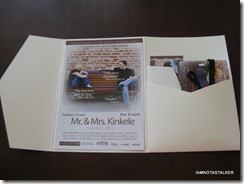 Pictured above is what the Pocket Folds looked like when our guests opened them.
Along with the hard copy of the movie ticket.
And our backstage pass . . .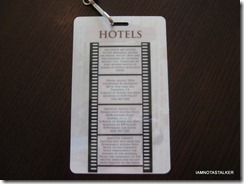 . . . with the hotel information printed on the back.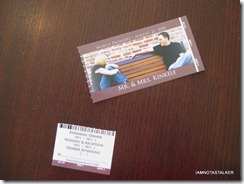 To return the RSVPs, guests simply had to tear off the perforated section of their tickets . . .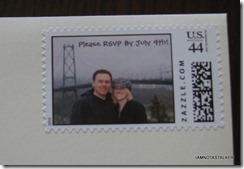 . . . and send out the stubs in the enclosed RSVP envelopes, which had photostamps from Zazzle affixed to them with the words "Please RSVP by July 9th!".  Since we were not able to use a do-it-yourself printing website – such as Moo, Snapfish, or Shutterfly – for our invitations, we ended up spending quite a bit more on them then we had originally anticipated, but amazingly enough, because we had so much fun designing them and putting them together and because they turned out so fabulous, the GC didn't mind at all.  And I have to say that our guests were absolutely OVER THE MOON about the invites.  People LOVED them and a few even showed up to the wedding wearing their backstage passes, which I thought was absolutely adorable. 

Until next time, Happy Stalking! 

Stalk It: Our wedding photographer Rob Greer can be reached via his photography website, RobGreer.com.  Natalie Drees can be reached via her party planning website, PopPlanning.com.  We ordered our movie ticket wedding invitations and our postcards from Next Day Flyers.  The VIP passes came from BandPasses.com.  The Envelopments Pocket Folds and corresponding outer envelopes were ordered from the Red Currant Design Studio, which is an AWESOME company!!!  Cannot recommend them enough – although we didn't pay for faster shipping, we received our order in two days time!  Love it!  I made the band around the Pocket Folds out of platinum-colored vellum paper, which I purchased at Paper Source.  And finally, you can customize and purchase photostamps at Zazzle.com.
26477