Our Press Kit Wedding Programs
Dec 7th, 2010 | By
Lindsay
| Category:
My Movie-Themed Wedding
,
This and That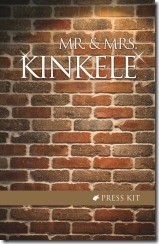 Once we had our movie ticket wedding invitations printed and sent out to all of our closest family and friends, the Grim Cheaper and I set about designing our wedding programs.  At first, neither one of us had any idea what sort of program we wanted to create.  All we knew was that it had to have some sort of a movie-premiere theme and that it had to accommodate a large amount of text, as I had long ago decided that the GC and I would write a paragraph about each and every person who would be standing up for us on our wedding day.  The friends in our wedding party were the most important people in our lives and I did not want what they had meant to us over the years to be left unsaid.  It was also important to us that we be able to use the program to thank those who were not actually in the wedding party, but who had helped us with the wedding planning in some significant way.  My first idea was to create something along the lines of a Playbill theatre program, in which lengthy cast biographies are usually written.  The problem was that our wedding had a movie theme, not a theatre theme, so that idea wasn't exactly hitting the mark.  Then I thought about modeling our program in the style of a brochure from a movie press kit.  Being that I had never actually seen a movie press kit, though, I was not sure if they actually contained anything even remotely similar to a leaflet or a brochure, so, I immediately emailed fellow stalker Owen, who is lucky enough to own an authentic press kit from the original Back to the Future movie, to ask him what the kit included.  And, sure enough, it did feature a booklet which listed the names of the entire cast and crew along with their biographies.  Eureka!  So, with that, the GC and I set about designing our press kit-style wedding program.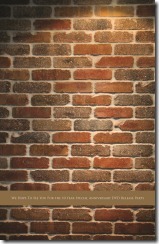 Because we had already used our movie poster photograph on both the Save-the-Date cards and the wedding invitations, I thought it would be best if we changed things up a bit for the program.  Since the movie poster picture was taken in front of a brick wall, the GC came up with the idea of using a blank brick wall as the cover of the program.  And, luckily enough, we actually have a brick wall inside of our apartment, so the GC snapped a quick photograph of it and that became the front and back cover of our press kit.  The GC always tries to claim that he does not have a creative bone in his body, but, as you can see above, all evidence to the contrary!  It was also his idea to write "We hope to see you for the 10-year special anniversary DVD release party" on the program's back cover.  So love it!
We then created a "cast and crew list" and set about writing our "cast biographies".  If you are in the process of planning a wedding, I honestly cannot more highly recommend writing a paragraph about each of the people in your wedding party to be included in your program.  I cannot tell you how nice it was to be able to give a brief, but meaningful, thank you to those friends who have been so important to us throughout our lives.  Writing those biographies was easily the most time-consuming of all of the wedding preparations, but it was also easily the most worthwhile.  And our guests also appreciated being able to learn about the history of our relationships with the people who stood up for us.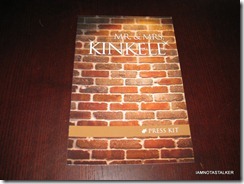 We ordered our press kit programs through Next Day Flyers – the same company that printed our wedding invitations.
The programs turned out SPECTACULARLY and looked so incredibly professional that it was hard to believe we had designed them ourselves using a computer!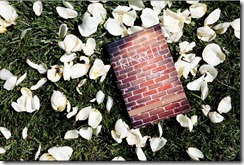 Our wedding photographer Rob Greer also managed to capture a beautiful picture of one of the programs on the day of the wedding.  Love it!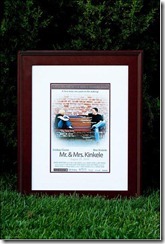 We also had our movie poster blown up and framed for our guests to sign during the wedding, in lieu of a guest book . . .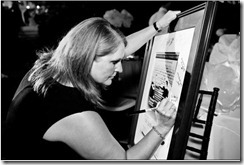 . . . which is what fellow stalker Kerry is doing in the above photograph. 

Until next time, Happy Stalking! 

Stalk It: We ordered our wedding programs from the Next Day Flyers website.  We ordered the company's 5.5 x 8.5-inch Glossy Booklets.
26526