The Kaufmann House – One of the World's Most Famous Houses
Dec 8th, 2010 | By
Lindsay
| Category:
Celebrity Homes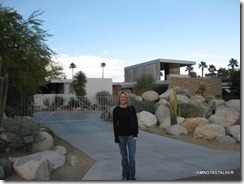 I thought I'd take another break from my wedding blogging today to write about a location that has occupied a spot at the very top of my "To-Stalk" list for over two years now, but had, for whatever reason, eluded me up until this past weekend when the Grim Cheaper and I headed to Palm Springs for a little pre-Christmas getaway.  While we were there, I made it a point to finally, finally stalk what is known as one of the most iconic and, perhaps, most famous houses in the entire world; a residence that is as well-known, if not more so, than the White House, the Playboy Mansion, Neverland Ranch, and Fallingwater all put together, architecturally speaking at least  – Richard Neutra's legendary Kaufmann house.
The Kaufmann house was originally built in 1946 by world-renowned mid-century modernist architect Richard Neutra.  Amazingly enough, the residence was commissioned by Edgar J. Kaufmann Sr., the very same man who also commissioned Frank Lloyd Wright to construct another of the world's most famous houses – the property known as Fallingwater in Mill Run, Pennsylvania.  It is amazing to me that two of the most iconic dwellings in the entire world were constructed for the same man, especially since they were designed by different architects.  I can't even imagine owning one of the residences, let alone both of them!  But I digress.  Anyway, Neutra designed the International-style Kaufmann House, or Kaufmann Desert House as it is also known, out of steel, aluminum, glass, and stone at a cost of $295,000.  Famed photographer Julius Schulman's 1947 images of the home turned the place into an architectural landmark virtually overnight, but, sadly, after Kaufmann's death in 1955, the property sat vacant for several years.  In the time period that followed, the pinwheel-shaped dwelling went through a succession of different owners – singer Barry Manilow even occupied the place for a few years – and a slew of unsightly renovations.  In 1993, the Kaufmann House was purchased for a cool $1.5 million by an architectural historian named Beth Harris and her husband, an investment manager named Brent.  The two quickly set about a massive painstaking and costly restoration of the entire property, bringing it back to its original glory.  In a mind-boggling-bit of trivia, though, according to an October 2007 New York Times article, at the time the duo bought the residence, it had not only been on the market for over three and a half years, but was being listed as a "teardown"!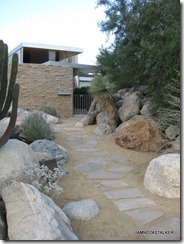 The Harrises had not actually originally set out to buy the home, but had been stalking the property (so love it!) when Brent noticed a "For Sale" sign situated among the overgrown foliage.  The purchase turned out to be a fateful one, though, being that the couple's decision to restore the residence is largely credited with setting into motion the massive mid-century modernist restoration movement that Palm Springs is now known for.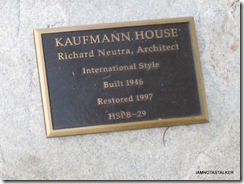 The Kaufmann House is not only considered to be one of Richard Neutra's finest designs, but also one of the most important examples of mid-century modernist architecture in the entire world and one of the most publicized homes in architectural history.  The property has been featured in countless magazines and periodicals over its 64-year history, including Palm Springs Life, Time, and Life Magazine, as well as in numerous architectural books.  In 1996, it was designated a Class 1 Historic Site by the Palm Springs Historic Site Preservation Board.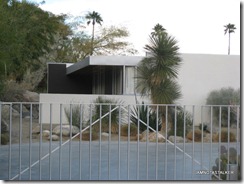 When the Harrises divorced in 2007, they decided to sell their beloved property.  But a unique house deserves a unique sale, so it was put up for purchase via an auction at Christie's.  Most unusual about the sale, though, was the fact that Christie's categorized the home not as a residence or a piece of property, but as a work of art!  The house sold at auction for a whopping $19.1 million, but fell out of escrow shortly thereafter.  It hit the market once again a few months later, this time as a regular real estate sale, for just under $12.9 million, but I don't believe it ever sold and it looks as if it has since been taken off the market.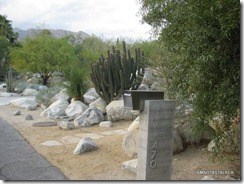 The 5-bedroom, 6-bathroom, 3,200-square foot home, which sits on over 2 full acres of land, features floor-to-ceiling sliding (or "disappearing") glass walls, indoor-outdoor living space, a wall of moveable aluminum sheets that can either be closed to keep out the sun or opened to take advantage of the mid-afternoon breeze, a second-story "gloriette" or outdoor sleeping area, a separate viewing platform, a large pool, a tennis court, and striking mountain views.  You can check out some fabulous interior photographs of the Kauffman House here.
Until next time, Happy Stalking! 

Stalk It: The Kaufmann house is located at 470 West Vista Chino in Palm Springs.
26553