Our Movie Locations-Themed Scavenger Hunt
Dec 13th, 2010 | By
Lindsay
| Category:
Movie Locations
,
My Movie-Themed Wedding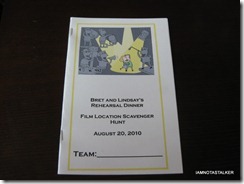 My good friend/party planner extraordinaire Natalie Drees has become famous in our circle over the past few years for creating absolutely amazing customized scavenger hunts.  She plans one for pretty much every event she hosts and not only are they insanely fun, but they also provide a fabulous way for people to get to know each other.  So, once it was decided that our rehearsal dinner would take place at POP Champagne & Dessert Bar in Old Town Pasadena and that all of our family and friends would be invited, I asked Nat if she wouldn't mind creating a movie locations-themed hunt to cap off our evening.  And, thankfully, she said yes!  Because Nat lives in San Francisco and therefore does not know the Pasadena area all that well, though – nor is she particularly into this thing that we call stalking – she enlisted the help of fellow stalker Owen to carry out the endeavor.  And I have to say that the two pulled it off beautifully!
Natalie figured that most of our guests wouldn't be quite as into filming locations as I am, so she based the scavenger hunt not around finding where a specific production was filmed, but around finding particular restaurants and bars in Pasadena that also happened to be filming locations.  If teams could subsequently figure out what was filmed at each particular restaurant or bar – by talking to their servers or using their iPhones – extra points would be awarded, but filming location knowledge was not in any way required to participate.  Besides figuring out which location each clue referred to, teams would also be required to obtain specific items from each location in order to complete the hunt.  As always, each team was given a set of pens, a bag to collect all of our scavenger hunt items, and a book detailing our assignment, the rules of the game, and the clues.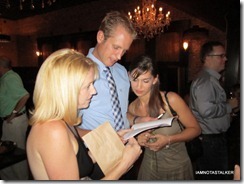 The booklets were handed out at the end of the rehearsal dinner at POP Champagne Bar and my best friend Kylee, who was managing the hunt, gave all of the teams five minutes to read them over, before yelling out "On your mark . . . get set . . . go!".  At that point our entire group of fifty literally RAN out of the restaurant!  It was like a mass exodus and I can only imagine what our fellow diners were thinking!  LOL  The scavenger hunt clues read as follows:
Clue Number 1 –  
It's been said "men want
a lady on the street . . ."
Perhaps women want
An "uomo" who can take the heat.
Once they find him,
They'll take some "pane".
Bring it  back to the judge
And you'll "vincere".
The solution to Clue Number 1 was the restaurant Il Fornaio, which was featured in the 2000 movie What Women Want and was actually the very first movie I ever saw being filmed upon moving to Los Angeles.  Before purchasing a house, my parents and I lived in an apartment in Old Town Pasadena and we would walk down to Il Fornaio to grab a bite to eat at least once a week.  We got to know quite a few people who worked at the eatery and one night one of the servers let us know that Mel Gibson was going to be filming a movie at the restaurant the very next day.  So, my mom and I, of course, headed back there bright and early the following morning to watch!  It was an extremely cool experience for both of us and while we did not get to meet Mel Gibson, he did wave to us and say 'hi' several times while on his various cigarette breaks.  Anyway, Nat came up with the brilliant idea of using foreign words in each clue which correlated to the type of food served at the restaurants we were supposed to visit.  In the case of Il Fornaio, which is Italian, she used several Italian words – "uomo" translates to "man", "pane" to "bread", and "vincere" to "win".  Well, once I read the words "women want", I knew exactly which restaurant the clue was referring to and my team (which consisted of me and the GC, my best friend Robin and his girlfriend Steffi, and Mike, from MovieShotsLA, and his fiancé Ame) immediately headed on over there.  Unfortunately though, my mom, of course, also immediately figured out the answer to the clue and was right on our heels!  In the movie, Il Fornaio appeared in the scene in which Nick Marshall (aka Mel Gibson) has lunch with his daughter Alex Marshall (aka Ashley Johnson) after buying her a prom dress.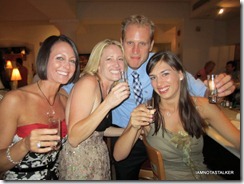 One of the rules of the game was that all teams would have to purchase a round of drinks at each and every bar, so as not to anger the various managements by having large groups of people running in and out of the restaurants, causing a disruption.  When we arrived at Il Fornaio, Mike suggested that we each get a shot as we could drink them quickly and then be on to our next location.  Well, I am a complete and total lightweight and typically do not drink anything other than champagne and I really did not want to be doing shots at each and every bar we went into the night before my wedding, so I quickly ixnayed that idea.  But the next thing I knew, my friend Steffi had six full shot glasses lined up in front of her.  I immediately said, "No, I can't drink a shot!" to which she replied, "These are champagne shots!"  I had no idea what on earth a champagne shot was, but she informed me that she had asked the bartender to pour a bit of champagne into six shot glasses.  The bartender at first balked at the idea, but when Steffi explained that I was a soon-to-be bride who only drank champagne, she agreed and poured us our "champagne shots".  We are holding them in the above photograph and I can honestly say that that particular moment was one of my favorites of the entire wedding.  So incredibly cute!!!!!!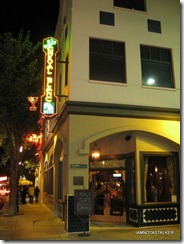 Clue Number 2 –
Don may ride a white horse
To get to this filmed bar.
If he were in gay Paris
This would be more on par.
Once he arrived
A "serviette" he'd obtain.
In Pasadena it's this,
Hopefully without a stain.
The solution to Clue Number 2 was Cheval Blanc Bistro, which I blogged about back in December of last year and which was used in the original Father of the Bride movie as the spot where George Banks (aka Steve Martin) takes Bryan MacKenzie (aka George Newbern) for a drink.  Because there are not many French restaurants in Old Town Pasadena, this was an easy one.  Also tipping me off to  the clue's answer was the fact that Don is my dad's name, aka the name of the "father of the bride".  Amazingly enough, my mom and her team were hot on our tail upon arriving at this particular bar, as well!  My aunt Lea, who was on my mom's team, had asked the bartender at Il Fornaio if she knew of any French restaurants in the area and the bartender told her that the only place she could think of was Cheval Blanc.  My mom's best friend, who speaks fluent French, immediately said "Cheval Blanc means white horse!  That's the place!" and they took off for the restaurant.  At Cheval Blanc we were required to obtain a "serviette", aka a "napkin".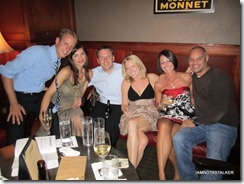 Both my team and my mom's team spent quite a bit of time at this restaurant and ordered a round of drinks and relaxed since we were so far ahead of all of the other groups.  And amazingly enough, my mom's team happened to meet an actor while at Cheval Blanc and they got his autograph for an extra 50 points!  He wasn't anyone famous, but he did have his own IMDB page, so he counted as a "star".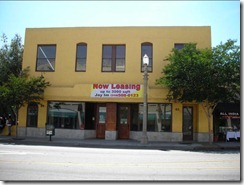 Clue Number 3 –
You can get a roll
In California's 91105.
This filming location
You may not recognize.
You won't need a fork,
But two pieces of wood
To experience
Lindsay's favorite hood.
The answer to Clue Number 3 was, of course, Maikobe Japanese Restaurant – aka the former Ruby's Diner which stood in for the Peach Pit on my favorite show of all time Beverly Hills, 90210.  For anyone who knew anything about me or anything about the city of Pasadena for that matter, this clue was a no-brainer.  In an unfortunate twist of bad luck, though, Maikobe had unexpectedly closed its doors just a few days before our rehearsal dinner, so when we showed up there for the scavenger hunt, we could not go inside to obtain our "two pieces of wood", aka a set of chop sticks.  Mike immediately started looking around for other sushi restaurants in the area and noticed one directly across the street from Maikobe (perhaps this is why the place went out of business!

) and ran right on over to grab some chopsticks.  BUT, amazingly enough, my mom's team had happened to grab a set of chop sticks at Sushi Roku near Il Fornaio earlier during the hunt (they had gone in to collect matchbooks for extra points and the hostess had, for whatever reason, also given them chopsticks!), so as soon as her team realized Maikobe was closed, they immediately started running to the last stop on the hunt and ended up coming in first place!  So, yes, even though Mike, from MovieShotsLA, and I were on the same team, we LOST the scavenger hunt!!!!!  Unbelievable!!!!  But at least now you can see where I get my stalking skills from!  In our family, the apple definitely does not fall far from the tree!  On a side note – you can see a great picture of what Maikobe looked like back when it was Ruby's Diner here.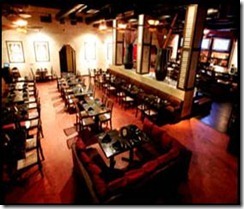 Clue Number 4 –
At this Latin lounge with a fitting name
Their life together they can star living
Before their honeymoon, as husband and dame.
Ask for this in your drink-o.
Tie it in a knot with your tongue
To get an extra cinco.
The solution to Clue Number 4 was Vive Lounge, where fave movie A Lot Like Love was filmed.  At the time the movie was filmed, the place was a Chinese-Malaysian fusion restaurant named Nonya, but that eatery closed down back in 2006 whereupon Vive moved in.  Amazingly enough, very little of the  décor was changed upon the transition and the restaurant still looked almost exactly the same as it did in the movie.  Because there is only one Latin-themed lounge in Pasadena, my mom and her team were easily able to figure out what location the final clue was referring to.  Especially once they realized that "vive" translates to "live" in Spanish.  For winning the hunt, each member of my mom's team was awarded with a bag of microwave popcorn and a pass for a free movie at any AMC Theatre.  So incredibly cool!  All in the all, the scavenger hunt turned out FABULOUS and all of our guests, even those who seriously lagged behind, absolutely LOVED it.  It was the perfect end to a perfect evening.  On a sad side note, though – the GC and I walked by Vive this past Friday night and discovered that it had closed it doors!  I can only hope that the new owners also choose to keep the original Nonya's décor so that all of us stalkers can still appreciate it.
Until next time, Happy Stalking! 

Stalk It: Natalie Drees can create customized scavenger hunts for parties and corporate events based upon any and all sorts of themes.  You can contact her via her event planning website Pop Planning.  Il Fornaio, from What Women Want, is located at 24 West Union Street in Old Town Pasadena.  You can visit Il Fornaio's website here.  Cheval Blanc Bistro, from Father of the Bride, is located at 41 South De Lacey Avenue, also in Old Town Pasadena.  You can visit the Cheval Blanc website here.  The former Maikobe restaurant, aka the Peach Pit from Beverly Hills, 90210, is located at 45 South Fair Oaks Avenue in Pasadena, but is currently vacant.  Vive Lounge, the former Nonya restaurant from A Lot Like Love, is located at 61 North Raymond Avenue in Pasadena, but is also currently vacant.  You can visit the former Vive Lounge website here.
26749