Granville Towers – Portia de Rossi's Former Home
Dec 14th, 2010 | By
Lindsay
| Category:
Marilyn Monroe Locations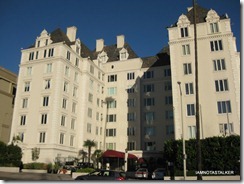 I just recently finished reading Portia de Rossi's new memoir Unbearable Lightness and I have to say that it was easily one of the best books I have ever read in my entire life!  I literally could NOT put it down.  The memoir is a harrowing account of the actress' long-time eating disorder which consumed her life during the years she portrayed Nelle Porter on the hit television series Ally McBeal.  Besides being a fabulous read, the book's topic really hit home with me as I was once told by an acting teacher that I was "stocky" and needed to lose weight if I wanted to make it in this business.  I was a size two at the time.  Needless to say the notion of "there is no such thing as too thin" is alive and well in Hollywood.  Thankfully I had a strong foundation to fall back on at home and was able to blow off my acting teacher's words – and eventually her class. 
  But it is easy to see why someone like Portia, who was already deeply insecure over the fact that she was gay and whose family lived a world away in Australia, would falter in that sort of environment.  Her story is both heartbreaking and fascinating and I honestly cannot recommend reading it enough.  Anyway, in the book, Portia talks about living in a penthouse unit at the legendary Granville Towers in West Hollywood, so as soon as I finished reading the tome, I immediately ran right out to stalk the place.
The Granville Towers, which was originally an apartment building named The Voltaire, was built in 1930 in the French Revival style by architect Leland Bryant, who also designed one of my favorite hotels in Southern California – the Sunset Tower Hotel on Sunset Boulevard.  The 7-story, 40-unit property was a celebrity magnet from the very beginning and such stars as Ann Sothern, Jack Lord, Arthur Treacher, Janet Gaynor, and Rock Hudson called the place home.  My girl Marilyn Monroe even stayed there for a brief while after her divorce from Joe DiMaggio in 1954.  In the 1980s, the property was transformed into a luxury hotel at which point it was renamed The Granville.  A few years later it was transformed yet again, this time into an upscale condominium building, and Hollywood luminaries once again began calling the place home.  Just a few of the celebrities who have lived there in more recent years include Nicole Scherzinger, Ashley Greene (her boyfriend Joe Jonas is a frequent visitor), Mickey Rourke, Brendan Fraser, David Bowie, Amy Locane, and Michael Michele.
Portia de Rossi lived in the building's north tower penthouse from the late 1990s through mid-2002.  Of first seeing the penthouse apartment, she said, "I felt as though I had been transported to an artist's loft in a city like Philadelphia, which was much more exciting to me than where I actually was.  Where I was, was predictable.  But the apartment made me think there was more to life than being an actress on a David Kelly show."  She signed the papers on the spot and immediately set about transforming the upstairs attic loft into a workout room.  Of her makeshift gym, she says, "The treadmill was really the only thing up there and was perfectly centered in the attic, between the wall of windows that showcased the industrial city that was the roof of the Sunset 5 and the east windows through which I could see all the way downtown.  The wall opposite the smokestacks acted as a bulletin board where I had taped pieces of paper.  Mostly the pieces were exaggerated to-do lists.  I say 'exaggerated' because they said things that were more like goals that I wanted to achieve than things that needed to be done.  The largest piece of paper with the boldest writing stated 'I WILL BE 105 POUNDS BY CHRISTMAS'."  She also fastened a list of cards to the wall just to the left of her to-do list.  Each card featured a number, beginning at 111 and  running backwards.  Portia was 111 pounds at the time and each time she lost a pound, she would remove a card.  Of her weight wall, she says, "It helped keep me focused and it helped me to remember that once I'd achieved the new lower weight and the card stating my previous weight was gone, that I could never weigh that much again; that the old weight was gone.  It was no longer who I was.  It was getting more difficult to lose weight as I got thinner, so I needed all the incentive and motivation I could muster.  Putting my weight on the wall was a clever thing to do as it always needed to be in the forefront of my mind, otherwise I might've forgotten and walked on the treadmill instead of run, sat instead of paced.  I once saw a loft where a famous writer lived, and all over the wall was his research for the novel he was writing.  He described the book to me as his life's work, his magnum opus.  I felt like controlling my weight was my magnum opus, the most important product of my brain and was worthy of devoting a wall to its success."  See what I mean?  Absolutely riveting – and harrowing – stuff!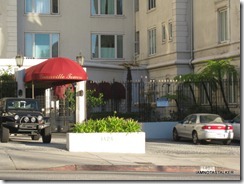 The Granville is a truly beautiful building and features a 24-hour doorman, valet parking, a lobby with a piano, an indoor pool and spa, and a large garden patio area complete with statuaries and fountains.  You can view some great interior photographs of the building here.
Until next time, Happy Stalking! 

Stalk It: Granville Towers is located at 1424 North Crescent Heights Boulevard, just south of Sunset Boulevard, in West Hollywood.
26771