The "It's A Wonderful Life" Train Station
Dec 24th, 2010 | By
Lindsay
| Category:
Movie Locations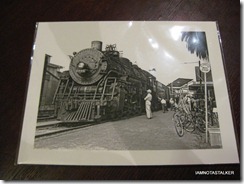 If there is anything I have learned over the past ten-plus years that I have lived in Southern California, it is that stalking tips often come from the most unlikely of places.  Take for instance this past weekend.  The Grim Cheaper's father has long been a collector of model trains, so last Sunday afternoon the GC headed over to the Whistle Stop train store in Pasadena to do some Christmas shopping for his dad.  While there he stumbled upon some vintage locomotive photographs taken by photographer Stan Kistler.  Amazingly enough, one of those photographs happened to be a May 1946 image of the former Santa Fe Lamanda Park Train Station in Pasadena which at the time was dressed to appear as the Bedford Falls Train Station for the filming of It's A Wonderful Life!  And while the GC did not actually purchase the photograph for me (he didn't earn that nickname for nothin'!), when he got home he immediately told me about it and, let me tell you, I almost fell out of my chair!  I could not believe that one of the most famous Christmas movies of all time had been filmed right in my own backyard and that I had not previously known about it!  Because the GC had failed to write down – or remember – exactly which station had been used in the filming (men!), I immediately ran right over to the Whistle Stop to find out.  I also purchased the photograph (which is pictured above), not for myself, but for fellow stalker David in Seattle, as It's A Wonderful Life is one of his all time favorite movies.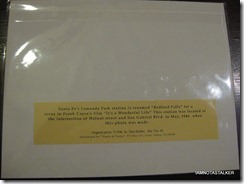 Written on the back of the photograph was the information that I was seeking.  The It's A Wonderful Life train station was actually the now-defunct Santa Fe Lamanda Park Station located at the intersection of East Walnut Street and North San Gabriel Boulevard in Pasadena.   Sadly, the station was torn down in 1953.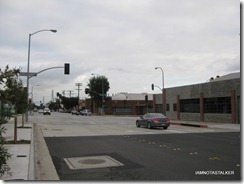 And even though the station is no longer in existence, I just had to stalk its former site.  The above photograph is what the intersection of North San Gabriel Boulevard and East Walnut Street looks like circa 2010.  As you can see, there is no sign of the former station anywhere, which I had expected.  What I had not expected, though, was the fact that there was also no sign of the former railroad tracks.  Before arriving at the intersection, I had  been convinced I would be able to find some small remnant of the tracks somewhere in the vicinity.
What I did spot while I was there, though, was an elevated section of the road that looked to be just about the same size as a set of train tracks.  That area is marked with the pink lines in the above photograph.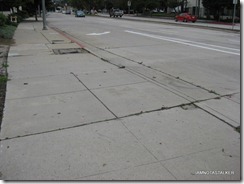 Another view of that elevated portion of land is pictured above.  I am guessing that the former railroad tracks are located just beneath that area of land and that instead of actually removing the tracks when the Santa Fe Railroad Line was dismantled in the 1950s, workers simply just poured cement over them leaving what you see above.
So, if my hunch is correct and that bit of land is in fact the former home to a set of train tracks, then I am fairly certain the patch of grass pictured above is where the Lamanda Park Train Station used to be located.  But again, that is just a guess.
The station was featured towards the beginning of It's A Wonderful Life in the scene in which George Bailey (aka James Stewart) and Uncle Billy (aka Thomas Mitchell) wait to pick up Harry Bailey (aka Todd Karns), who has just returned home after graduating from college, at the Bedford Falls train station.
Pictured above is a close-up view of the vintage photograph I purchased for David.  The "Bedford Falls" prop signs are denoted with the pink arrows and one of the production's lighting rigs is denoted with a blue arrow.  So incredibly cool!  You can see a photograph of what the Lamanda Park station looked like back in 1936 on the Palomar Skies blog here and here. 
A very MERRY CHRISTMAS to all of my fellow stalkers!  I hope you all have a fabulous holiday with your loved ones. 

Until next time, Happy Stalking! 

Stalk It: The former Lamanda Park station, aka the Bedford Falls train station from It's A Wonderful Life, was located at the intersection of East Walnut Street and North San Gabriel Boulevard in Pasadena.  My best guess as to the station's exact location is denoted with the pink arrows in the above aerial view.
27302