Lake Arrowhead Resort and Spa from "House, M.D."
Jan 4th, 2011 | By
Lindsay
| Category:
TV Locations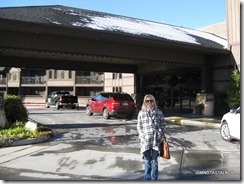 The third and final location that I stalked while vacationing in Lake Arrowhead this past Thanksgiving with my family and the Grim Cheaper was the Lake Arrowhead Resort and Spa, which was featured prominently in the Season 6 episode of House, M.D. titled "Known Unknowns".  The property, which was originally named the Arlington Lodge, was first built in 1923 by A.L. Richmond, the owner of the Arlington Hotel in Santa Barbara, and was designed by architect McNeal Swasey at a cost of $500,000.  The upscale Lodge boasted numerous luxuries, including ornate drawing rooms, outdoor terraces, guest quarters with private bathrooms, and a main lobby, dubbed the "Great Hall", which featured a 45-foot tall vaulted ceiling, a large fireplace, and a grand staircase.  The resort was opened to the public on June 23, 1923 and became an immediate success.  According to legend, such Hollywood luminaries as Douglas Fairbanks, Mary Pickford, Roy Rogers, Carole Lombard, and Gary Cooper were all frequent guests.  The hotel also attracted movie crews and such films as 1952's Just For You, which starred Jane Wyman, Natalie Wood, Bing Crosby, and Ethel Barrymore – Drew's great-aunt, 1965's I'll Take Sweden, which starred Bob Hope, Tuesday Weld, and Frankie Avalon, and 1973's made-for-TV movie A Summer Without Boys, which starred Barbara Bain and Michael Moriarty, were all filmed on location there.  Sadly though, the Arlington Lodge burned to the ground in October of 1938.  And while it was rebuilt shortly thereafter, the entire resort was razed in December of 1976 in order to make room for a new hotel, the Arrowhead Hilton Lodge, which opened to the public in 1982.  And while Bob Hope, Gerald Ford, and Baron Hilton – Paris' grandfather – were all in attendance for the resort's grand opening, it doesn't seem as if many celebrities frequent the hotel today.  Currently the property, which is now known as Lake Arrowhead Resort, boasts 162 guest rooms and 11 suites, a full-service spa, a fitness room, a coffee bar, an upscale restaurant named BIN189, and a 40-foot pool. 
Sadly though, I have to say that the Lake Arrowhead Resort and Spa is truly nothing special.  Don't get me wrong, the place is O.K., but after the website had touted its "idyllic" and "majestic" ambiance, I had expected a heck of a lot more than what was actually there.  The setting is absolutely gorgeous, but truth be told, ALL of Lake Arrowhead is that beautiful.
  And while the BIN189 restaurant is absolutely GORGEOUS, I cannot in any way, shape, or form recommend eating there.  While we were stalking the hotel, we popped into the restaurant and were enticed by its roaring, oversized fireplace and decided to grab a drink there, but as soon as we sat down, a woman came into the eatery with her large dog (which one would think would be a health code violation, but I guess not) and the dog proceeded to bark hysterically at the top of its lungs.  The dog was so terribly loud that we had to get up and leave.  All of the patrons in the restaurant at the time were quite upset over the barking dog and three groups besides ours ended up walking out in the middle of their meal.  You'd think at an average cost of $35 a plate, the management would have done something  -like kick the freaking woman and her dog out -but because the hotel is "pet friendly", the servers all said that there was absolutely nothing they could do.  So, that was pretty much it for that place!  My family literally could not get out of there fast enough and I therefore did not get to stalk very much of the resort!  🙁
In the "Known Unknowns" episode of House, M.D., in which doctors Gregory House (aka Hugh Laurie), James Wilson (aka Robert Sean Leonard), and Lisa Cuddy (aka Lisa Edelstein) attend a pharmacology and public policy conference in the Adirondacks, extensive use was made of the Lake Arrowhead Resort and Spa.   According to a review that I read on Travelocity, the vast majority of the hotel – including the restaurant and pool – was closed off during the filming, yet the hotel management failed to inform guests of that fact when they made their reservations – which sounds pretty much right on par as to the level of customer service that we experienced while there.  Anyway, filming of the episode took place in the lobby area;
down by the lake;
on the outdoor terraces;
in one of the meeting rooms;
and in BIN189, which was both the site where the big 80's party scene was filmed;
and where the doctors ate breakfast on the last morning of their conference.
I am fairly certain that the two guest rooms shown in the episode were not actually Lake Arrowhead Resort hotel rooms, but were sets that were built on a studio soundstage, as they just don't seem to match up to the rooms that are pictured on the hotel's website.
Until next time, Happy Stalking! 
Stalk It: Even though I REALLY wouldn't recommend stalking this particular location, Lake Arrowhead Resort and Spa is located at 27984 California 189 in Lake Arrowhead.  You can visit the hotel's official website here.
27556