Madame Chocolat from "The Real Housewives of Beverly Hills"
Jan 13th, 2011 | By
Lindsay
| Category:
TV Locations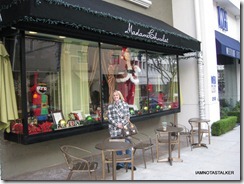 Another location that I dragged the Grim Cheaper out to see while stalking in the Beverly Hills area two weekends ago was Madame Chocolat, the chocolate shop that was featured in the Season 1 episode of the reality series The Real Housewives of Beverly Hills titled "Chocolate Louboutins".  Sadly though, because we were there on a Sunday, the place was closed and we did not get to venture inside, nor did we get to sample any of the delicious-looking chocolate. 
We did spend quite a bit of time admiring the beautifully sculpted candies that were featured in the shop's front window, though – all of which I later learned are actually fake to prevent melting, but are modeled after real designs that can be purchased inside.  Then yesterday, I randomly found myself parked directly in front of the store while doing some shopping in Beverly Hills, so I decided to pop in and purchase some candy for the GC.  (I am diabetic and therefore could not buy any for myself.)  And, amazingly enough, Hasty Torres, the shop's owner who appeared in The Real Housewives episode, was working the front counter!  Hasty could NOT have been nicer and spent quite a bit of time speaking with me about the filming of the show and even helped me pick out some sweets that the GC would like.  I so badly wanted to ask her to take a photograph with me, but I hesitated as I thought she might think I was a bit weird.  Looking back, I really regret it as she was so incredibly sweet.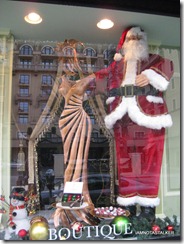 As it turns out, Hasty's foray into the chocolate world reads like a Hollywood script.  While working for a finance company in Century City a little over a decade ago, she became obsessed with a Food Network television show named Chocolate with Jacques Torres, in which renowned pastry chef/chocolatier Jacques Torres created various works of art out of the sweet delicacy. Hasty was so obsessed, in fact, that she wound up quitting her job and enrolling in Pasadena's famed Le Cordon Bleu cooking school with the hope of one day opening up a chocolate shop of her very own.  Upon graduating a year and a half later, she got a job working for Jacques himself at one of his many chocolate stores in New York and the two ended up falling in love.  Hasty's dream was finally realized in November of 2006 when the chocolatier founded her very own shop on North Canon Drive in the heart of Beverly Hills.  And just a year later, Hasty and Jacques were married at the legendary Bel Air Hotel.  Such an incredible story!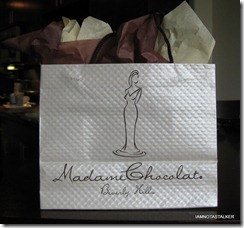 When I came home with the above-pictured bag yesterday, the GC was extremely excited as he is a total chocolate fiend . . . until he saw the receipt, that is, which I had accidentally left in the bag.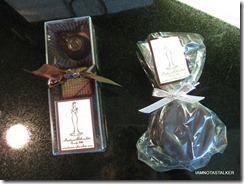 I ended up purchasing four (tiny) chocolate bon bons and one chocolate-dipped Oreo cookie and my total bill was $13!  But hey, it's Beverly Hills – prices like that pretty much go with the territory.  Well, the GC took one look at that receipt and said, "Can you return them?"  LOL  Return chocolate???  Really????  Do you see what I have to put up with here? 

  Anyway, despite his chagrin over the cost, by 8 p.m. last night he had devoured all four of the bon bons and the cookie, as well!  And while he said that he much preferred the Rocky Mountain chocolate that I had purchased him this past Christmas, I am fairly certain that had more to do with Madame Chocolat's pricing than it did the quality of their chocolate.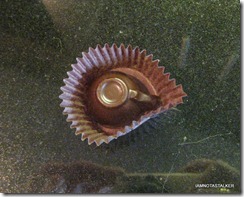 His favorite item was the Café bon bon – an espresso-infused dark chocolate ganache that is shaped like a coffee cup.  So cute!
In the "Chocolate Louboutins" episode of The Real Housewives of Beverly Hills, housewife/restaurateur Lisa Vanderpump-Todd (whom I absolutely LOVE) visits Madame Chocolat to pick up a pair of chocolate Christian Louboutin high heels, which were made out of a whopping three pounds of white Belgian chocolate, that she has special ordered.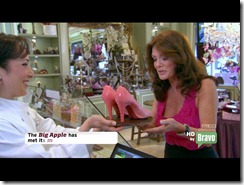 The chocolate shoes, of course, also boast the signature Louboutin red soles.  Love it! 
During her visit, Lisa also orders a custom-made, $1,000, three-foot tall chocolate Easter bunny which she then brings to Easter brunch at fellow housewife Kyle Richard's house in Palm Springs.
Madame Chocolat also appeared in the Season 5 episode of The Girls Next Door titled "Hot Chocolate" in which Hugh Hefner's three then-girlfriends, Holly Madison, Bridget Marquardt, and Kendra Wilkinson, visit the chocolatier to have some of their, ahem, body parts recreated out of chocolate as a birthday gift for Hef.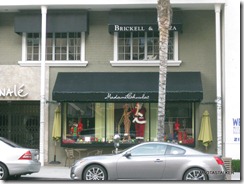 The shop is also something of a celebrity hot spot with such stars as Wolfgang Puck, Nobu Matsuhisa, Rachel Ray, Mario Batali, Ricky Martin, JC Chasez, Robin Thicke, Ludacris, Lamar Odom, P. Diddy, Eva Longoria Parker, Kris Jenner, and Shannon Elizabeth all stopping by to satisfy their sweet tooth.
Until next time, Happy Stalking! 
Stalk It: Madame Chocolat from The Real Housewives of Beverly Hills is located at 212 North Canon Drive in Beverly Hills.  You can visit the store's official website here.  Madame Chocolat is open Monday through Saturday from 10 a.m. to 6 p.m.  The store is closed on Sundays.
27974