72 North – The Real Life Emerald City Bar from "Grey's Anatomy"
Jan 18th, 2011 | By
Lindsay
| Category:
TV Locations
While Mike, from MovieShotsLA, and I were watching True Blood being filmed in Pasadena last Wednesday night, we got to talking with the owner of The Old Towne Pub about all of the filming that has taken place in the area over the years.  The owner was extremely knowledgeable and clued us in to a lot of locations that neither of us had previously known about, the most exciting of which for me was the downstairs bar of the former McMurphy's Restaurant & Tavern, now 72 North, which is used as the supposed Seattle-area Emerald City Bar where all of the Seattle Grace interns hang out each week on the hit television series Grey's Anatomy.  I was EXTREMELY interested in stalking McMurphy's upon finding out that after filming the Season 2 episode of the series titled "Raindrops Keep Falling On My Head" on location there, producers had an exact replica of the place rebuilt at ABC Prospect Studios, where Grey's Anatomy is lensed, that they then used for filming each and every week, which I thought was just about the coolest thing ever!  Even though I have never watched Grey's Anatomy, finding that out was like discovering that Central Perk from Friends was modeled after a real life coffee shop that one could actually visit!  So incredibly cool!  Sadly, McMurphy's Restaurant and Tavern closed its doors a few years ago and the new owners completely gutted and remodeled the place, renamed it Dullahans, and it subsequently closed down yet again just a short while later.  It was then sold once again to new owners and renamed 72 North.  Miraculously though, through all of the changes of ownership and the extensive remodel, the downstairs bar area was left untouched and still looks pretty much exactly the same today as it did when Grey's Anatomy first filmed there back in 2005.  YAY!  So, this past Friday night I dragged the Grim Cheaper right on out to stalk the place.
Ever since Emerald City Bar, or Joe's Bar as it is also sometimes referred to on Grey's Anatomy, appeared in the "Raindrops Keep Falling on my Head" episode, it has been featured almost weekly on the series as the regular hangout of Meredith Grey (aka Ellen Pompeo), Christina Yang (aka Sandra Oh), Derek Shepherd (aka Patrick Dempsey), and the rest of the Seattle Grace gang.  The above screen captures were taken from the "Raindrops" episode, during which filming took place at the actual downstairs bar area of McMurphy's Restaurant & Tavern.
The above screen captures were taken from later episodes of the series, during which filming took place at the studio-built replica of the bar.
The downstairs bar area at 72 North is currently only used for special events and private parties, but one of the super-friendly bartenders offered to open it up for me so that I could snap a few pictures of the place.  And even though Bartender Joe's Seattle-inspired decorations were of course no longer in place, the bar is still very recognizable from the series.  So incredibly cool! 
Unfortunately, I did not get a great picture of the bar's front doors while I was stalking the place, but you can kind of see them in the above photograph.
72 North's downstairs room can actually be reached via an exterior staircase much like it was portrayed on Grey's Anatomy.
72 North has a kind of sports/dive bar-type atmosphere, but, let me tell you, the food they serve there is nothing short of FABULOUS!  This is not your ordinary bar food in any way, shape, or form!  The chicken was cooked to absolute perfection and, as I have mentioned numerous times before, I am extremely picky about my chicken.  The GC and I ordered up a vegetable plate while we were there  and not only was it amazing, but it was also absolutely HUGE!  It was literally the size of a platter one would serve at a party!  And the cost of that vegetable dish?  Because it was happy hour, the tray was only $3!  I am not kidding!  Our entire meal came to $27 and we each had a cocktail!  Needless to say, the GC was absolutely THRILLED upon receiving the check and told me that we could go back to stalk the place anytime I wanted.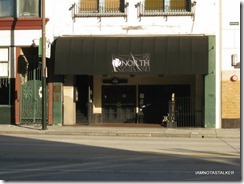 Until next time, Happy Stalking! 

Stalk It: 72 North, aka the real life Emerald City Bar or Joe's Bar from Grey's Anatomy, is located at 72 North Fair Oaks Avenue in Old Town Pasadena.  The downstairs bar is the area that is shown on the series.  You can visit the restaurant's official website here.
28132