The "Mask" House
Feb 4th, 2011 | By
Lindsay
| Category:
Movie Locations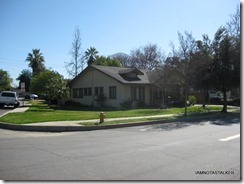 While I realize that I still have quite a few posts to publish from my recent stalking trip to the Palmdale/Lancaster area (including the Four Aces and Club Ed movie sets), as well as a few filming-related posts to write from my nuptials last August (most notably the venue), I decided to dedicate today's blog to my good friend and fellow stalker Kerry who has been experiencing a very emotionally-trying couple of weeks as of late.  So, Kerry, this one's for you!  I hope it brings a smile to your face!  Back in September, after finding out out that my parents had recently moved to Monrovia, Kerry asked me to track down the house where Roy L. 'Rocky' Dennis (aka Eric Stoltz) and Florence 'Rusty' Dennis (aka Cher) lived  in the 1985 Peter Bogdanovich-directed movie Mask.  She had heard that the residence was located somewhere in the Monrovia area and figured I would most likely be able to track it down.  Because I had never actually seen the flick, though, I enlisted the help of Mike, from MovieShotsLA, who is pretty much a virtual encyclopedia of 80's movies filming location knowledge thanks to the fact that he grew up in the area.  And this case was no different – Mike knew the address of the Mask house right off the top of his head!  Thank you, Mike!  So, yesterday morning, after meeting my dad for coffee, I headed on over to the property to snap a few pics.
The house, which is located on a sleepy Monrovia corner just a few blocks east of Old Town, is actually featured quite a bit throughout the movie.
And, amazingly enough, it still looks VERY much the same today as it did back in 1985 when Mask was filmed.
Even the wall unit air conditioner and mailbox which appeared in the movie are still there in real life, over two and a half decades later!  SO INCREDIBLY COOL!
I am fairly certain from the way that the movie was shot that the home's real life interior was also used in the flick.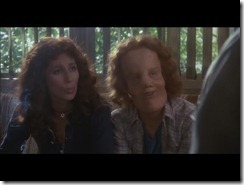 On a Mask side note – Wow, Cher was absolutely beautiful  back in the day!  I had NO idea!  That skin and those cheekbones are to die for!
Big THANK YOU to Mike, from MovieShotsLA, for finding this location! 

Until next time, Happy Stalking! 

Stalk It: The Mask house is located at 138 Grand Avenue, at the corner of Grand Avenue and Pearl Street, in Monrovia.
28851