Aroma Coffee & Tea Company in Studio City
Feb 9th, 2011 | By
Lindsay
| Category:
This and That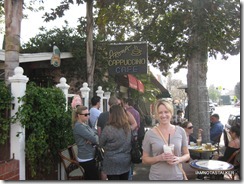 As I mentioned in Monday's post, despite my drama-filled day on Friday, this past weekend actually turned out to be pretty darn nice.  It all started with a Saturday morning stalking trip out to Studio City's Aroma Coffee & Tea Company, which I had read about the previous week while doing some online research on the similarly-named Aroma Bakery & Café on Sunset Boulevard.  As it turns out, Aroma Coffee & Tea Company is a big-time celebrity hotspot and since I love all things having to do with coffee and celebrities, I was absolutely DYING to stalk the place!  So, bright and early Saturday morning I dragged the Grim Cheaper right on out there.  And let me tell you,  I pretty much fell in love with the place immediately upon walking through its front doors.  The full-service café is actually a former residence which owner Mark Gunsky transformed into a restaurant just about fifteen years ago.  And I have to say that the result of his work is quite possibly the most charming little café I have ever visited.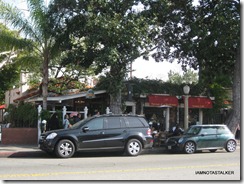 The quaint little Aroma Coffee & Tea Company is tucked away on Studio City's bustling Tujunga Avenue and one could easily walk right by it without even realizing it was there. 
But that has apparently not been a problem because, as you can see in the above photographs, the place was absolutely JAM-PACKED when we showed up to stalk it.  We could hardly get in the door!  It is not very hard to see why the shop has become so popular over the years, though.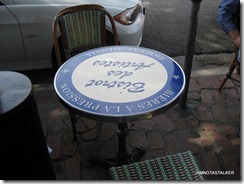 There literally wasn't one thing about the café that I didn't absolutely LOVE – from the adorable little French bistro tables situated on the front sidewalk;
to the charming living room area complete with working fireplace and built-in bookshelves;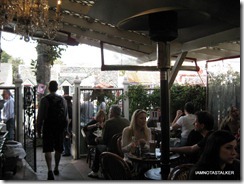 to the front porch;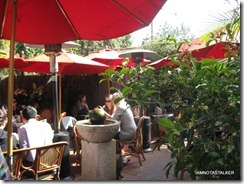 to the quaint backyard;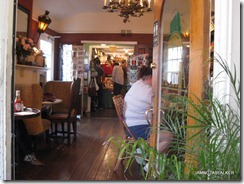 to Portrait of a Bookstore, the teeny tiny little bookstore/gift shop tucked into the back of the Aroma space, which Yelp recently named "pound for pound, the coolest bookstore in L.A., if not the entire world".  Every aspect of Aroma Coffee & Tea Company was warm and welcoming and I absolutely cannot wait to go back there for a re-stalk!  Oh and the coffee was FABULOUS, too!  It was just as good as Starbucks and while some people might consider that a jab, in my eyes there is no higher compliment when it comes to coffee! 
Just a few of the stars who have been spotted at Aroma Coffee & Tea Company in recent months include Ashley Tisdale, Vanessa Hudgens, Rachel Bilson, Zac Efron, AnnaLynne McCord, Ashley Greene, Kellan Lutz, Vanessa Minnillo, Heather Morris (aka Glee's Brittany Pierce), and William Shatner.  In fact, the place is such a celebrity hotspot that back in November of 2007 TMZ conducted a video feed of the premises which it streamed live on its site!  LOL
Until next time, Happy Stalking! 

Stalk It: Aroma Coffee & Tea Company is located at 4360 Tujunga Avenue in Studio City.  You can visit the restaurant's official website here.
28952