The Little Door Restaurant from "Monster-in-Law"
Feb 11th, 2011 | By
Lindsay
| Category:
Movie Locations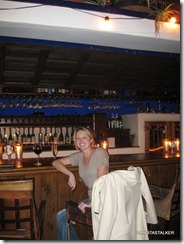 One restaurant that I have long wanted to stalk, but could just never seem to find was the adorable little outdoor courtyard spot where Kevin Fields (aka Michael Vartan), his mother, Viola Fields (aka Jane Fonda), and his new fiancé, Charlie Cantilini (aka Jennifer Lopez), lunched towards the end of the 2005 romantic comedy Monster-in-Law.  Then, as fate would have it, back in September while trying to track down the French restaurant where Brenda Walsh (aka my girl Shannen Doherty) and Donna Martin (aka Tori Spelling) accidentally ate veal brains during Season 2 of fave show Beverly Hills, 90210, I came across the website for The Little Door on West 3rd in Los Angeles and immediately recognized it as the restaurant from Monster-in-Law.  I added the spot to my "To-Stalk" list and the Grim Cheaper and I finally headed out there this past Saturday night to grab some cocktails.  And I have to say the place was AMAZING!
The Little Door, which was opened in 1996 by French-born brothers Frederic and Nicolas Meschin, is easily one of the most adorable restaurants I have ever had the pleasure of dining at.  The property, which is actually a converted former schoolhouse, is made up of four different dining areas: the Blue Room, the Winter Garden, the Patio, and the Piano Room.  The most popular area, and the area where Monster-in-Law was filmed, is the Patio, a romantic garden setting complete with trees, trickling fountains, twinkle lights, and a retractable glass roof that is opened during the summer months.   (The room is also very dimly-lit, which is why the above photographs came out so poorly.)  The Little Door has been named "Most Romantic Restaurant of L.A." and it is not very hard to see why.  It is easily one of the romantic places I have ever visited.  The staff was also incredibly NICE and lacked any sort of that fancy-L.A.-restaurant-type snootiness.  In fact, the bartender and I talked non-stop about celebrities while we were there, which was refreshing as many servers in L.A. try to act like they are above the whole Hollywood thing, when in reality over 90% of them are actors.

  And while the eatery is on the pricier side, the food is absolutely FABULOUS and I honestly cannot recommend stalking the place enough!
In Monster-in-Law, Charlie, Viola,and Kevin meet up for lunch in the Patio area of The Little Door whereupon Charlie finally turns the tables on her soon-to-be horrendous mother-in-law Viola and announces "It's my game now!"
The Little Door was also featured in the Season 2 episode of Entourage titled "The Abyss", in the scene in which Eric Murphy (aka Kevin Connolly) and Sloane McQuewick (aka Emmanuelle Chriqui) discuss the fact that Vinnie Chase (aka Adrian Grenier) no longer wants to be in the movie Aquaman.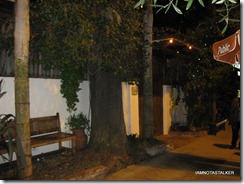 Besides being a filming location, the restaurant is also a big-time celebrity hotspot.  Just a few of the stars who have dined there recently include Russell Brand, Katy Perry, Jim Carrey, Britney Spears, Gary Oldman, Scott Weiland, Mark McGrath, Cameron Diaz, Justin Timberlake, Scarlett Johansson, Ryan Reynolds, Eva Longoria, Tony Parker, Jay-Z, Jessica Alba, Christina Aguilera, Posh Spice, David Beckham, Lisa Marie Presley, Pink, Tara Reid, Salma Hayek, Nigel Lythgoe, and Paris Hilton.  The list literally goes on and on!  In fact, the GC and I spotted Dennis Haysbert, who played President David Palmer on the hit television series 24, having a quiet dinner while we were there.  So incredibly cool!
While we were dining, our bartender informed us that an episode of Entourage had also been filmed next door at the Little Door's sister restaurant, Little Next Door.  So, after we finished eating, we ran right over to stalk the place.  Little Next Door, which is a full-service restaurant as well as a bakery and a café, is an absolutely adorable little spot and is already on my list of places that I need to re-stalk in the very near future.
Little Next Door popped up in the Season 4 episode of Entourage titled "No Cannes Do" in the scene in which Eric and Vinnie have a production meeting with independent film director Billy Walsh (aka Rhys Coiro) and actress Anna Faris, who played herself on the series.
Little Next Door is also a celebrity hotspot and such stars as Rachel Bilson, Lo Bosworth, Tyra Banks, Jessica Biel, Audrina Patridge, Michelle Trachtenberg, Ali Larter, and Isabel Lucas have all been spotted there.
On a side note – Ever since seeing Blair Waldorf (aka Leighton Meester) gorging herself on macarons in the Season 4 episode of Gossip Girl titled "Juliet Doesn't Live Here Anymore", I have been dying to find a bakery that sells the tiny French cookies so that I could sample some for myself.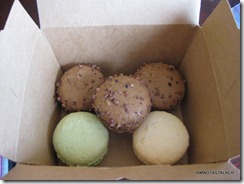 So, when I saw a myriad of them on display in the bakery case at Little Next Door, I just had to purchase a boxful.  And, let me tell you, they were simply AMAZING!  Like the best cookies I have ever had in my entire life!  Macarons, which consist of flavored ganache sandwiched between two almond meringue cookies and are not to be confused with the similarly-named macaroons that are made out of coconut, are light, airy, flavorful and literally melt in your mouth!  It is no wonder that Blair Waldorf is obsessed with them!  Because I am diabetic, I only sampled a bite of both the chocolate and Dulce de Leche-flavored macarons, but the Grim Cheaper tried a few of the other flavors and absolutely LOVED them all!  The cookies aren't sold in many places in L.A. that I have found, but let me tell you, if you can get your hands on some, you simply must try them!!!!
Until next time, Happy Stalking! 

Stalk It: The Little Door restaurant, from Monster-in-Law and "The Abyss" episode of Entourage, is located at 8164 West 3rd Street in Los Angeles.  Contrary to what was shown on Entourage and in Monster-in-Law, the eatery does not serve lunch, but is only open for dinner beginning at 6 p.m. nightly.   You can visit the restaurant's official website here.  Little Next Door, from the "No Cannes Do" episode of Entourage, is located at 8142 West 3rd Street and is open from 11 a.m. to 11 p.m. Monday through Thursday and from 8 a.m. to 11 p.m. Friday through Sunday.
29061