Yamashiro Restaurant
Feb 28th, 2011 | By
Lindsay
| Category:
The Hills Filming Locations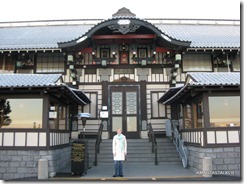 Last Monday night, the Grim Cheaper and I headed out to fave restaurant Yamashiro in Hollywood to grab some drinks to celebrate the six month anniversary of our wedding.  I can hardly believe that it has already been six months, by the way.  While in some ways it feels as if my wedding took place a lifetime ago, in many ways it seems as if it all occurred just yesterday.  Anyway, while I have blogged about Yamashiro once before, back in February of 2008, my post was not very thorough and at the time I was unsure of how to make screen captures.  So, I decided that the restaurant was definitely worthy of a re-post.  Here goes!
Yamashiro was built in 1914 on a seven acre parcel of land situated 250 feet above the famed Hollywood Boulevard.  The structure, which took three years to construct and was modeled after a palace located in the Yamashiro Mountains in Kyoto, Japan, was originally the private home of two German brothers who were dealers and collectors of Asian antiques.  In 1922, one of the brothers passed away and the property was sold and transformed into the private clubhouse of the exclusive Hollywood 400 Club, where the Hollywood elite would socialize.  During World War II, the building  fell into serious disrepair and in 1948 it was purchased by a developer named Thomas O. Glover who intended to demolish the property to make way for a hotel.  While readying the property for tear-down, Thomas discovered antique silk wallpaper hidden behind layers of thick black paint and realized he had a treasure on his hands.  He immediately set about restoring the property to its former glory, whereupon he opened it as an upscale Cal-Asian restaurant named Yamashiro.  Over six decades later, the place is still going strong and is a favorite of both celebrities and location scouts alike.  Just a few of the stars who have been spotted at Yamashiro over the years include Matthew Perry, Leonardo DiCaprio, Cameron Diaz, Melissa Joan Hart, Nicole Eggert, LeAnn Rimes, Gwyneth Paltrow, Ben Affleck, Brad Pitt, Johnny Depp, Luke Perry, Danny Glover, Rene Russo, Chris Rock, George Clooney, Claire Danes, Neve Campbell, Chris O'Donnell, and Halle Berry.
And it is not very hard to see what attracts them.  Besides serving up EXCELLENT food (the Butter Lettuce Wraps and Crispy Chicken dishes are my favorites!), the ambiance is to die for.  Walking through Yamashiro's front doors is like stepping back in time to ancient Japan.
The restaurant's Inner Courtyard, with its retractable roof, sparkling waterfalls, and central koi pond, literally looks like a set taken straight out of a movie.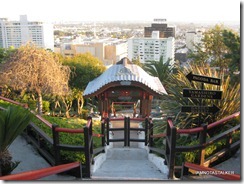 And the sprawling exterior gardens, which boast koi ponds, Japanese flowers, and a 600-year-old pagoda that is said to be the oldest structure currently standing in California, are absolutely breathtaking to walk through.
The restaurant's most incredible feature, though, has to be its striking 360-degree views of Hollywood, Downtown Los Angeles, Century City, and the Pacific Ocean –
views which only get more spectacular at night!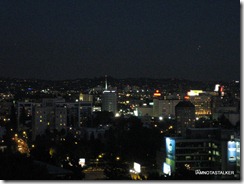 And in an intriguing bit of trivia, each night the light on the spire located at the top of the Capital Records building (pictured above) intermittently spells out "H-O-L-L-Y-W-O-O-D" in old Morse Code.  So incredibly cool!
Yamashiro has a long and varied filming history.  Way back in 1957, the restaurant appeared in the movie Sayonara as the American Officer's Club where Major Lloyd 'Ace' Gruver (aka Marlon Brando), Eileen Webster (aka Patricia Owens), Mrs. Webster (aka Martha Scott), and Lieutenant General Mark Webster (aka Kent Smith) spent time while in Japan.
In the "A Fistful of Yen" segment from 1977's The Kentucky Fried Movie, Yamashiro stood in for a Japanese palace.
In 1997's Playing God, Yamashiro was used as the residence where Raymond Blossom (aka Timothy Hutton) lived.
In 2000's Gone in Sixty Seconds, Yamashiro is where Mirror Man (aka TJ Cross) posed as a valet to steal a car.
In 2005's Memoirs of a Geisha, Yamashiro showed up twice.  It was first used as the spot where Chiyo (aka Suzuka Ohgo) took dancing lessons as a young girl.
And it also appeared later as the place where the large party was held in honor of Sayuri's (aka Ziyi Zhang's) debut.
In the Season 6 episode of The Hills titled "Loves Me Not", Lo Bosworth and boyfriend Scott Hochstadt celebrated their one-year anniversary at Yamashiro.  The restaurant was also supposedly used in 1987's Blind Date, but I scanned through the movie earlier today while writing this post and did not see it anywhere.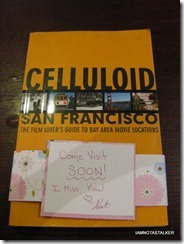 On a stalking side note – my good friend Nat, who lives in San Francisco, just sent me a package this past Friday.  In it was the book pictured above.  Cutest. Present. Ever. 
Until next time, Happy Stalking! 
Stalk It: Yamashiro Hollywood is located at 1999 Sycamore Avenue in Hollywood.  The restaurant is open nightly, starting at 5 p.m. each Saturday and Sunday and at 5:30 p.m. each Monday through Thursday.  You can visit Yamashiro's official website here.
29901