Stalking the 2011 Academy Awards
Mar 1st, 2011 | By
Lindsay
| Category:
Celebrity Sightings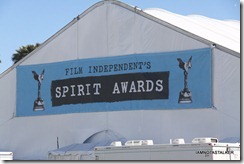 As I have mentioned countless times before on this blog, Oscar Weekend is, hands down, my favorite weekend of the entire year.  Hollywood just seems to come alive during Oscar Weekend and I honestly cannot get enough of it.  And this year was no different.  My Oscar stalking began early this past Saturday morning and continued on through late Sunday night and I think it is safe to say that the poor Grim Cheaper is absolutely beat. 

    Thankfully though, some good friends and fellow stalkers – Beth, Mary, Debbie, and Carol – were in town from Louisville, Kentucky and they let me tag along with them all weekend, so the GC did get somewhat of a reprieve.  And while this year was, sadly, not as great as previous years due to the fact that hotels have seriously beefed up their security and many would only let actual guests through their front doors, we still managed to have an absolute BLAST!  We started out our 2011 Oscar stalking adventure Saturday morning when we hit up the blue carpet at the Independent Spirit Awards – and yes, the event does actually feature a blue carpet.  The Spirit Awards are held in a tent directly next to the beach in Santa Monica and, let me tell you, this year the weather was absolutely FREEZING – and I mean that literally!  It actually SNOWED in many parts of Los Angeles this past weekend (not kidding!) and the GC and I witnessed it firsthand at one point, which I am fairly certain he was more excited about than any of the celebs that we encountered.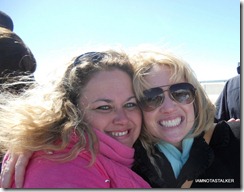 When we arrived at the Spirit Awards, there was already a HUGE group camped out along the blue carpet, but we still managed to snag a pretty good spot in which to stand.  While there, I ran into celebrity stalker extraordinaire Pinky Lovejoy (pictured above), from the Pinky Lovejoy Blog, whom I had met at Alec Baldwin's Star Ceremony a few weeks back.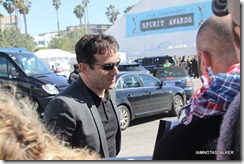 We had an absolute blast stalking the red carpet and just a few of the stars who were on hand include Jason Isaacs – aka "Lucius Malfoy" from the Harry Potter movies;
Warren Beatty;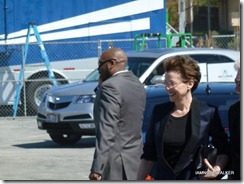 Annette Bening;
Jennifer Lawrence;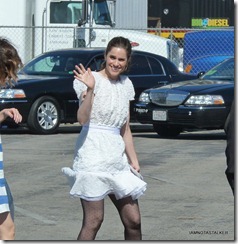 Amanda Peet, who is absolutely ADORABLE in person;
Anthony Mackie;
Terrance Howard;
director Danny Boyle;
Diego Luna;
John Hawkes;
Sarah Steele from Spanglish;
Greta Gerwig from Greenberg;
Samuel L. Jackson;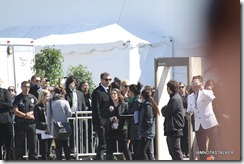 Liev Schreiber;
Aaron Eckhart, who is GORGEOUS in person;
one of fellow stalker Owen's favorite actors, Paul Rudd;
Malin Ackerman;
Amber Tamblyn;
David Cross;
Erika Christensen;
Jane Lynch (YAY!);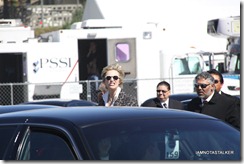 (I absolutely LOVE that the GC managed to snap a picture of Jane making one of her famous Sue Sylvester faces!);
Eva Mendes;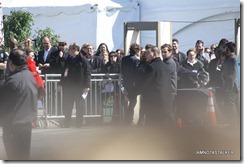 Jesse Eisenberg (he did not turn towards the crowd when he arrived, so we only got a picture of the back of his head);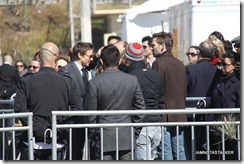 Jeremy Renner;
Rainn Wilson (aka Mr. Dwight Schrute!);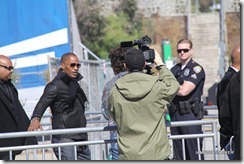 Jamie Foxx;
Ben Stiller;
Rosario Dawson;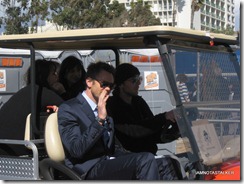 Joel McHale (LOVE, LOVE, LOVE him!);
and Nicole Kidman (who is STUNNING in person) and Keith Urban.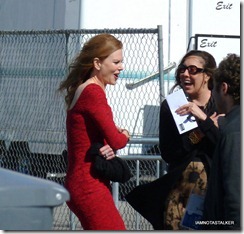 I LOVE the picture of Nicole above, which my friend Carol snapped.  So cute!
Natalie Portman tried to sneak in behind Nicole and Keith, but thankfully the GC still managed to get some pics of her. 

After the Spirit Awards arrivals wrapped up, the GC and I headed on over to the Kodak Theatre to do some stalking of the Academy Awards' red carpet.  Sadly though, everything was blocked off this year and we were not allowed to walk on the red carpet or to get very close to any of the set-up, which was incredibly disappointing.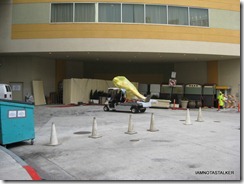 We did spot the above-pictured Oscar statue being hauled from the Renaissance Hotel to the Kodak Theatre, though, which I thought was absolutely hilarious.
We then headed over to the Hollywood Roosevelt Hotel (where the first Academy Awards ceremony was held) to see if anything was going on there.  As fate would have it, the E! channel was running rehearsals for their Oscar coverage show in the lobby of the hotel and we were lucky enough to be able to watch.  As you can see in the above photographs, Kris Jenner was on site rehearsing for the show.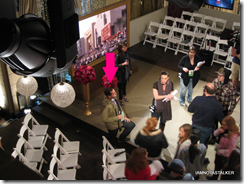 As was Ross Mathews, from Chelsea Lately.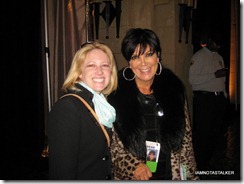 As luck would have it, Kris wound up leaving the hotel at the exact same time we did and she was nice enough to pose for a photo with me on her way out, which I could NOT have been more excited about.    I have actually never been a fan of Keeping Up With the Kardashians, but I will always have a special place in my heart for the series due to the fact that anytime someone encounters my family for the first time, they invariably say, "You guys need your own reality show!  You are funnier than the Kardashians!"  My good friend Nat keeps threatening to secretly videotape us and send the result to the E! channel.  LOL  I guess I can see where people are coming from, though.  Case in point – this past Friday afternoon the GC downloaded and then proceeded to spend a good ten minutes showing me an app in which one, while in a store, can scan the barcode of an item along with its price using the camera on their iPhone and the phone will then subsequently spit back a list of places where you can purchase said item for less money.  Not kidding!  I totally thought he was joking with me, but sadly he wasn't.  Not only is that app real, but the GC fully expects me to USE it!  Oh, the things I have to put up with!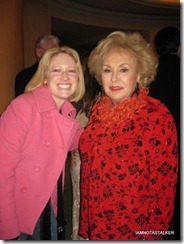 On Sunday evening, while doing some more hotel stalking, I spotted Doris Roberts, from Everybody Loves Raymond and Christmas Vacation fame.  My grandma absolutely LOVES Doris, so I just had to ask her to pose for a photograph with me and thankfully she obliged, which I could NOT have been more excited about. 

  Other celebs that we spotted out and about this weekend, but didn't get photographs of were Mark Wahlberg, Lou Diamond Phillips, Bai Ling, Frances Fisher, Gary Busey, Ed Asner, Pat Boone, Meat Loaf, Charo, Caroline Herrera (on her way to the Oscars in an absolutely STRIKING dress), Tara Reid, Brenda Strong (aka Mary Alice from Desperate Housewives), Gloria Allred, Noah Wyle, Taylor Armstrong from The Real Housewives of Beverly Hills, Jessica Stroup (aka Silver from 90210), Glee's Chris Colfer and Matthew Morrison, Jennifer Lopez (who is absolutely STUNNING in person!), Renee Zellweger, Russell Brand, Kirk Kerkorian, Megan Mullally, Nick Offerman, Harvey Weinstein, Chace Crawford, Cate Blanchett, Mary Kate and Ashley Olsen (who are sooooo tiny in person it was almost unbelievable), Ron Jeremy, Jeffrey Ross, Fred Willard, Sofia Milos, Pierce Morgan, Robert Downey Jr. and Susan Downey, Jude Law, George Hamilton, Reese Witherspoon, Timothy Olyphant, Elton John, Craig Robinson (aka Darryl from The Office), Joanne Worley, and Antonio Sabato Jr.
Until next time, Happy Stalking! 

Stalk It: The Oscars are held each year at the Kodak Theatre, which is located at 6801 Hollywood Boulevard in Hollywood.  The Grim Cheaper and I usually drive up and down Sunset Boulevard during Oscar weekend, stopping into various hotels along the way to spot celebs.  A few of the hotels we usually stalk include The Mondrian, which is located at 8440 Sunset Boulevard in West Hollywood, the Hollywood Roosevelt Hotel, which is located at 7000 Hollywood Boulevard in Hollywood, the Renaissance Hollywood Hotel, which is located at 1755 North Highland Avenue in Hollywood, and the Chateau Marmont, which is located at 8221 West Sunset Boulevard in Los Angeles.
30023