Casa del Mar Hotel from "Just Go With It"
Mar 2nd, 2011 | By
Lindsay
| Category:
Jennifer Aniston Locations
,
Movie Locations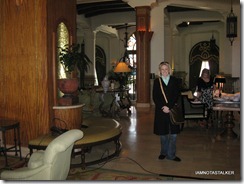 On February 11th – which just so happened to be my girl Jennifer Aniston's 42nd birthday – I dragged the Grim Cheaper out to see the actress' latest movie,
Just Go With It
.  Because there are very few JA movies that I have ever actually liked (even though I am a HUGE fan of hers,
Office Space
and
He's Just Not That Into You
are the only two that I can honestly say that I LOVE), I did not have high hopes for the flick.  But I am very happy to report that I ended up absolutely LOVING it!  Even more amazing was the fact that the GC loved it, too.  And even more amazing still was the fact that the GC also recognized a location from it – the Casa del Mar hotel in Santa Monica which was used in the scene in which Katherine (aka Jennifer Aniston) poses as Danny's (aka Adam Sandler's) soon-to-be ex-wife and meets his new girlfriend, Palmer (aka Brooklyn Decker), for the first time.  So, while we were in Santa Monica this past weekend
stalking the blue carpet at the Independent Spirit Awards
, I dragged the GC right on over to the Casa del Mar to do a bit of
Just Go With It
stalking.
Casa del Mar hotel was first opened in 1926 as the luxurious and ultra-exclusive Club Casa del Mar beach club, which catered to Southern California's elite and featured an indoor, Olympic-sized swimming pool, a private stretch of white, sandy beach, weekly dinner dances, upscale accommodations, and a grand ballroom.  Even though it was founded during the heart of America's Prohibition era, booze apparently flowed freely at the hotel and gambling was a frequent guest pastime.  According to local lore, Santa Monica policemen would turn a blind eye to the illegal goings-on at the property and would tip off the club staff members each time there was going to be a raid.  During World War II, the US Army took over the building and used it to house American soldiers.  Fallen into disrepair, the hotel shuttered its doors shortly after the war ended.  Charles E. Dederich purchased the Renaissance Revival-style property shortly thereafter and turned it into a drug rehabilitation facility known as Synanon.  In the late 1970's, the building was purchased by nutrition guru Nathan Pritikin and transformed into the Pritikin Longevity Center, where actor Chris Farley was a one-time guest.  The Edward Thomas Hospitality Corporation took over the property in 1998, restored the building to is original 1920's grandeur, and in 1999 reopened it as the Casa del Mar hotel.  It has been going strong ever since.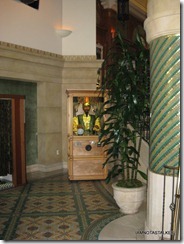 The hotel currently boasts a Zoltar fortune machine, a la the machine that made Tom Hanks "big" in the movie of the same name, in its lobby area, which I found so incredibly cool!
The Casa del Mar hotel popped up in what was, in my never-to-be-humble opinion, the funniest scene in Just Go With It, in which JA pretends to be a rich, snobby Beverly Hills socialite with a bit of a drinking – and pill – problem.  Jen is ABSOLUTELY HILARIOUS in the scene and even had the GC LOL-ing at several points, even though he typically does not find her to be at all amusing.
The Just Go With It scene was filmed in the southern portion of the Casa del Mar lobby, just south of the rear side of the hotel's main fireplace.  The lobby's furnishings were changed quite a bit for the filming, though.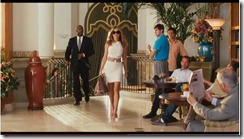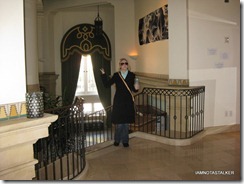 And I, of course, just had to recreate the scene in which Jen first arrives at the hotel and tells her limo driver that she "shant be long".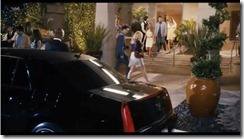 The scene that supposedly takes place just outside of the hotel was shot at a different location, though, and I have not been able to determine exactly where that location is yet.
Just Go With It Trailer – Casa Del Mar Hotel
You can watch the Just Go With It trailer, in which Casa del Mar is featured, by clicking above.
The hotel also popped up in the Season 2 episode of The Mentalist titled "18-5-4" as the supposed San Francisco-area Tidewater Resort where Oliver Simon McDaniel (aka Evan Peters) hid out.
For whatever reason, producers had a fake check-in desk built in front of the hotel's fireplace for the filming of the episode.
The scene in which Patrick Jane (aka Simon Baker) tells Teresa Lisbon (aka Robin Tunney) that she should have the CBI Headquarters moved to the beach was filmed in the hotel's Veranda Bar area . . .
. . . which I, unfortunately, could not get a great photograph of due to the brightness of the sun.
The SUPER nice concierge that we spoke with while we were stalking the hotel also let us know that the Casa del Mar's Colonnade Ballroom was used in another Jennifer Aniston flick – the 2006 movie Friends With Money, in the scene in which Olivia (aka JA) and her friends attend a benefit for ALS.  He also informed us that the ballroom was used in episodes of both Hung and Curb Your Enthusiasm, as well.
As fate would have it, the ballroom just happened to be unlocked while we were stalking the hotel, so I was able to walk in and snap a few pictures of it.
The exterior of the hotel is visible in the scene in 2005's Be Cool in which wanna-be gansta Raji (aka an absolutely HILARIOUS Vince Vaughn) and Elliot Wilhelm (aka Dwayne "The Rock" Johnson) get into a fight and Raji announces, "I smell you man!  I feel your pain!"  LOL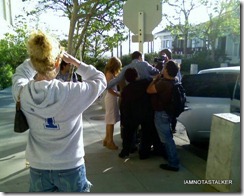 Besides being a filming location, the hotel is also something of a celebrity hotspot.  Just a few of the stars who have been spotted there in recent years include Lindsay Lohan, Christian Bale, Ryan Phillipe, AnnaLynne McCord, Cameron Diaz, Megan Fox, Gisele Bundchen, Tom Brady, Maria Shriver, Pamela Anderson, Christian Slater,  Emma Watson, Sarah Michelle Gellar, Justin Timberlake, Bradley Cooper, Molly Ringwald, Oprah Winfrey, Kevin Bacon, Jessica Alba, Cash Warren, Will Smith, Josh Duhamel, and Renee Zellweger. Sophia Bush and Chad Michael Murray were married at the hotel in 2005 and Miss Britney Spears and then-husband Kevin Federline even lived there for a time while their Malibu mansion was being renovated.  I was lucky enough to spot Jen Aniston at the Casa del Mar once – along with Vince Vaughn, Joey Lauren Adams, and Jon Favreau – back in 2006.  She was doing press for The Break-Up at the time and the GC and I had randomly stopped by the hotel to grab a cocktail.  I was wearing my "Team Aniston" sweatshirt and when Jen saw it she pointed, smiled, and said, "Oh, thank you!"   Ever since that day, the GC has referred to Casa del Mar as the "Jen Aniston hotel".  Love it!  (The GC took the above photograph of Jen that day on his blackberry, which is why it turned out so poorly.  After seeing the picture, I solemnly swore I would NEVER again be caught out and about without my camera and I now carry it with me at all times.)
Until next time, Happy Stalking! 

Stalk It: Casa del Mar hotel, from Just Go With It, is located at 1910 Ocean Way in Santa Monica.  You can visit the hotel's official website here.
30125